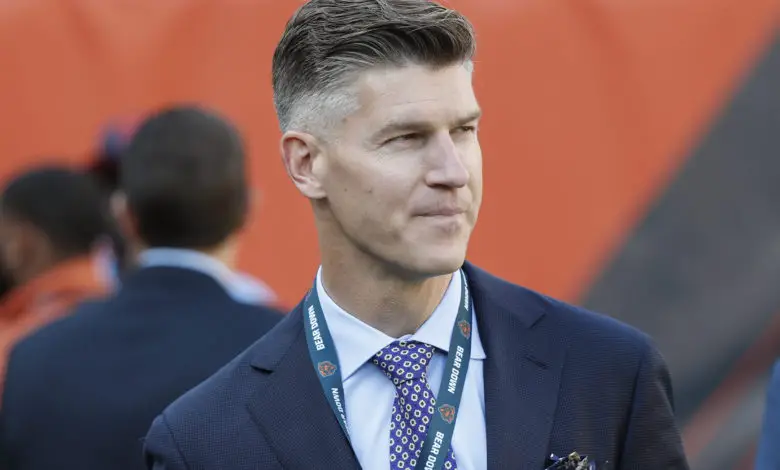 First and Long: Grading Bears Draft, Strong Weekend May Save Pace's Job, Packers Remain Committed to Rodgers
Considering the way GM Ryan pace deftly maneuvered the draft to pick up at least three starters plus a potential special teams stud, perhaps the McCaskeys should just keep the executive on one year contract renewals. As badly as he's performed in recent years, Pace left this draft with his second consecutive strong effort, and if he's not around when the Bears return to being a perennial winning football team, he will most certainly be responsible for its foundation.
After the dust settled on an exciting draft weekend that saw nearly 150,000 fans attend the four-day fest in Cleveland, the Bears have every right to consider themselves one of the biggest winner's of this year's event. Pace jumped up nine spots in the first round to get what many believe to be the second best QB, then moved up 13 spots in round two to select Teven Jenkins, an offensive tackle Pace likely would have chosen with the No. 20 pick he traded to the Giants to select Justin Fields.
Additionally, Pace added depth on the O-line with the selection of guard Larry Borom from Missouri, and found a 6th round steal in Thomas Graham Jr., a cornerback from Oregon who was a projected top 100 draft-eligible player. The GM also addressed special teams needs with running back Khalil Herbert of Virginia Tech, and wide receiver Dazz Newsome of North Carolina.
As much as Bears Nation loves the Fields pick, Jenkins may have the most impact of any of the team's draftees in 2021. He's tough, and carries a bit of swagger.
https://youtu.be/v-tly_LXbsM
In giving Pace an A+ in this year's draft, here's what Pro Football Focus said about Pace's extraordinary weekend:
Day 1:The Bears underwhelmed when they settled for Andy Dalton earlier in the offseason, but they redressed the situation with an aggressive move for Justin Fields, the No. 3 player on PFF's Big Board. Fields has special talent and back-to-back seasons with a 91.0-plus PFF grade. His ceiling is as high as any passer in this draft, and he's a real threat in the run game.
Day 2: Buried in the celebrations of Chicago selecting quarterback Justin Fields was the state of the team's offensive line on paper, but the Bears are making a major move to address that with a trade-up for Teven Jenkins. One of the best run blockers in the draft, Jenkins also pass-blocked well but had an extremely limited number of true pass-blocking plays to judge from.
Day 3: Thomas Graham Jr. opted out of the 2020 season, but it is still surprising to see him drop this far, given that he has three seasons of quality play as a starter on tape. He earned 80.0-plus PFF grades in each of the 2018 and 2019 seasons for Oregon and has a versatile, scheme-diverse skill set.
Bears News & Notes
There's A Flag…On the Play
With all the news surrounding Aaron Rodgers and the Packers this weekend, Green Bay GM Brian Gutekunst didn't do much to entice the MVP QB to change his mind about wanting to play elsewhere.
PFF's Lowest Graded Draft Classes:#Texans: C-#Packers: C-#Rams: C#Saints: C

Draft Grades for all 32 teams ⤵️ https://t.co/3CQAaxyezA

— PFF (@PFF) May 2, 2021
Northern Exposure
The Packers remain committed to Rodgers in 2021 and beyond, despite the fact the QB said he would retire before ever playing for Green Bay again.
The Vikings planned to draft Fields and let him start immediately ahead of incumbent QB Kirk Cousins, but are changing course to let 2nd round pick Kellen Mond work behind Cousins instead.
The Lions added to an already strong offensive line by selecting Penei Sewell with their first pick Thursday night.
Three Yards and a Cloud of Dust
Including Bears RB Kahlil "Juice" Herbert, American Heritage School (Fort Lauderdale) had a player picked in each of the first 6 rounds of 2021 NFL Draft.
There were eight quarterbacks selected in the first three rounds, the most in draft history.
When the Jaguars selected Travis Etienne with the 25th pick of the first round, it marked the first time that a starting quarterback and running back from the same school were selected by the same NFL team.
NFL News & Notes
Whether they admit it or not, Patrick Mahomes was baked into the decision-making process of every front-office executive during Thursday night's first round.
Broncos head coach Vic Fangio plans to split training camp QB reps "50-50" between Drew Lock and Teddy Bridgewater.
Denver GM George Paton allegedly offered the Packers their choice of four blockbuster deals in an attempt to acquire Rogers, including one that involved Lock and five draft picks, including three first rounders.
Two Point Conversion
That's not Ryan Pace on the cover of SI, but he and NHL legend Bobby Orr look almost like identical twins.
The cover of SPORTS ILLUSTRATED, 51 years ago this week: pic.twitter.com/k89WiNaMNT

— Richard Deitsch (@richarddeitsch) May 3, 2021
From The Podium
"I feel the love in the Bears fan base and I can tell how excited everyone is. I definitely think this is a big moment in history." – Justin Fields
"We can all see that he's a complete quarterback that has a ton of intangibles. He's a threat every time the football is in his hands as a passer and a runner, but yet he makes really good decisions. For us as coaches, the development with Justin is making sure that he's getting reps, where he's getting them, how he's getting them, where's the extra work coming in, the film study." – Matt Nagy
"I think it's going to be exciting for him to just come in here and learn how to be a professional quarterback. It's not going to happen overnight. He's going to be able to learn from great coaches and from great players that are going to be in the same room as him. And he knows that. He's super mature, he's very focused, but he's competitive as hell. Sometimes that pushes people. I think it certainly pushes him, but he does it in a respectful way and he's had a lot of success doing it." – Nagy
The Voice of God
They Call it Pro Football by John Facenda  – The NFL Films original narrator may have been one of the driving forces in making the NFL America's most popular television sport.