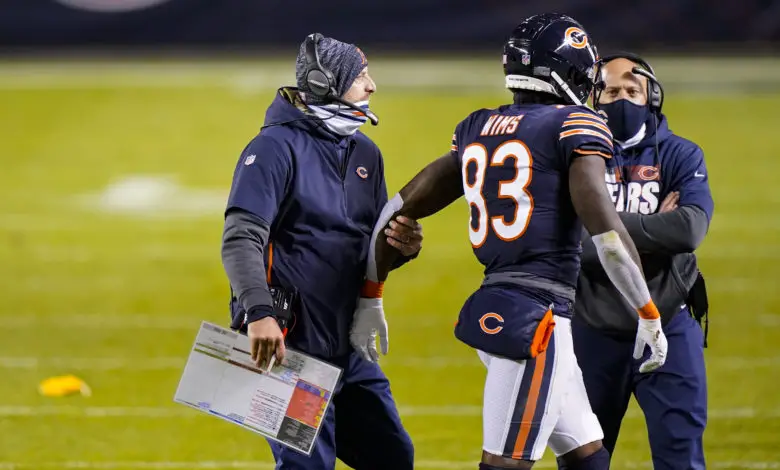 Matt Nagy 'Really Bothered' by Javon Wims' Idiocy as Bears Punch Themselves in Face Yet Again
There was a time when Bears fans celebrated football fisticuffs, though there's a wide chasm between the legendary Peanut Punch and whatever Javon Wims pulled Sunday afternoon. If only such a gap existed between an offense run by Nick Foles and one captained by Mitchell Trubisky, everything would be fine. As it is, head coach Matt Nagy has worked very hard to build a bridge between those two points of mediocrity.
It's not a straight path, however, since injuries across the O-line have made it like a rickety old rope bridge no one really wants to traverse. It's enough to make you want to lash out at something in a futile gesture of anger, like when Wims broke off his route and just started swinging on Saints corner C.J. Gardner-Johnson.
It looked as if Wims also tried to snatch his opponent's chain, though he was two days late and Deebo he is not.
"I am really, really bothered by that 3rd-quarter incident," Nagy told reporters after the game. "That bothers me. I'm being completely honest with you guys, it bothers me."
Sounds like the coach might want to study a thesaurus as well as his playbook this week. After their uninspiring loss to the Rams turned up the volume on the chorus of fans and experts alike singing that it might be time to hand off play-calling duties, Nagy assured the media that his staff was in agreement that he remains best suited for that role. Not exactly a vote of confidence for Bill Lazor's aptitude there, Nags.
To his credit, there were some great moments in the game. After hitting Darnell Mooney downfield on a 50-yard pass that was the Bears' longest play from scrimmage this season, Foles dropped a dime to Allen Robinson for a 24-yard touchdown. As good as the throw was, not many receivers in the league make that catch while laying out and maintaining control.
Then there was the 38-yard rush by David Montgomery late in the second quarter set up largely by the presence of Cordarrelle Patterson in the backfield. The Saints were expecting a jet sweep to the speedy return man-cum-running back on 3rd and 1 because that's been one of Nagy's pet plays, but the ball instead went to Montgomery.
It was either a genius long con or a bit of good fortune, the latter of which seems far more likely based on history. Like when the Bears opted to run up on the middle on 3rd and 7 from the New Orleans 32 and only ended up with a first down because the Saints whiffed on the back at the line. No disrespect to Montgomery, who ran hard all game as the Bears actually committed to that facet of their offense, but the play as designed never should have worked.
Luck is far too big a component in the Bears' success, to the point that it's a virtual requirement when it comes to scoring drives. That's frightening for several reasons, not the least of which is that it's fickle and can't be depended upon. Nor can serendipity be isolated and leveraged for future outcomes.
Hence the Bears followed a 2nd quarter in which they scored twice on the strength of several chunk plays with a 3rd quarter in which they scored nothing and looked awful doing it. Their three possessions ended in a punt, interception, and another punt as fans were left to lament the same damn story unfolding yet again. The Bears are worst in the NFL with just seven points scored in the 3rd quarter on NFL-worsts of 48.5 total yards and 13.9 rush yards.
That would be unacceptable in any quarter, let alone when coming right out of halftime and presumably armed with adjustments based on what the other team did in the first half. But nope, not Nagy and the Bears. They tend to reach the nadir of their ineptitude when given time to think about their schemes and plays, something the coach seemed to hint at while also
"There (are) issues there," Nagy said, per Mark Lazerus of The Athletic. "That's what bothers me, and that's what pisses me off, is that there still is that issue going on. We're reading it from a wristband. I'm struggling with that right now. It's getting you into a hole and so that has to change. When you have someone throwing punches, when you have the things that are going on with us right now in the offense…it takes away everything you work hard to get to and fight for.
"What bothers me is we've got a lot of good guys that are doing things the right way, and then it takes it away. Trust me, we're looking at it."
Pardon my French, but no shit. The idea that the coaching staff is "looking at it" or that they're going to review film to figure out what went wrong is more overused than that Patterson jet sweep. Maybe that means this week will see Nagy admitting that he's part of the problem and that someone else will be calling plays, just like the misdirection with Montgomery.
Though my opinions may be little more than the delusions of an ill-informed armchair coach, I continue to find credence for my belief that Nagy simply can't analyze and process the game properly from his vantage point. Whether that's a matter of his literal view of the field from the sideline or the inability to react in real-time I don't know. Maybe it's both, which might help to explain both the lag in getting calls to the field and the constant 3rd-quarter bed-soiling.
In the interest of fairness, even the best play calls in the world aren't going to work out when the offensive line makes Swiss cheese jealous. That failing points directly to Ryan Pace, who's done next to nothing to address a lack of depth in the trenches even a novice knew could be a big issue coming into the season. In addition to the lack of protection afforded Foles, the porous line all but eliminates the margin for error on offense.
Even Nagy relinquishing his play-calling duties or Pace suddenly figuring out how to properly evaluate offensive talent won't fix the Bears' issues, not this season anyway. The only magic bullet for the offense would be to create a hybrid QB named Nitch Folbisky who can actually make reads while also being able to escape pressure and run for first downs when it makes sense to do so.
What I'm saying is that the most likely solution appears to be limiting the mistakes enough to let the defense and special teams win games. To that end, Wims' idiocy was the perfect allegory for a Bears team that just doesn't seem to understand what it's doing most of the time. He first made a poor decision in the first place, then doubled down on it by repeatedly trying to punch a man with a helmet on. That actually sounds a lot like me deciding to watch the Bears, now that I think about it.
Fun times.