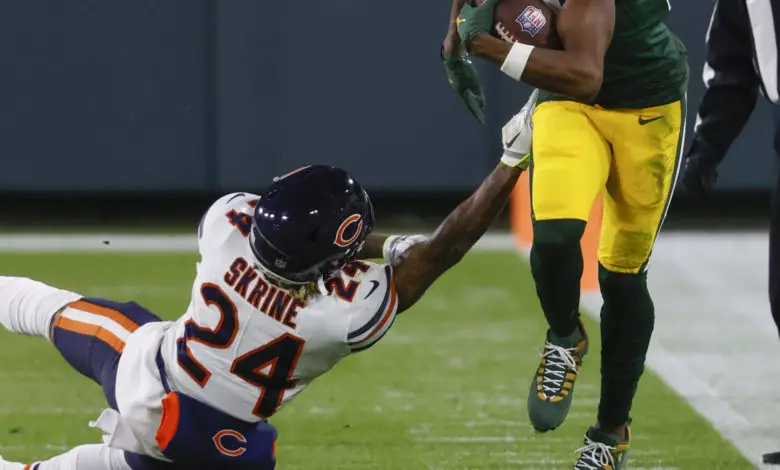 Buster Skrine Has Become Liability in Bears Secondary
Just like the homonymous mesh doors or porches, Buster Skrine has provided very little protection this season. The 31-year-old corner has been abused in slot coverage as opposing quarterbacks target him and exploit his weaknesses all game long. As noted by Jacob Infante of Windy City Gridiron, Skrine has allowed those QBs a 124.0 passer rating as they complete 76.7% of passes against him.
#Bears CB Buster Skrine has struggled in coverage this year:

• 124.0 passer rating allowed (9th-worst for CBs)
• 76.7 completion % allowed (10th-worst for CBs)
• 167 YAC allowed
• 5 TDs allowed (5th-worst for CBs)

Chicago would save $5 million by cutting him this offseason.

— Jacob Infante (@jacobinfante24) December 2, 2020
As if that didn't tell you enough about being in poor defensive position, receivers have picked up 167 yards after the catch. Yikes.
According to Pro Football Focus, Skrine grades out 132nd out of 210 total cornerbacks in the NFL this season. If you narrow the focus to those who've seen 50% of their team's snaps, he's 59th out of 83. That grade is helped by his aptitude in the run game, where he actually ranks 10th overall. When it comes to coverage, however, he's 151. And I don't mean Bacardi.
He has been getting lit up, though, like when the Packers put Davante Adams in the slot or when teams scheme to throw in Skrine's direction in the Red Zone. There's little the Bears can do about that this season and it wouldn't matter even if they did, but Infante points out the obvious in noting that cutting Skrine would save $5 million in much-needed cap space.
The NFL's salary cap is expected to drop to around $175 million next season, roughly $25 million less than this season, so the Bears are going to need to trim about $15 million from this year's payroll. And that's before adding new players. Sounds like a job for a new GM.