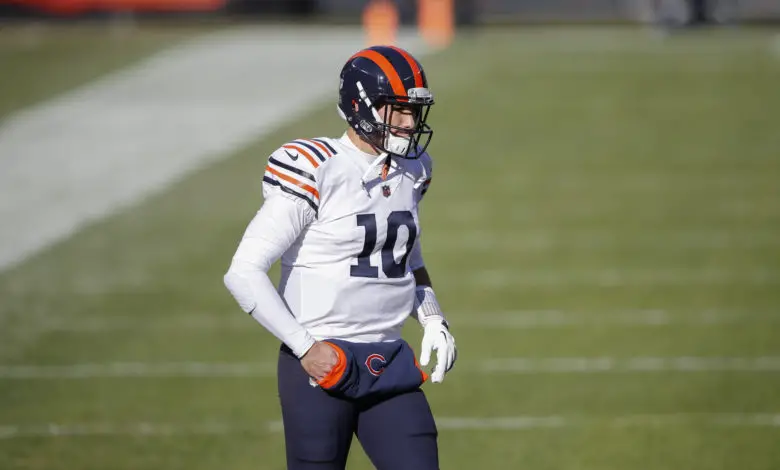 First and Long: Bears Losing By Winning, Nagy Impeding Team's Success, Goodell Says NFL Won't Jump Vaccination Line, Ravens-Browns 'Instant Classic'
After taking nearly two months between victories, writing about the Bears' playoff chances hardly seems worth the effort, especially since their loss to the Lions two Sundays ago sucked whatever enjoyment I had left for this season right out of me. Bears fans often fail badly when it comes to pragmatism, so any shot at a Wild Card also feels like a legitimate shot at the Super Bowl to some Chicagoans.
Playin' with something to prove.

Our defense was ᴜɴꜱᴛᴏᴘᴘᴀʙʟᴇ yesterday. 😤 https://t.co/OEEM2KFgj3

— Chicago Bears (@ChicagoBears) December 15, 2020
Then there are the realists, like me, who see Sunday's victory against the Texans as an indictment of the failures of the current regime. If the Bears are really that good, why haven't they played like it all season? The short answer is that the Bears are no better a team today than they were a week ago at this time. If you'd rather I show the slightest bit of optimism, well, they're certainly not any worse, either.
The Texans are a whole lot worse, though, and beating up on Houston's defense is akin to serving roadkill at your holiday dinner next week. That team rolled over and died before they stepped one foot onto Soldier Field Sunday. The Texans only made the Bears look like the storied Monsters of the Midway because they were in fact roadkill.
Still, Chicago has a mathematical shot (roughly 20%) of earning a postseason berth. If Coach Nagy's rejuvenated squad can come up with a second straight complementary effort, coupled with a loss by the Cardinals against the Eagles, Bears fans will have playoff fever again. Doing so will probably save Nagy's job, as well as that of his boss, GM Ryan Pace. I feel ashamed for having just typed that sentence.
If you aren't aware, I live in Milwaukee, and Packers fans up here are absolutely salivating at a chance to destroy the collective psyche of Chicago's football fans, again. The NFL's two oldest franchises will meet on the final Sunday of the season and if the Bears enter that game with an opportunity to earn the final seed in the NFC, Green Bay will be all too happy to destroy those dreams.
The road to the playoffs lies north of the Cheddar Curtain and most Wisconsinites view knocking the Bears out of the playoffs as only slightly less satisfying than winning a championship. At times, it genuinely seems like a toss-up.
That begs the question: Would simply sneaking into the playoffs justify keeping the tandem of Nagy and Pace around for at least another season? Or Ted Phillips, for that matter? And if Mitchell Trubisky bolts in free agency, do we really want that triumvirate choosing Chicago's next first franchise quarterback? We should be screaming "hell no" to each of those questions. It may be disgraceful to root for your team to lose, but at the same time, doesn't it feel just a little pointless to hope they win?
Indeed, the Bears are in the hunt for that final seed, and the Packers, who may be fighting for the top spot in the NFC on January 3 and the first-round bye that comes with it, essentially stand in the way of that pursuit. I'd rather Green Bay not wield that power or administer that destruction, nor would I rather have anything close to earning a spot in the postseason tournament allow the McCaskeys to keep Nagy and Pace around for another year.
---
---
Bears News & Notes
There's a Flag…On the Play
While perusing some of the outstanding individual efforts by Bears starters this year, you may find yourself thinking "how the hell did this team lose six straight games?"
The answer should be "it's the coaching, stupid."
#Bears WR Allen Robinson has been incredibly reliable this year: he has a drop rate of just 0.8 percent on 128 targets.

The only player in the NFL with 70 or more targets with a lower drop rate? His teammate Darnell Mooney, who hasn't dropped any of his 73 targets.

— Jacob Infante (@jacobinfante24) December 14, 2020
Northern Exposure
The race for league MVP between Chiefs QB Patrick Mahomes and Green Bay legend Aaron Rodgers is one of the tightest in recent memory.
Vikings signal caller Kirk Cousins was sacked six times in Sunday's loss to the Bucs, which matched a career high. He was sacked four times the previous week against Jacksonville.
The Lions have a very slim shot at the NFC No. 7 seed (2%) but they may have to play Sunday without Matthew Stafford, though x-rays on the star quarterback's ribs showed no breaks. If Stafford can't go, Chase Daniel will try to keep Detroit in the playoff hunt.
Three Yards and a Cloud of Dust
Montgomery leads all NFL rushers with a 7.38 yards per carry average over the past three weeks. He has rushed for 288 yards on 39 attempts with three scores, yet Nagy gave him just 11 carries on Sunday.
Seahawks strong safety Jamal Adams has 8.5 sacks so far this year, the most ever by a DB in a single season in NFL history.
Rodgers has 28 touchdown passes without a single interception in the red zone this season. His completion percentage in those situations is 69.6%
Around the League
The best NFL game of the year, at least from a football fan's perspective, had to be last night's thrilling 47-42 win by the Ravens over the Browns, which is already being hailed as "an instant classic."
The Browns' final play of the game, a lateral that ended up being called a safety, sure made a lot of bettors happy.
I missed this in my Pick Six section yesterday, but Cardinals OLB Haason Reddick had a career game with five sacks in 47 total snaps, in addition to six quarterback hits and three forced fumbles. Reddick now has 10 sacks this season after having 7.5 over his first three years combined.
Eagles coach Doug Pederson announced that rookie QB Jalen Hurts will be his starter for the remainder of the year.
Commissioner Roger Goodell said that the NFL won't force its way to the head of the COVID-19 vaccination line, and that the league is not planning on administering any immunizations before the Super Bowl.
Fumblerooski
Nagy does everything in triplicate except win.
Nagy on Mitchell Trubisky: "What he's trying to do right now is be the greatest quarterback he can be for the Chicago Bears, be the greatest leader he can be for the Chicago Bears and be the greatest teammate he can be for the Chicago Bears."

— Chicago Bears (@ChicagoBears) December 14, 2020
At the Podium
"These last three games we're [Mitch Trubisky] feeling an identity with this offense and he's a big part of this. He's being a leader and making plays." – Matt Nagy
"We like the man that's in charge ahead of us, our head coach. So, when we go out there, we've got to make him look good." – Danny Trevathan
Today's Halftime Entertainment
Feeling Gravity's Pull by R.E.M. – The Bears have no margin for error if they want to make the playoffs or secure a better draft pick. Either win the next three games or lose them. Anything else is an epic failure.