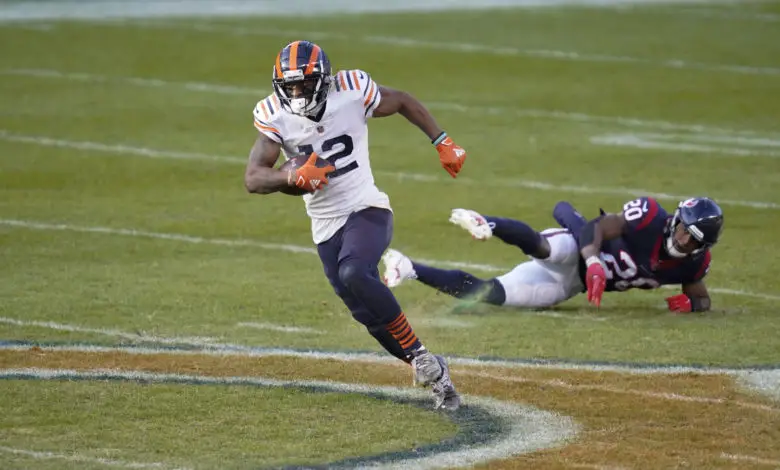 First and Long: Bears Bust Out, Trubisky Has Career Game, Playoffs Still Within Reach, 'Complementary Effort' May Have Exposed Nagy's Flaws
The Bears won yesterday's game against the Texans on their first offensive play of the day, an 80-yard touchdown run by David Montgomery. That run kicked off a dominant and complete performance by the local footballers, their best game of the season.
.@MontgomerDavid OUT THE GATES 🔥🔥🔥!!
32 goes 80 yards for the opening drive score.

📺: CBS#HOUvsCHI | #DaBears pic.twitter.com/9EVlqW81Xq

— Chicago Bears (@ChicagoBears) December 13, 2020
FUN FACT: David Montgomery rushed for 113 yards on 11 carries in today's 36-7 win. Only 3 #Bears have ever rushed for more yards with fewer carries in a game:
Beattie Feathers 7-114 on 10/21/34
Bob Margarita 9-129 on 12/3/44
Johnny Morris 7-114 on 10/16/60

— Larry Mayer (@LarryMayer) December 14, 2020
It had been 38 games since the Bears last scored an offensive touchdown on a play from their side of midfield, a drought that consisted of 430 possessions covering 2,464 plays. Montgomery finished the day with 113 yards on 11 carries.
The victory ended a six-game losing streak, and, combined with the Vikings' loss to the Buccaneers, vaulted the 6-7 Bears back into playoff contention. Chicago will need to win their three remaining games, including next week's now-important tilt against Minnesota, and they'll need some cooperation from the Cardinals. Arizona will likely have to lose two of their three remaining games to open up a path to the playoffs for the Bears. Had Chicago not blown last week's game against the Lions, they'd be in control of their own postseason destiny.
Mitch Trubisky had his best game of the season yesterday, throwing for 267 yards and three dimes, which should leave head coach Matt Nagy wondering why he ever benched the fourth-year signal caller. The offense piled up 410 yards in the 36-7 laugher, and Mitch the Kid played the way GM Ryan Pace likely envisioned when he traded four draft picks to move up one slot and grab him at No. 2 overall in the 2017 draft. The beleaguered QB1 connected with wide receiver Allen Robinson on 9 of 13 targets for 123 yards and one score. Jimmy Graham and Darnell Mooney also grabbed touchdown passes.
On the defensive side of the ball, the Bears were equally dominant. Khalil Mack, who was absent from last week's stat sheet, had a sack for a safety, a forced fumble, a fumble recovery, and a deflected pass. Roquan Smith had 12 tackles and two sacks, making Houston QB Deshaun Watson look like the lesser of the two in comparison to Trubisky. Houston lost 64 yards on seven sacks, the most the Bears have had since a 13-3 victory over the Panthers in 2005. When Montgomery took it to the house, it was the transfusion his teammates have long-needed in the two months since their last win.
Here's what the remaining schedules look like for the three teams fighting for the final NFC seed.
Cardinals: vs. Eagles (4-8-1), vs. 49ers (5-8), at Rams (9-4)
Vikings: vs. Bears (6-7), at Saints (10-3), at Lions (5-8)
Bears: at Vikings (6-7), at Jaguars (1-12), vs. Packers (10-3)
Playoff aspirations aside, it was nice to see so many of the younger players have impact games. The Bears playoff chances sit at 23% after yesterday's win, while Arizona has a 58% probability of earning the final Wild Card spot. None of that matters if Chicago doesn't follow up yesterday's decisive victory with another big game against the Vikings next week.
Bears News & Notes
There's a Flag…On the Play
Despite yesterday's dominating win, former Bears DE Alex Brown is still not a fan of Coach Nagy, and would like to see the team bring back Smith.
Are you buying what the Football Aftershow crew is selling when it comes to a Lovie Smith/Bears reunion? Or nah?https://t.co/O3XqFts5Sk

— Bears Talk (@NBCSBears) December 14, 2020
Northern Exposure
The Packers beat the Lions 31-24 to clinch the NFC North for the seventh time since Aaron Rodgers became a full time starter in 2008. Because the Saints lost, Green Bay is also the current number one seed in the NFC.
The Vikings were in control of their playoff destiny before a disastrous afternoon by kicker Dan Bailey derailed that train. Bailey missed an extra point and three field goal attempts in Minnesota's 26-14 loss to the Bucs.
A missed pass interference call against the Packers cost the Lions a touchdown just before halftime yesterday, and may have cost them a win.
Three Yards and a Cloud of Dust
Home teams are now 103-103-1 in 2020.
After winning a record 11 consecutive division titles with Tom Brady under center, the Patriots (6-7) are on the verge of missing the playoffs for the first time since 2008. Brady and the Buccaneers can clinch a playoff spot next week with a win.
The Rams are now 34-0 when leading at halftime under head coach Sean McVay, one of the craziest concurrent streaks in the league.
Pick Six
Derrick Henry  – The Titans back gained 215 yards on 26 carries with two scores, becoming the first player in league history to own four games with both 200+ rushing yards and a pair of TDs on the ground.
Rodgers – A typical Sunday for A- Aron, who strengthened his bid for his third MVP Award. The veteran QB finished 26-of-33 for 290 yards and three TDs without a sack or interception.
Trubisky – It may have been a career game for the signal caller, who picked apart the Texans for 267 passing yards and three scores while completing 24-of-33 attempts without an interception. Trubisky also gained 23 yards on four rushing attempts.
Russell Wilson – The Seahawks QB bombed the Jets for four TD passes, giving him a team-record 36 on the season, and finished the day 21-of-27 for 206 yards.
Jalen Hurts – The Eagles rookie QB did it with his legs yesterday, scrambling for 106 yards on 18 carries in leading Philadelphia to a 24-21 upset over the Saints. Hurts also completed 17-of-30 passes for 167 yards.
Cam Akers – The Rams running back totaled 171 yards on 29 carries as Los Angeles maintained the No. 3 seed in the NFC with their 24-3 win over the Patriots.
Fumblerooski
The Chargers really struggle with clock management.
I've never seen a team worse when it comes to clock management than this Chargers team under Anthony Lynn. This is inexcusable and happens every week. pic.twitter.com/P8B1060dvc

— Arash Markazi (@ArashMarkazi) December 13, 2020
At the Podium
"Just run. At that point, it was a big enough hole that anyone could have run through." – David Montgomery
"Today, my goal was to go out there and be present and just play each play as its own entity and whatever happens, happens. The situation that we were in, being on that little losing streak, that makes you sick to your stomach. So I was willing to do whatever it took for the team to get a win." – Mitch Trubisky
"Today was how it looks when a team plays complementary football. I think you're starting to see it all come together." – Allen Robinson
"I think we're starting to create an identity. You're feeling it. You're seeing it on the scoreboard. There's a confidence right now in this offense. That part I appreciate from these players saying, 'You know what, we're going to figure this thing out. We're going to get it.'" – Matt Nagy
Today's Halftime Entertainment
Against the Wind by Bob Seger & The Silver Bullet Band – The Bears find themselves trending upward for the first time in eight weeks. A Wild Card berth is improbable, but not impossible.