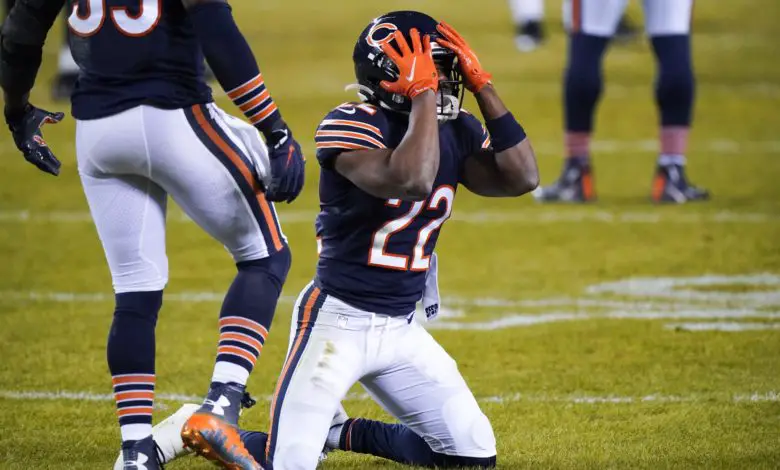 First and Long: Bears Back into Playoffs, Nagy Expected to Return, Team Remains Quiet Regarding Trubisky's Future, Santos Sets Club Record
I don't suppose there is any scenario in which the Bears can lose next week and somehow back into the second  round of the NFC playoffs, is there? Matt Nagy and his squad owe a big boatload of thanks to the Rams for knocking off the Cardinals yesterday, allowing the Bears to "earn" a Wild Card berth and a No. 7 seed despite a 35-16 loss to the Packers.
The game was closer than the score indicates and was genuinely up for grabs until an incomplete pass by Mitch Trubisky on 4th-and-1 from Green Bay's 25. The turnover on downs led to a touchdown drive that put the Packers up by two scores with just under four minutes to play. Game over.
Bears. Saints. Sunday.#DaBears | 🐻⬇️ pic.twitter.com/mDmJR9NNkn

— Chicago Bears (@ChicagoBears) January 4, 2021
In fact, the Bears did almost everything right up until the final 12 minutes of the game. They moved the sticks, controlled the clock, converted five fourth downs, outgained Green Bay, and even forced a big turnover. Ultimately, failures in the red zone prevented Chicago from upsetting their NFC North rivals. A postseason berth is a pretty nice consolation prize, though, and Chicago will travel to New Orleans for Sunday's tilt.
Health might be the biggest issue for the Bears as they prepare to face Drew Brees and the No. 2 seed Saints. The Bears were down two corners (Jaylon Johnson and Buster Skrine) to start yesterday's game and lost linebacker Roquan Smith and rookie wide receiver Darnell Mooney to injuries. Smith, Chicago's leading tackler this year, departed late in the 1st quarter with an elbow injury. Mooney, who had a career day, hurt an ankle early in the 4th. Nagy said he would know more about their availability for next week "in a day or two."
Bears News & Notes
The Bears are 0-6 all-time against the Packers in Week 17, but they backed into the playoffs anyway. Thanks, Rams.
Fox NFL reporter Peter Schrager reported Sunday that both the team and Trubisky's camp will "not discuss anything" about the quarterback's status for next year and beyond until after the season has ended.
Nagy is expected to return to coach the Bears next season.
The Bears' head coach had to balance the excitement of the team's second playoff bid in three years with the disappointment of ending the season with a loss.
Though the Bears finished among the best of the league's middling teams, nothing about backing into the postseason is bad, even during a season where the playoffs were expanded to seven teams per conference.
Managing to land the last spot in an expanded playoff field seems almost apropos after a very streaky season.
The defense had a chance to make some big plays against the Packers, but too often failed to capitalize.
Because they earned a Wild Card berth, the Bears will pick no higher than No. 19 in the first round of next year's draft barring a trade.
Here are the 2021 regular season opponents for the Bears: Home –Packers, Lions, Vikings, 49ers, Cardinals, Ravens, Bengals and Giants. Away — Packers, Lions, Vikings, Steelers, Rams, Browns, Seahawks and Buccaneers.
The NFL is expected to add a 17th game next season as a way to drive up revenues. That extra opponent will be "an interconference matchup based on divisional standings" from the previous season, and "on a rotating divisional basis."
There's a Flag…On the Play
I'm not a betting guy, and I know the Bears are going on the road next week with New Orleans peaking right now, but the 9.5-point spread seems a bit steep, even for an early line. I'd expect the Bears to cover, and they could possibly pull off an upset. Chicago lost 26-23 to the Saints in overtime at Soldier Field on Nov. 1 in a game they should have won.
#Saints open as a 9.5-point favorite over the #Bears for next Sunday's wild-card playoff game at the Mercedes-Benz Superdome at Westgate SuperBook in Las Vegas per my guy on The Strip, @JoeFortenbaugh.

— Brad Biggs (@BradBiggs) January 4, 2021
Three Yards and a Cloud of Dust
A 3rd quarter field goal by Cairo Santos was his 27th straight successful attempt, setting a franchise record. Santos has been a revelation this year, and he broke Robbie Gould's record of 26 straight from 2005 to '06.
Mooney set career highs with 11 catches and 93 yards before leaving early in the fourth period with an ankle injury.
Rodgers joined Peyton Manning (2004 and 2013) as the only players to throw for at least 45 touchdowns in multiple seasons. He now has 48, surpassing his previous high of 45 in his first MVP season of 2011, and just five interceptions.
Northern Exposure
Rodgers made a convincing argument in his quest for league MVP with yesterday's performance.
For the Lions, the focus of the franchise turns solely to filling its head coach and general manager openings.
Vikings wide receiver Justin Jefferson broke two NFL rookie receiving records in Minnesota's 37-35 win over the Lions on Sunday at Ford Field.
Pick Six
John Wolford – The Bears owe their playoff berth to the Rams QB, who passed for 231 yards and rushed for another 56. Wolford had never taken a regular season snap before yesterday.
Aaron Rodgers – The league's likely MVP was 19-of-24 for 240 yards and four dimes, giving him 48 on the season.
Derrick Henry – The Titans running back could be a dark horse MVP candidate himself. Henry rushed for 250 yards on 34 carries yesterday with two TDs and finished the 2020 season with 2,027 rushing yards and 17 touchdowns.
Kirk Cousins – The Vikings QB led Minnesota to 508 yards of total offense in their 37-35 win over the Lions, passing for 405 yards with three TDs
Justin Herbert – The Chargers QB likely wrapped up Rookie of the Year honors after going 22-of-31 for three TDs in L.A.'s 38-21 win over he Chiefs. Herbert finished the season with 4,336 passing yards and 31 touchdown passes.
Cam Newton – His future with New England appears to be in doubt, but the veteran signal caller had another great all-purpose game, throwing for 242 yards three TDs while gaining 79 yards on 11 rushing attempts, as the Patriots pasted the Jets 28-14.
League News & Notes
Jets head coach Adam Gase was fired after yesterday's loss to the Patriots.
With the Browns and Buccaneers making the playoffs, the Jets now own the league's longest postseason drought – one that dates to 2010.
Henry became the eighth 2,000-yard rusher in league history. He also became the first man to win consecutive rushing crowns since Hall of Famer LaDainian Tomlinson did so in 2006 and 2007.
The Bills scored a franchise record 501 points this season, breaking the previous team record of 458.
The NFL managed to get in all 256 of its regular-season games despite the COVID-19 pandemic. The league is now challenged with playing its 13 most important games with minimal viral disruption.
Fumblerooski
There won't be another game played at Soldier Field until next September. Hopefully fans will be able to attend.
Eight games in an empty Soldier Field, part of 256 in a regular season unlike any other. It was challenging and just plain weird, but here's to better days ahead.

In the meantime, on to the playoffs… pic.twitter.com/KJ5MT2lDjD

— Chris Emma (@CEmma670) January 4, 2021
At the Podium
"I apologize if I'm not all balloons everywhere. But tomorrow it's going to be energetic. There's going to be some juice. The guys are going to heal up. They're going to take care of their bodies. They're going to get mentally right, and, shoot, let's go. That's where that fire comes from. No one can take that away from us, and I'm proud of our guys for that." – Matt Nagy
"I don't care how we got there. We're in. That's the marvel of it." – Eddie Jackson
"It's such a difficult time for so many people. I have such an understanding and appreciation for how difficult [the pandemic] has been on so many people. I've really just tried to have a good perspective, an attitude of gratitude and really just enjoy every moment of this season." – Aaron Rodgers
Today's Halftime Entertainment
Don't Stop Me Now by Queen – After an 8-8 season, the Bears season will be deemed a success or failure based on how well they do in the playoffs.