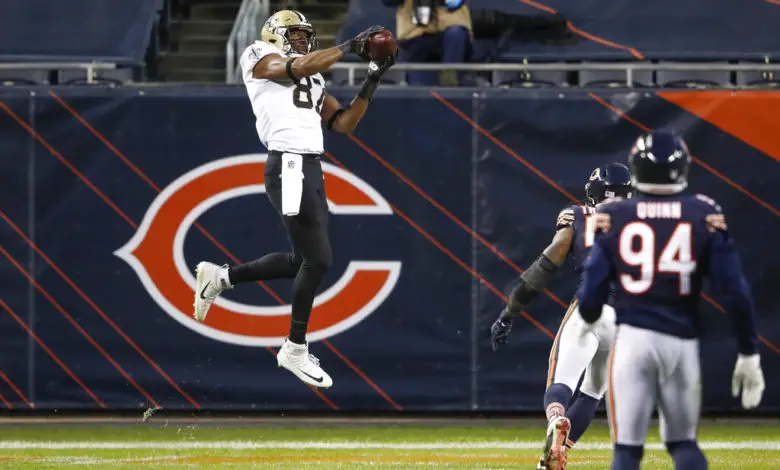 Saints Scoring Drive to End First Half Provided Maddening Harbinger for Game, Possibly Season
If you were watching Sunday's game against the New Orleans Saints, it was hard not to notice the Bears fall flat defensively in the final drive of the first half. They had just kicked a field goal and found themselves with a comfortable 13-3 lead and a chance to go into the locker room with some serious momentum.
The confidence from that two-score margin may have even evolved into a bit of arrogance as Khalil Mack sacked Drew Brees for an eight-yard loss that set the Saints back to their own 35-yard line with just over a minute remaining. Then all that swagger began to devolve into a maelstrom of confusion, disappointment, and regret, which continued to persist throughout the last vestiges of Sunday's contest.
Shorthanded and without as many dimensions as we've seen from a Brees-led offense in the past, the Saints proceeded to march down the field after that sack with little resistance. The drive ended when Jared Cook ran a route down the middle of the field, in front of Jaylon Johnson and just behind a soft zone-sitting Danny Trevathan. It was about as easy a touchdown as you'll ever see.
What should have been the end to a dominant Bears half instead became a 13-10 ballgame that surely revved up the Saints. Not only did that drive give them reason to believe they could rough the Bears defense up when they needed to, but also that they could win the game in the second half.
Drew ➡️ Jared at the buzzer 🚨 #SAINTS | 📺: Fox pic.twitter.com/Y0pNEScpSq

— New Orleans Saints (@Saints) November 1, 2020
So, what was Johnson doing biting on anything deep, giving that much of a cushion with so little room left on the field and so little time left on the clock? It's anyone's guess.
The defense obviously can't be perfect, but having an offense that struggles to score leaves no room for lapses in judgment or focus, especially deep and late. Unfortunately, it feels like that giveaway touchdown was symbolic of the struggles sometimes seen from an otherwise stellar defensive unit on Sunday.
If the inconsistency and occasional gaffes aren't addressed and corrected, that play may be a prophetic reminder of not only how Sunday's game ended, but how this season could end as well.