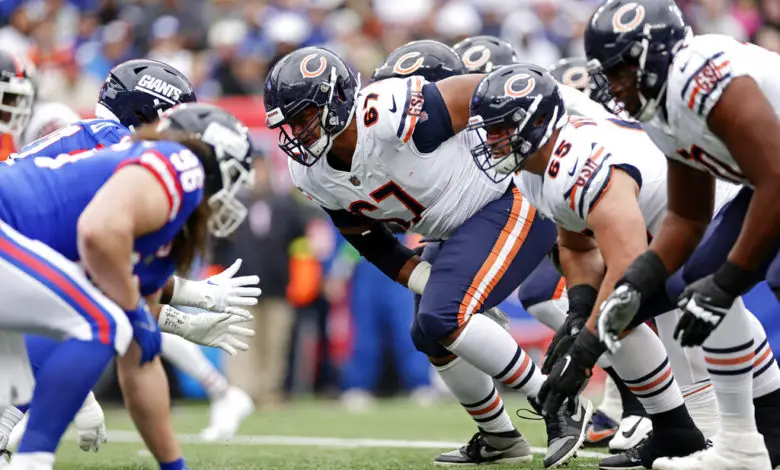 Did the Bears Demote Sam Mustipher?
The Bears will be without Cody Whitehair against the Vikings tomorrow, but that might not be the only change to the offensive line. Chicago updated its depth chart earlier today, and there was a surprise at the left guard. Rookie Ja'Tyre Carter is listed as the starter, and Sam Mustipher has been moved back to center as a backup up to Lucas Patrick.
Earlier this week, offensive coordinator Luke Getsy said the team is still trying to figure out the best combination heading into Sunday's game. Patrick, and where he starts, is key.
"Yesterday [Patrick] did a little bit of everything, so we're gonna try to put what we feel in by the end of the week," Getsy said on Thursday, via ChicagoBears.com. "We'll evaluate it again today and then make that decision."
Patrick injured his thumb at the start of training camp and has been splitting snaps on the right side with Teven Jenkins since returning. The Bears signed Patrick to be their No. 1 center. His injury forced Chicago to move Mustipher into the starting role. The third-year lineman has been a liability in pass protection all season. Justin Fields has been sacked 16 times in four games. The pocket usually collapses immediately as soon as Fields drops back to pass.
The offensive line allowed 14 pressures in last Sunday's loss to the Giants. Mustipher accounted for seven by himself. That's rare, considering he's defending interior linemen.
Bears C Sam Mustipher Allowed 7 HURRIES. That is hard to do from the C position. He graded out w a meager 8.3 pass-blocking grade on PFF. If Lucas Patrick isn't ready to move to C soon I'd look to make a roster move. #DaBears #Bears #Chicago

— Clay Harbor (@clayharbs82) October 3, 2022
I wish I was making this up but I'm not.

This is ANOTHER basic cross dog blitz. Sam Mustipher once again misses his assignment and stops the play before it's started. #DaBears #Bears #BearDown pic.twitter.com/6iV27ZEZf8

— Clay Harbor (@clayharbs82) October 4, 2022
Moving Patrick back to center makes the line stronger because it keeps Jenkins in the game full-time. Jenkins has yet to allow a sack or a pressure, and he has yet to take a holding penalty. The move looks great on paper, but Carter is a bit of an unknown. He had a strong summer, but he's yet to play this season. The 6-foot-5 275-pound lineman was a 7th-round draft pick out of Southern University. At the time, ESPN's Mel Kiper described Carter as "a potential starter down the road after some development time."
Here's how The Draft Network described Carter in a pre-draft interview:
"Southern's Carter is one of the most intriguing mid-round offensive linemen available in the 2022 NFL Draft. [He] shocked dozens of scouts in attendance at his Pro Day by leaping an astounding 34.5 inches in the vertical jump despite weighing a healthy 312 pounds. Carter then further displayed his impressive athletic ability by running the 40-yard dash in 5.02 seconds. For teams searching for high-level athletes at the position, Carter fits the bill."
The Bears have made no official announcement, and their depth chart has been fluid all season long. If true, the promotion is significant for all the reasons mentioned above. Carter could be a diamond in the rough, at least according to assistant director of college scouting Breck Ackley.
"I was actually on the field right off the bat, and they go right to one-on-ones," Ackley said after the draft. "That's kinda the highlight for the O and D line. You wanna see 'em and right off the bat.
"I believe it was the Oklahoma guy he lined up against, so I'm kinda back there standing by the goalpost going, 'Here we go. Baptism by fire.' And he gave a little ground, kinda sat on it, then when he came out of the rep he almost bought back a little bit. It was almost like he, himself, realized, 'I can hang.' After that, with every other rep, he battled and held his own. There's gonna be some losses, right? I mean everybody there goes up and down, but he just kept showing up and held his own. That's probably what stood out, I was excited to see him battle and kind of realize he could play at that level."