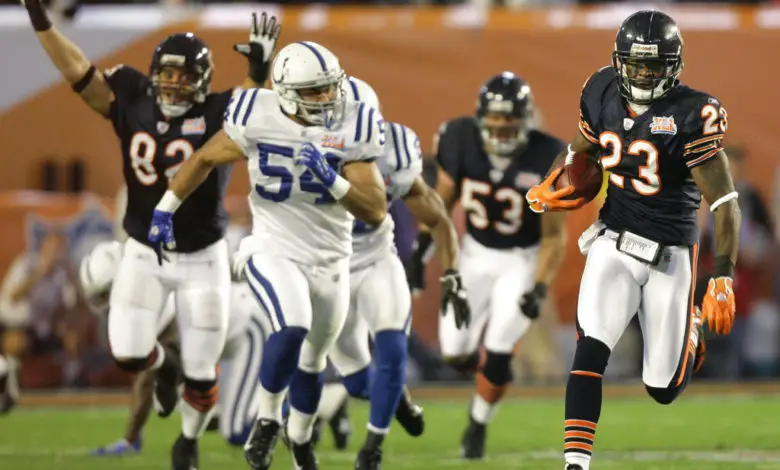 Devin Hester Named Finalist for NFL Hall of Fame
I'll never apologize for posting the following Devin Hester video.
Happy 40th birthday to legendary returner Devin Hester! @D_Hest23 pic.twitter.com/nZLHTncQPI

— NFL Legacy (@NFLLegacy) November 4, 2022
Hester was selected on Wednesday as one of 15 modern-era finalists for the Pro Football Hall of Fame's Class of 2023. He held the same honor last year – his first year of eligibility – though he was not elected.
The 2006 draft pick out of Miami played eight of his 11 NFL seasons with the Bears. Hester is the most prolific return specialist in league history and holds NFL records with 19 kick-return touchdowns, 14 punt-return TDs, and 20 return touchdowns. That includes punts, kickoffs, missed field goals, fumbles, and interceptions. It does not, however, include his touchdown on the opening kickoff in Super Bowl XLI.
Hester set an NFL single-season record with five kick return touchdowns as a rookie in 2006 and then eclipsed the mark with six TDs in 2007. The three-time All-Pro also returned three punts for scores in 2010, two punts and one kickoff for TDs in 2011, and one punt for a touchdown in 2013. He is still the team's all-time leader in punt return yards (3,241), kickoff return yards (5,504), total kick return yards (8,745), punt returns (264), and kickoff returns (222).
One would think he has a clear path to induction, but I said the same thing last year. The NFL rarely elects players in their first year of eligibility, though Hester is the game's best-ever specialist. This year's finalists were determined by a vote of the Hall of Fame's Selection Committee. The initial list included 129 nominees and was trimmed to 28 semifinalists on November 22.
The Hall of Fame's Class of 2023 will be announced during the "NFL Honors" telecast prior to Super Bowl LVII. Here are the other candidates competing with Hester:
Don Coryell is also under consideration as a coach/contributor. Chuck Howley, Joe Klecko and Ken Riley are this year's senior finalists.
The Committee consists of one media representative from each pro football city with two from New York, inasmuch as that city has two teams in the National Football League. A 33rd member is a representative of the Pro Football Writers of America and there are also 16 at-large delegates.
Committee bylaws stipulate that between four and nine new members will be selected each year. There is no set number, however, for any class of enshrinees. The Bears currently flaunt a league-high 30 Hall of Famers. That list includes: