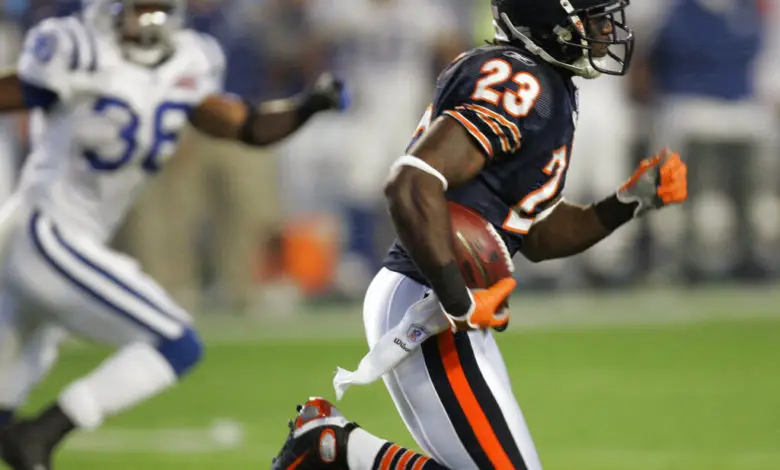 No Hall Call for Devin Hester
Of all the eligible candidates for the NFL Hall of Fame Class of 2022, Devin Hester was arguably the most dynamic personality on the field. It's difficult to get the call in your first year of eligibility, and the special teams standout will have to wait at least another year to see if the Pro Football Hall of Fame is in his future.
It's difficult to overstate Hester's athletic gifts — he was one of the greatest kick returners of all time, he demonstrated an outstanding ability to outrun tacklers, and he was extremely versatile, having been featured on kickoff and punt returns, while also getting in reps as a wide receiver. He even registered 11 career special teams tackles, though nine came in his rookie year. After scoring five TDs in 2006, it was all too obvious that coach Lovie Smith would not want to risk injuring Hester by having him defend returns.
15 years ago today, Devin Hester returned the opening kickoff of Super Bowl XLI! 🤯#DaBears | (via @nflthrowback)

— Sunday Night Football on NBC (@SNFonNBC) February 5, 2022
As a rookie, Hester became the only player in the history of the Super Bowl era to run back the opening kick for a touchdown, a feat he accomplished on February 4, 2007, against the Colts in Super Bowl LXI. His coming-out party occurred earlier that year when his 4th quarter 83-yard punt return for a touchdown helped beat the Cardinals 24-23, a game now referred to as the Monday Night Meltdown.
While he did spend some time at wide receiver, Hester was primarily a returner, and no one did it better. The retired Bears' standout holds the NFL record with 19 return (14 punts, 5 kickoffs) touchdowns and he totaled 11,028 return yards. He twice led the NFL in punt return average, but what made Hester a special player was his ability to change games any time he fielded a kick.
The 39-year-old was a second-round pick (No. 57 overall) out of the University of Miami in 2006. In his career spanning 12 seasons, Hester was a three-time all-pro and was named to the Pro Bowl four times. He even returned a missed field goal for a 108-yard touchdown.
Deion Sanders played a big role in Hester's development. The multi-sport Hall of Fame athlete counseled, advised, and encouraged Hester during his collegiate career at the U. Hester was nicknamed "Anytime" at Miami, a tribute to Sanders' nickname, "Prime Time.".After he was drafted by the Bears in 2006, Hester adopted his mentor's signature touchdown dance.
"It would be absurd if he's not a first-ballot Hall of Famer.," Sanders said earlier today. "There's no man that was feared more than Devin Hester with a ball in his hands on special teams. And that's coming from me."
New Bears special teams coach Richard Hightower is also a fan, saying that in his opinion Hester deserved the first-ballot Hall of Fame election.
Unfortunately, Hester is still on the wait-and-see list.
Hester spent the first eight years of his career with the Bears before becoming a journeyman specialist. He played for the Falcons in 2014, where he recorded his 19th and final touchdown, before moving to the Ravens in 2016. His final return TD broke the record previously held by Sanders.
After leaving the Ravens, Hester signed with the Seahawks for their playoff run on January 3, 2017. He debuted for Seattle in the first round of the 2016–17 playoffs against the Lions and returned one kickoff for 20 yards and one punt for five yards against in the Wild Card tilt. During the Divisional Round, Hester returned five kickoffs for 194 yards, including 78- and 50-yard run backs against the  Falcons. Atlanta won that game 36–20 and then Hester announced his intentions to retire from professional football after the game.
Here are just a few of the many NFL records Hester holds:
Combined special teams return touchdowns, career: 20 (14 punts, 5 kickoffs, 1 missed field goal)
Most kickoff and punt return touchdowns, career: 19
Combined return touchdowns, season: 6 (2007) (4 punts, 2 kickoffs)
Fastest Touchdown in Super Bowl history: 14 seconds
Hester also holds 21 Bears records, including 8,751 total return yards in his career with the team. Hopefully, he'll earn a selection next year.