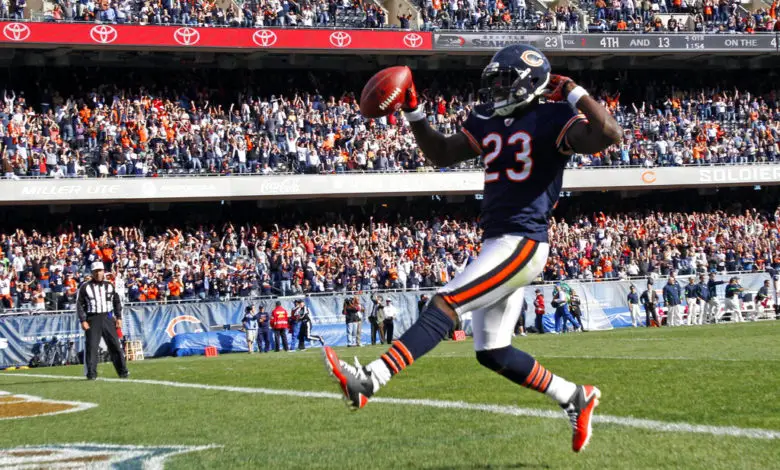 Devin Hester Deserves to Be Inducted as a First-Ballot Hall of Famer
There aren't a lot of special teams players with a bust in Canton, OH, and none who were used almost exclusively to return kicks. Devin Hester, who became eligible for selection this year, deserves to be inducted as a first-ballot Hall of Famer when the NFL announces its new inductees later today.
While he did spend some time at wide receiver, he was primarily a returner, and no one did it better. Hester holds the NFL record with 19 return (14 punts, 5 kickoffs) touchdowns and totaled 11,028 return yards. He twice led the NFL in punt return average, but what made Hester a special player was his ability to change games any time he fielded a kick.
The 39-year-old was a second-round pick (No. 57 overall) out of the University of Miami in 2006. Hester was a three-time all-pro and was named to the Pro Bowl in four of his 12 seasons. He even returned a missed field goal for a 108-yard touchdown
We'll probably never see that type of return mastery in the NFL again. The league had just one punt return touchdown this year, a 75-yard score by Jakeem Grant Sr. of the Bears in a Week 14 45-30 loss to the Packers.
𝐅𝐞𝐛𝐫𝐮𝐚𝐫𝐲 𝟒, 𝟐𝟎𝟎𝟕

Devin Hester returns the opening kickoff of Super Bowl XLI for a touchdown! pic.twitter.com/zbrb1nUWv4

— This Day in Chicago Sports (@ChiSportsDay) February 4, 2022
Though his signature return will always be the opening kickoff in Super Bowl XLI, Hester's most impressive game as a pro came in his rookie year in what is now referred to as the Monday Night Meltdown. That's the game Cardinals' head coach Denny Green completely lost his composure in his postgame press conference.
The Bears staked Arizona to a 20-0 first-half lead in Week 6 of the 2006 season and looked completely overmatched before Hester single-handedly led the Bears to an improbable 24-23 victory. Chicago entered the game 5-0 but looked anything like a dominating team against the 1-4 Cardinals. Rex Grossman was 14-34 for 144 yards and four interceptions that night and was sacked twice. Running back Thomas Jones gained just 43 yards on 11 carries. In fact, Chicago managed a paltry 168 yards of total offense.
All of the Bears' touchdowns that night were scored on returns. Mike Brown returned a fumble three yards for a score at the end of the third quarter, cutting Arizona's lead to 23-10. Five minutes later, Charles Tillman made it 23-17 with a 40-yard fumble return. Hester's heroics came a little later.
With 3:17 left in the game, the Cardinals, who were desperately trying to run out the clock, were forced to punt. Hester, who had already returned five punts for 69 yards, fielded the 4th quarter punt at his own 17-yard line and took it to the house, giving the Bears a 24-23 lead. The Bears held on for the six-turnover, no offense win, and Arizona's head coach completely lost his mind.
"The Bears are who we thought they are. If you wanna crown them, then crown their ass!" Green said, furiously and famously."The Bears are who we thought they were, and we let them off the hook."
The Cardinals released a video earlier this season as part of their "Folktales" series, going behind the scenes of that epic rant.
If the Jim McMahon-led Week 3 Minnesota Miracle against the Vikings was Chicago's signature win in their first Super Bowl season, the Monday Night Meltdown in Arizona is its 2006 counterpart. Each win came in games the Bears looked almost certain to lose, and each got the team over a proverbial hump in a championship season. The loss against the Colts on February 4, 2007, prevented that squad from reaching the legendary status of that '85 squad.
Hester is among this year's three finalists for the Hall of Fame in their first year of eligibility, where he's joined by DeMarcus Ware and Andre Johnson. A first-ballot induction is something the return specialist wants and believes he deserves.
"So, in this situation, it's not us being worried about making the Hall of Fame," Hester said, via Sports Illustrated. "It's about whether or not we're gonna be picked on the first ballot.
"First-ballot Hall of Famers are Hall of Famers that you don't have no question that they should be a Hall of Famer," he added. "You think about the best of the best—best quarterbacks, best running backs, best receivers. I know we don't have any [full-time] returners in the Hall of Fame, but I did things that have never been done before."
Hester believes he is the greatest kick returner in the game, his statistics back him up, and few could argue against him. We'll find out tonight. The Pro Football Hall of Fame Class of 2022 will be inducted during NFL Honors, which airs live at 8 pm CT on ABC from the YouTube Theater at the SoFi Entertainment Center in Los Angeles. In addition to airing on ABC, the two-hour award show will be simulcast on ESPN+ and the NFL Network.
"Every year, NFL Honors celebrates the NFL's brightest stars and greatest moments, bringing the sports and entertainment worlds together for a special night," said Mark Quenzel, senior vice president, head of Content for NFL Media. "We are thrilled to work with a new partner in ABC, ESPN, and the Walt Disney Company to bring this annual event and the star power associated with it to even greater and higher levels than ever before."
The NFL will also announce its winner of the prestigious Walter Payton Man of the Year Award during tonight's event. Chicago tight end Jimmy Graham is one of this year's nominees. The award goes to the player who shows excellence off the field with his charity work and his efforts to give back to his community. Seahawks quarterback Russell Wilson received the award last year.
But all eyes and ears will be tuned to the Hall of Fame announcements by commissioner Roger Goodell.
Hester will make history if he is inducted tonight, and he deserves the honor. There aren't a lot of specialists in the Hall of Fame. Morten Andersen and Jan Stenerud are the only pure kickers who have been inducted. Ray Guy is the lone punter. Adam Vinatieri, who is arguably the greatest kicker in NFL history, should have a spot in Canton when he is eligible. Hester would be the NFL's first kick returner inducted if his name is called.