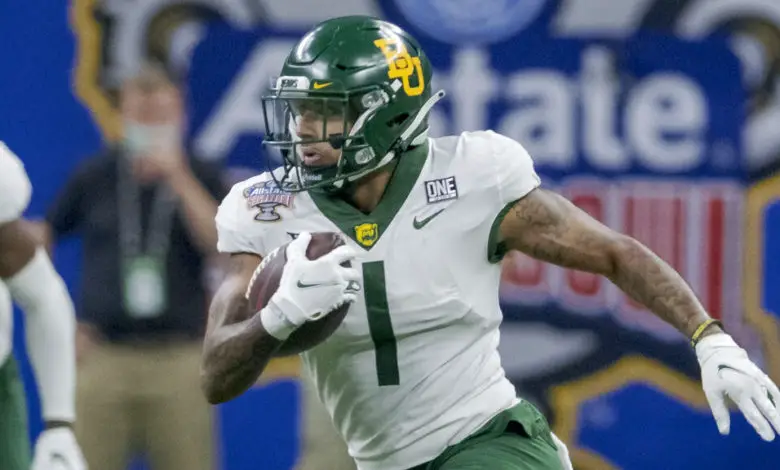 Critiquing Bears Day Three Draft Picks
After the Bears selected CB Kyler Gordon (Washington), Jaquan Brisker (Penn State), and WR Velus Jones Jr. (Tennessee), I was filled with hope for a fantastic Day Two. The Bears didn't have a fourth-round pick, and though that was something GM Ryan Poles lamented in his Friday even presser, no worries, there should be plenty of talent at the beginning of the 5th round. He had two early picks and a lot of possibilities with each, but to put it mildly, I was quite disappointed with the team's Day Three efforts.
The Bears' first draft class under Ryan Poles by position:

OL: 4
DB: 3
Edge: 1
WR: 1
RB: 1
A PUNTER! : 1

— Adam Jahns (@adamjahns) April 30, 2022
THE WAIT: As the 5th round approached, Ryan Poles was sitting on two picks at Nos. 148 and 150. The possibilities included a number of players who fit specific needs: Khalil Shakir (Boise State), Tariq Woolen (UTSA), Kellen Diesch (Arizona State, and okay, I may be wrong on this one), Tyreke Smith (Ohio State), and Matt Waletzko (North Dakota). Instead, Poles trades down to 168 and receives the number 203 pick from the Bills. Okay, that's fine. Chicago still has number 150 and can grab one of the five above that can be immediate contributors, outside of maybe Kellen Diesch. Let me pause for a moment because though my initial reaction was that the trade was fine, it presented a glaring problem that Chicago may have settled for less value in making those deals.
THE BILLS TRADE: The Bears traded down 20 spots and pulled nothing but a compensatory sixth-rounder. Did Poles even try to negotiate here? Buffalo had three picks in the sixth round. Did Poles try to get more? Did he try to add 209 or maybe an additional seventh-rounder? To me, dropping 20 spots with quality players that fill needs available and to get a pick in the middle of the 6th round for those efforts devalues future trades, and limits the quality of players Chicago could have grabbed.
THE WAIT CONTINUES: As I mentioned, the Bears still had the No. 150 pick, so no big deal. The Bills chose Shakir with Poles' original pick at 148, so obviously, he was a target. The Commanders selected TE Cole Turner (Nevada), who wasn't a player the Bears need, at No. 149. Now Poles is on the clock once again and has an opportunity to grab one of the remaining four on my shortlist or one of several other quality players. Nope. Instead, the rookie GM decided it was time to add more capital to his balance sheet.
Poles traded that pick to the Texans for 166 and 207, with a tip of the hat to old friend Lovie Smith. It was a 16-slot drop, so it's marginally reasonable to expect Chicago should get a middle sixth-round pick in the deal, but even if that was asking too much, he set the market for our early fifth-round picks. Over the next 18 picks, Woolen, Waletzko, Smith,  CB Zyon McCollum (Sam Houston State), LB D'Marco Jackson (Appalachian State), and two wide receivers – Montrell Washington (Samford) and Kyle Phillips (UCLA) – all came off the board.
With the Bears on the clock at No. 166, and like a recurring nightmare, Poles made yet another trade, dropping to No. 174 in a deal with the Bengals. I didn't hate this trade except for the fact that all Poles could squeeze out of Cincinnati was an early seventh-round selection.
THE ROUND 5 SELECTIONS: After that rollercoaster of a fifth-round, and wondering which players are still available and also thinking Poles might make another trade, the GM finally made a selection. Poles (and Bears fans) learned all about the true meaning of patience when the Bears finally grabbed OT Braxton Jones (Southern Utah). I was happy that Poles decided to finally address the offensive line, but there may have been better linemen available. Most analysts project Jones as a backup. He struggles as a pass blocker, and for a team to give up 58 sacks in 2021 – worst in the league, mind you – selecting an OT with blocking issues just felt like a gut punch. After watching three minutes of highlights from two games I gave Poles a D- for this selection simply because all the players that were available could have been Bears in the previous 20 selections.
By the time the Bears came up again at No. 174, my anticipation was really mounting. In my mind, I'm thinking Poles should select DT John Ridgeway (Arkansas) or OLB Kingsley Enagbare (South Carolina) among a few others. Instead, Poles selected EDGE/OLB Dominique Robinson (Miami Ohio) which, for a hot minute, I thought was downright horrifying. I didn't scout Robinson too much because I had no interest in a former wide receiver who was also a former quarterback locking down the edge for us. Robinson lacks proper hand placement and control, and he's never taken a single, starting snap at EDGE.
Trying to be fair, I decided to dig a little deeper. Robinson is ultra-athletic and he shows tremendous upside. I even saw one analyst label the 6-4, 255 lb. NCAA backup as an eventual plus NFL starter. As a backup at Miami Ohio, he still registered 8.5 tackles for loss and 4.5 sacks in 12 games. The more I dig into Robinson's profile, the more I like him, so I changed my grade. Rick's Draft Grade: D- B-.
THE ROUND 6 AND 7 SELECTIONS:  After bearing witness to all of the trades to get here, I had high hopes for Poles with all of his extra picks. Though Chicago got so little in return for trading back on numerous occasions, I figured the area scouts and front office personnel must have believed they could find a few gems. 
At No. 186, the Bears selected OT Zachary Thomas (San Diego State). The 604, 308 lb. offensive lineman is a bit of a project but he does possess decent pass-blocking skills and has tapes that extend beyond two games in his personal highlight reels. Thomas should make the team and contribute here and there but isn't likely to be more than a backup. Rick's Draft Grade: C
Interesting that Ryan Poles spoke on Tuesday about an absolute glut of talented running backs for Day 3 of the draft. In choosing Baylor's Trestan Ebner in the 6th rd, I think the important thing here is the team got a natural pass catcher out of the backfield.

— Brad Biggs (@BradBiggs) April 30, 2022
At No. 203 Poles selected RB Trestan Ebner (Baylor). I like this pick as a depth addition. The Bears need to be prepared for injuries at this position because our new offensive scheme is a run-based zone. If Chicago is ineffective running the football, the offense isn't going to work. Ebner was a jack-of-all-trades in just six starts,  helping Baylor as a pass-catcher out of the backfield and on special teams in addition to carrying the rock. The cherry on top of Ebner's sundae was being named Big 12 special teams player of the year for the second time. Rick's Draft Grade: C+
A very short time later, to the delight of many Bears fans, Poles grabbed a local favorite in C Doug Kramer (Illinois). A decent selection this late in the draft, Kramer is a coachable kid and a solid run blocker but is still very raw due to lack of experience. Though he struggled in pass blocking, he only gave up 3 sacks in 2.5 seasons. Rick's Draft Grade: C.
In the seventh round, the Bears selected G Ja'Tyre Carter (Southern), S Elijah Hicks (California), and P Trenton Gill (NC State). There's not a lot to say about this group as a whole. Hicks looks like he's the only one that can make a noticeable difference to the team in the first year, but that's still not likely. Rick's Draft Grades: Carter and Gill D+,  Hicks C.
In my opinion, Poles and Eberflus were more worried about having enough players to get the training camp roster to 90 rather than finding quality in this year's draft. I'm disappointed with the Day Three selections overall. I feel like Chicago left more polished and immediate-impact players on the board for the sake of accumulating bodies to take up space on special teams until cut days.
If I could, I'd remind Poles that there is no rule that says a team must start training camp with the full 90. The way Poles spoke in his Saturday presser lacked the conviction of Friday's discussions. For the most part, the GM indicated simply that he could see some of these players competing for jobs, but most importantly, that the whole room gets better when there's more competition. When Ryan Pace was here, he really excelled with later-round selections. I'll miss that, and I'm still pleased with the team's Day Two selections and I give Poles the edge there. Rick's Draft Grade for Poles and crew: Day Two B+, Day Three D+, and a total draft grade of C+.
At least Poles didn't deplete his 2023 capital, trading only the 6th-round pick he acquired in the Khalil Mack trade. As of right now, Chicago still has all of their picks in next year's first five rounds.