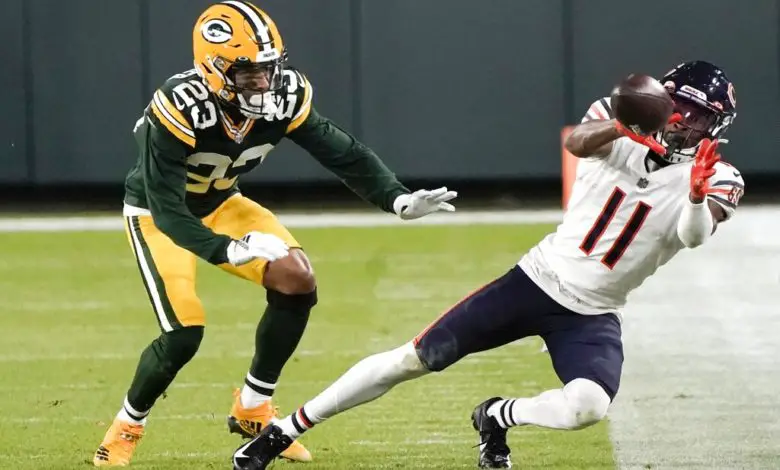 Increased Usage of Darnell Mooney, Cole Kmet, David Montgomery Gives Bears Fans Reason for Hope
When the Chicago Bears bolted out to a 5-1 start, most fans rejoiced. Meanwhile, most objective observers, and more than a few skeptical followers, said after each win that the Bears were the worst [fill in the record] team in the league. Well, now reality has reared its ugly head and we know the naysayers were right.
After losing in embarrassing fashion to the Detroit Lions, the Bears are 5-7 and any talk of making the playoffs has left Halas Hall. The optimism that once bubbled up from a giddy Matt Nagy has been replaced with shoulder shrugs and "I don't know" responses to questions about why his team is failing.
One thing the Bears can, and should, do is to start looking toward the future. That means spreading the ball around and getting their young guys more playing time, and that's exactly what happened during last Sunday's loss.
Against the Lions, three young players led the team for most snaps by skill positions, excluding QB: WR Darnell Mooney (81%), TE Cole Kmet (78%), and RB David Montgomery (75%). Two rookies and a second-year player. Allen Robinson was a close fourth at 74%, but it drops off precipitously after that with Anthony Miller garnering 57% of snaps.
Looking at snap counts for Chicago's skill position players yesterday, and the 2 guys who played the most snaps are both rookies.

Darnell Mooney led everybody with 56 snaps, Cole Kmet 2nd with 54. 2nd year man David Montgomery 3rd with 52.

— Johnathan Wood (@Johnathan_Wood1) December 7, 2020
Mooney has been trending up since the Bears' seventh game of the season against the Los Angeles Rams, when he played 81% of offensive snaps. Since then he's played to a mean of nearly 90% of snaps, catching 21-of-41 targets for 232 yards and one TD.
In the Bears' contest against the Minnesota Vikings, Kmet jumped up to playing 70% of the offensive snaps after getting just 47% in the previous game. He then logged 79% and 78% of total snaps against the Packers and Lions. Kmet also hauled in his most catches (5) on his most targets (7) of the season and has now out-snapped veteran Jimmy Graham by a wide margin in each of the last three games.
Montgomery has been a key component to the offense all season and he's arguably their most valuable skill player on the offensive side of the ball. He leads all starters in pass blocking value per Pro Football Focus ($) and he's improved from 3.7 yards per attempt in 2019 to 4.1 yards per attempt in 2020 despite running behind a crumbling offensive line. Pretty impressive stuff from the second-year halfback.
While it feels like the Bears may not have much to play for in 2020, the development of these up-and-coming stars should continue to be the focus. Just try and remember that when you sit down to watch the Bears play on Sunday.