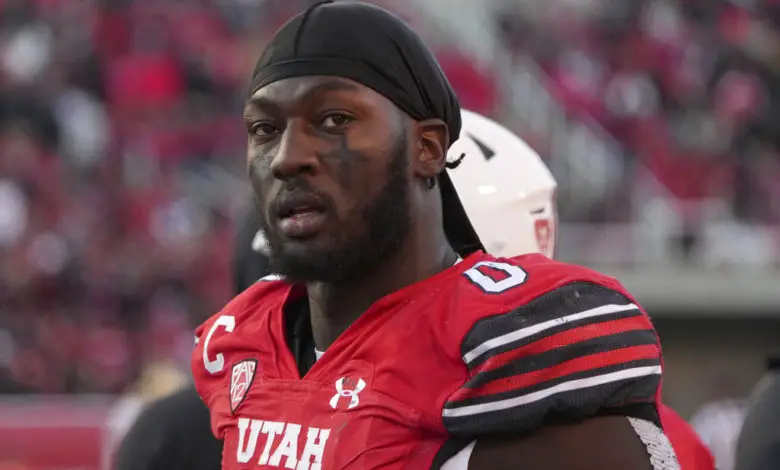 Chicago Bears NFL Draft Needs: Linebacker
This is the fourth part in a series where I look at draft-eligible players and how they may fit with the Chicago Bears based on their NFL draft needs. Yesterday we covered offensive lineman in Part III, and today we'll take a look at linebackers.
There aren't a lot of teams that are looking to draft a linebacker in the early rounds of this week's draft and that may be because this year the position is considered to be relatively weak as far as potential prospects. In fact, only two linebackers hold first-round grades, and only two teams are potentially willing to burn a top pick to fill a positional need.
The Bears have two stars in team leader Roquan Smith and the recently-signed Nicholas Morrow, and they're moving Trevis Gipson to EDGE, so GM Ryan Poles may look to draft a player that could start at weakside linebacker as soon as the 2022 season starts. Khalil Mack was traded to the Chargers for the No. 48 pick, and if Chicago doesn't draft a replacement with one of their first three picks (Nos. 39, 48, and 71), they'll have to wait until the Nos. 148 and 150 selections on Day Three.
But maybe not. In his press conference today, Poles indicated that trading down to acquire extra selections is a real possibility. There's also the possibility of trading Robert Quinn. A number of teams have reportedly contacted the Bears about Quinn's availability.
"I do think we will be in the business — depending on where it is and what it looks like — in moving back and trying to [acquire more picks]," the first-year GM said. "Where is that pick located in the draft? And can I still get a quality player at that level as well? Also, you can accumulate on the back end and package things up and move them again. So really it's just volume and [recognizing]  where the draft is deep at certain positions."
If the Bears were to trade the pick they got for Mack, they could end up with two third-rounders or a third and two selections in the fourth round per the DraftTek NFL Trade Value Chart, but finding a team willing to make those trades is another thing. Still, I don't expect Poles to remain satisfied with just one pick between No. 48 and his first pick in the fifth round. The Bears just have too many needs to hold serve with six total picks. Chicago is one of eight teams without a first-round pick, and the Raiders, Dolphins, and Rams don't have a pick until the third round.
One Last Ride pic.twitter.com/fxVXUn3Afo

— devin lloyd (@DevinLloyd_) January 10, 2021
As far as this year's blue-chip linebackers, expect Nakobe Dean (Georgia) and Devin Lloyd (Utah) to be first-round selections, with the Commodores most likely to select Lloyd and the Patriots jumping on Dean if another team doesn't trade in front of them to grab him. The Ravens could take Dean at No. 14, but they'd rather have an EDGE and could theoretically trade up if they wanted a shot at someone like Travon Walker (Georgia) or Kayvon Thibodeaux (Oregon). If Dean falls past the Patriots he could slide all the way to No. 33 where the Jaguars would and should pounce.
Other linebackers expected to go on Day Two include Quay Walker (Georgia), Christian Harris (Alabama), Troy Anderson (Montana State), and Leo Chenal (Wisconsin). Chad Muma (Wyoming) also has a good shot of being selected in the second round. It would be a major coup if Brandon Smith (Penn State) fell to the Bears at No. 148, but if the Dolphins don't take him at No. 102, there's no way he'll slide past the Ravens (110) or Chargers (123).
Channing Tindall (Georgia) should be available for the Bears to choose at No. 71, but that would feel like a bit of reach. Poles is more likely to take the best player available, and that might mean someone like OL Darian Kinnard (Kentucky), or a wide receiver like John Metchie III (Alabama).
"You could say [Justin Fields] needs receivers, receivers, receivers," Poles said. "But he needs blocking, too, and he also needs balance in terms of running the ball efficiently and getting that done upfront and then you can do some play-action pass stuff, then you can do different things. Turnovers. Maybe a returner to flip the field to score more points. So it's all connected.
"That's really why the mindset is to get the best players on this team as possible. If I get too lopsided and be like, 'I've got to do this specific thing,' I think that's where you lead into big mistakes."
Brian Asamoah (Oklahoma) is also a third-round talent, but after that, the linebacker position gets demonstrably weaker. Darrian Beavers (Cincinnati), JoJo Domann (Nebraska), and Terrel Bernard (Baylor) could fall to the Bears in the fifth round. Domann would be a good fit for the Bears because of his versatility, intelligence, and high motor.
Dare to Dream pic.twitter.com/1UCpp2Yibf

— JoJo Domann (@TheDomannator) April 25, 2022
The rest of the group shakes out as follows, and if Poles doesn't burn one of his six selections on a linebacker, there's a good shot he'll find a couple among the UDFAs.