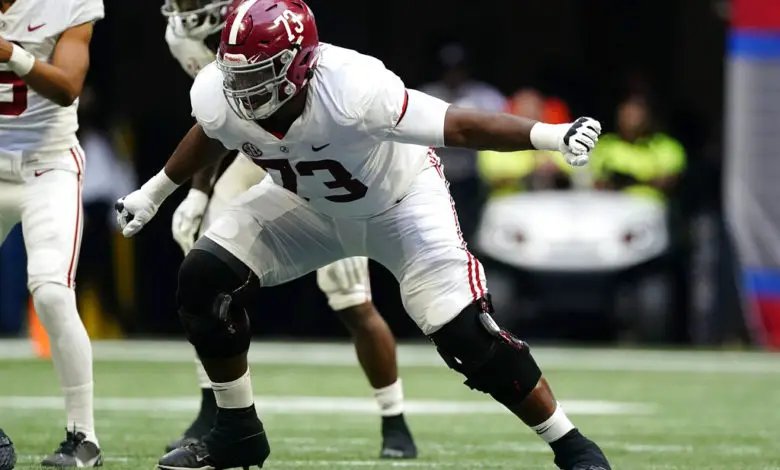 Chicago Bears NFL Draft Needs: Offensive Line
As was mentioned in yesterday's assessment of draft-eligible defensive backs, there is a good chance that three of the top four picks will be defensive linemen. Indeed,  Aidan Hutchinson (Michigan), Travon Walker (Georgia), and Kayvon Thibodeaux (Oregon) could be selected within the first 30 minutes of the opening round on Thursday night. A chance does exist, however, that there could be an immediate run on offensive linemen instead. As far as the Bears are concerned, GM Ryan Poles has admitted that he wants to use the draft to strengthen his offensive line.
The rookie GM would also like to see the Bears a little lighter and quicker at tackle and guard, and he wants players who are willing to protect quarterback Justin Fields at all costs.
"The message has been clear — we've got to change body types a little bit," Poles said last month. "We've got to get lighter, we've got to get quicker. Through that, I think there's some young talent that just needs to be pressed. That's part of our job is to create competition and bring the best out of them. We'll do that, and we'll see if the cream rises to the top."
Poles added center Lucas Patrick in free agency, and took a shot at Ryan Bates but lost when the Bills matched Chicago's offer sheet. Patrick may end up being the best acquisition of the offseason, and he seems pretty excited to work with Fields.
"I mean, he's got it," Patrick said of the second-year quarterback. "He can sling it, he can run it, he can do everything. But what I would say from our games, specifically the game that was here [in Chicago], he's tough. He stood in there and he's tough. And he looked like he dealt with a lot this year not only coming in with that pressure he had but also physically dealing with some of the shots he took and some other things."
No matter what the Bears do this weekend, the path to greatness will rest squarely on the shoulders of the offensive line. With no first-round pick, and two in the second round, Poles will have to determine which of his three biggest positions of need he will fill when his turn comes up at No. 39 and No. 48. There is some great value in the third round and beyond, so Chicago could address their holes at wide receiver and cornerback first.
I think we will have to see how the first round plays out before we have a comfortable idea as to how the first-year GM intends to draft. The Jaguars, who are widely expected to draft Hutchinson, could pivot to tackle Evan Neal (Alabama) instead. Additionally, as many as 21 teams could be targeting guards and tackles in the first three rounds, with seven or eight offensive linemen projected to be Day One picks.
Evan Neal has all the athletic ability in the world at remarkable size. Does he have a mean streak? His answer on NFL NOW on @nflnetwork pic.twitter.com/RtZNUq1uhn

— James Palmer (@JamesPalmerTV) April 25, 2022
Neal is likely to be the first offensive lineman chosen, and if Jacksonville addresses their defensive line, the Texans will probably take the Alabama All-American with the third pick overall. Ikem Ekwondu (NC State) is also a possibility, and whichever of the two remains on the board will probably end up with the Giants two picks later.
The Saints are also looking for a starting tackle, and with the No. 16 pick, one should expect that they'll select Charles Cross (Mississippi State). Cross carries a top-10 grade and won't last this far if there is a run on offensive lineman at the top of the round. The Lions are the wildcard and could take Cross at No. 2 overall. If the Saints really like Cross, it's not out of the question that they could trade up with the Giants (picks 5 and 7) or Jets (picks 4 and 10). Detroit's pick might be available, too.
The Chargers are said to be all over Trevor Penning (Northern Iowa) and if any first-round pick feels like a near-lock, this one is it. Penning would be a bit of a reach, but he's got some helium and is capable of starting at guard or tackle on day one.
Reaching for Penning means that Zion Johnson (Boston College) or Kenyon Green (Texas A&M) will be available for the Cowboys at No. 24. Dallas could select a wide receiver, and center Tyler Linderbaum (Iowa) is an option as well. Tyler Biadasz is the team's current center but he could be better suited to play guard. For that reason, I believe the Cowboys will take Linderbaum. That likely means the Titans will take Green two picks later.
Bengals quarterback Joe Burrow was pressured and sacked more than any other signal-caller in the NFL last season, and with Johnson still on the board at No. 31, expect Cincinnati to grab him, especially since he'll play on the left side of the line. I passed over the Patriots, who have the No. 21 pick because I believe they will look for secondary help instead, but Johnson is a possibility there, too.
Once we get into the second round, will quickly find out if Poles is a needs-based guy or best athlete available guy. Tyler Smith (Tulsa) and Bernhard Raimann (Central Michigan) will be there at No. 39, but each would seem like a reach if Poles pulls the trigger on either. I expect the rookie GM to take a wide receiver and get secondary help if he doesn't trade one of his two Day Two picks. If he waits until the third round to address the offensive line, he might have his choice of Abraham Lucas (Washington State), Darian Kinnard (Kentucky), or Nicholas Petit-Frere (Ohio State).
If Poles wants to add a second offensive lineman on Day Three, keep an eye on Matt Waletzko of North Dakota. The Bears will also look for depth in undrafted free agency, and one guy really stands out among linemen who are unlikely to get drafted. Nick Zakelj (Fordham) offers size, strength, and speed and plays with the nasty demeanor that Chicago is looking for on the O-Line. If the Bears can acquire a pick in the final round for someone like Nick Foles, Zakelj could be that pick.
🚨SLEEPER ALERT🚨
Okay, Nick Zakelj. You got our attention. This is first snap of @FORDHAMFOOTBALL vs Nebraska and it looked the same the rest of the game. Checked out @Nick_Zakelj31 over summer and he's made a nice jump. @seniorbowl isn't sleeping. #TheDraftStartsInMOBILE™️ pic.twitter.com/ctNdsZtujx

— Jim Nagy (@JimNagy_SB) September 17, 2021
The rest of the offensive linemen should be ranked as follows, and there will be NFL-caliber linemen who will become UDFAs.