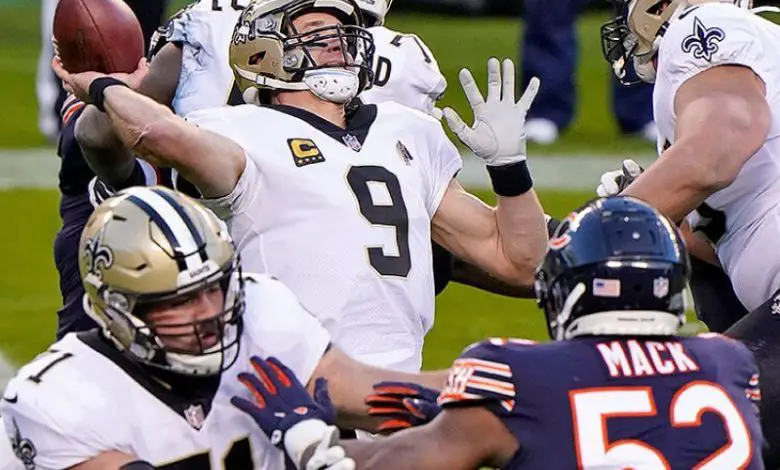 Chicago Bears @ New Orleans Saints – Wild Card Preview, Keys to Game (Video)
The Chicago Bears (8-8) backed their way into the 7th and final playoff spot in spite of a loss to the Packers Sunday. The Rams beat Arizona to set up the Bears' Sunday Wild Card matchup in New Orleans against the Saints at 3:40pm CT (CBS).
Chicago has been on a wild ride this season. The year began with a 5-1 record that felt a lot shakier than it appeared on paper. The ensuing six-game Bears losing streak justified that opinion and seemingly snuffed out any playoff hopes. Then Mitchell Trubisky, who lost the starting quarterback job earlier in the season, replaced an injured Nick Foles and the three consecutive victories that followed were barely enough for a playoff berth.
Running back David Montgomery has emerged as Chicago's main offensive weapon. Another promising young skill player, Darnell Mooney, is battling an ankle injury and is not playing. The Bears' defense has their own health issues, especially in the secondary. Akiem Hicks and Khalil Mack are ready to go, however, Roquan Smith is out.
The Saints (12-4) were able to overcome a month without starting quarterback Drew Brees to win the NFC South. Alvin Kamara has been the driving force on offense, running and receiving out of the backfield. New Orleans strong suit is their top-five ranked defense. Although defensive end Trey Hendrickson, who leads the team with 13.5 sacks, is out for Sunday's game. The Saints still have a league-leading 18 interceptions with their ball-hawking secondary.
The Bears are definite long shots as 10-point underdogs, but honestly, I have no idea what to expect from this team. Just making the playoffs seemed highly unlikely, so might as well go on a run and have some fun with your chance.
Here are my keys to Sunday's game. If these things happen, the Bears should have a shot to win.
Protect the ball at all costs. The heavily favored Saints don't need any help, the Bears hung in late against the Packers by avoiding turnovers.
Don't let Kamara beat you. This one won't be easy, the Saints' star back had 1,688 yards from scrimmage and 21 touchdowns. If he has a big day things will get out of hand quickly.
Look out for Taysom Hill gadget plays. Sean Payton loves using his jack-of-all-trades backup quarterback all over the field.
Take a couple of deep shots. Ball security is very important, but the Bears should take some shots at deep throws. Maybe even a fake punt. If you're playing with house money, why not lean into it?
My Prediction: As much as I'd like to see the Bears win in the playoffs for the first time in ten years, I just don't see how they do without Smith and Mooney. Saints win 20-12
Here are Bears analysts Jeff Joniak and Tom Thayer with their preview of the Bears' upcoming Wild Card matchup.
https://www.youtube.com/watch?v=Tuo3FBHdlxE