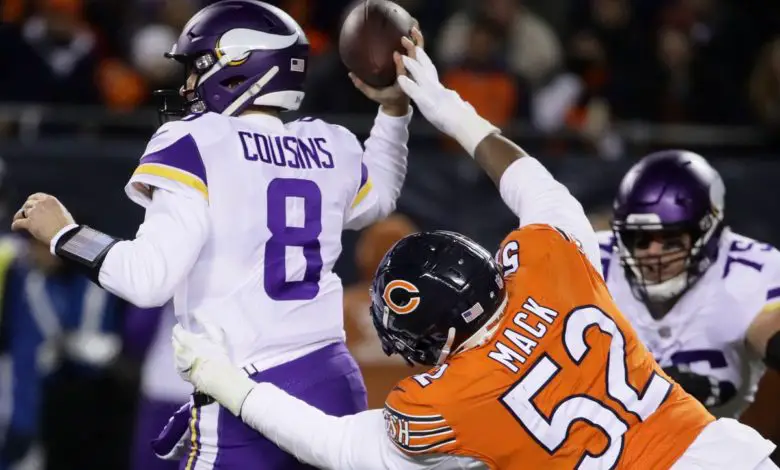 Chicago Bears @ Minnesota Vikings – Week 15 Preview, Keys to Game (Video)
The Chicago Bears (6-7) got a big win over the Houston Texans last week to keep their playoff hopes alive. Now they travel north for a make-or-break game against the Minnesota Vikings (6-7) Sunday at 12:05pm CT (FOX). If Chicago wants the postseason fires to keep burning, they will need to drastically improve on their last performance against the Vikings in November.
The Vikings have had an interesting two weeks thanks to still employed kicker Dan Bailey who has missed 4 field goals and 3 extra points over that stretch. Dalvin Cook is still very dangerous in the backfield and rookie wideout Justin Jefferson is having a huge year. However, Minnesota's defense ranks in the bottom third of the league in most categories.
Nick Foles and the Bears couldn't take advantage of that defense in Week 10, but Mitchell Trubisky has gotten his squad over 30 points back-to-back weeks thanks, in part, to a much-improved offensive line. Chicago's defense looked great last week in a complete team victory. The way this Bears season has gone no outcome would surprise me, just expect it to be a weird game.
Here are my keys to Sunday's game. If these things happen, the Bears should have a shot to win.
Keep David Montgomery rolling. Montgomery has gone over 100 yards two weeks in a row thanks to the improved play of the offensive line.
Exploit the Vikings special teams weaknesses. Not only has the kicking scuffled for Minnesota, but they also allowed a kickoff return touchdown to Cordarrelle Patterson in Week 10.
Force Kirk Cousins into making mistakes. If Cousins gets time to throw he can pick a secondary apart, especially with the short underneath throws. Under pressure he becomes highly turnover prone. Unfortunately for the Bears, they failed to apply that pressure in their first meeting.
My Prediction: Vikings win 21-20
Here are Bears analysts Jeff Joniak and Tom Thayer with their preview of the Bears' upcoming Week 15 matchup.