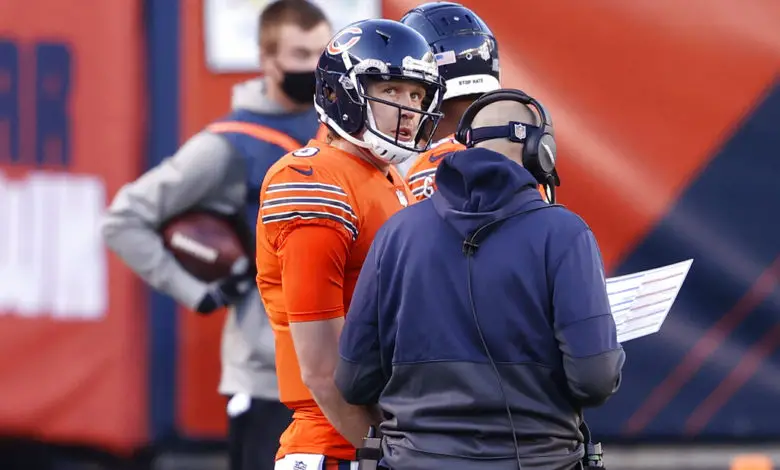 Can Chicago Bears Turn Around 'Gut-Wrenching' First 9 Weeks?
We've all seen what feels like a slow-motion unraveling of the Chicago Bears over their first nine games of the 2020 season. They started a promising 5-1, yet more than a few pundits said they were the worst five-win team in the NFL. Not many fans wanted to believe it, but the signs were there.
The Bears are on an ugly three-game losing streak during a critical stretch of the season and ESPN' Jeff Dickerson described their play as "gut-wrenching." His midseason report channels the thoughts of pretty much everyone other than opposing fans, bluntly stating that "watching this team is an unpleasant activity." Dickerson predicts the Bears will finish the season with a record of 8-8, which means they'd close out the season winning just three of seven games.
Things looked much brighter just a few weeks ago, when both Nick Foles and Matt Nagy expressed optimism that the offense would make good on all of its obvious room for improvement. I've got to admit, when Foles said he'd rather win ugly than lose pretty, I shook my head. I've never seen a loss and thought, "Hey, at least we lost pretty." But I digress.
The real question is whether the Bears can turn the season around and get into the playoffs with the hope of winning a game or two. The answer relies heavily on how an offensive line that's been decimated by injuries and pandemic protocols performs. And this isn't a unit that had much margin for error to begin with, so the odds seem to get longer by the week.
Jason Spriggs has been activated this week from the reserve/COVID-19 list and Cody Whitehair, who last week tested positive for COVID-19, could be back this week. That's pure speculation at this point since we haven't gotten an update on his status from the Bears, but a lot can happen in a few days. Sam Mustipher remains questionable due to a knee injury, so that's touch and go.
Again, it'll be a patchwork effort even if everything shakes out in the Bears' favor. They're going to need all the favorable outcomes they can get in order to get their season back on track with a win this week against the Minnesota Vikings at Soldier Field. That might have seemed like a simple task a few weeks ago, but now the Bears are a 3-point home underdog.
No one cares what it looks like at this point, Nagy and his team just need to find ways to win.