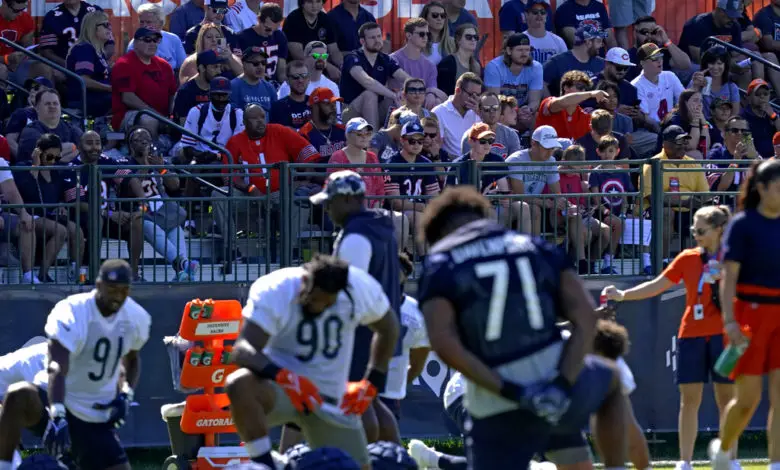 Camp Notes: St. Brown Stands Out Among Receivers, Practices Fast and Intense, No Movement on Smith Talks
I spent a good portion of the week covering the MLB trade deadline over at Cubs Insider so I'm a little late today. I have to sleep sometimes, right? Here are your Thursday morning Camp Notes.
Wide receiver Equanimeous St. Brown had his best day of camp on Wednesday. He's already familiar with Luke Getsy's offense which gives him a leg up on Byron Pringle, N'Keal Harry, and Velus Jones Jr. to potentially slot as the WR2 once the season starts. St. Brown appears to be leading the competition after a week of practice. The 6-foot-5 receiver was a favored target of quarterback Justin Fields in red-zone and low red-zone drills during the first week of camp. He beat rookie Kyler Gordon for a score and went up and over Kindle Vildor for another. He's also the only pass-catcher to beat Jaylon Johnson. The chemistry between Fields and St. Brown grows daily, and the former Packer has quickly become a favorite target.
The most notable catch by St. Brown was when he hauled in a deep shot from Fields down the left sideline in between the corner and safety Jaquan Brisker. Give Fields credit for an outstanding read, too. St. Brown has also proven to be effective when running slant routes. "He's been in this offense for a number of years, so he really doesn't make mistakes when it comes to running the plays and stuff like that," Fields said. "He's definitely always in the right spot and knows where to be on certain plays. He's a weapon in this offense for sure."
Getsy said he saw a transformation in St. Brown last year after Packers head coach Matt LaFleur cut him before the start of the season. St. Brown brings a different body type to the receiving group, and he's used that to his advantage through the first week of practices, high-pointing a couple of touchdown catches, including the aforementioned one on a scramble drill from Fields with Johnson covering him. The fourth-year receiver is primed for a big year and is a player to keep an eye on once the exhibition season starts.
Things haven't been going so well for Harry. The former first-round pick was unable to catch a few passes Wednesday that were genuine layups. He did look outstanding on a shovel pass from Fields. He also held on after taking a shot from Vildor on a rocket from the second-year quarterback. Harry also drew a pass interference penalty against cornerback Jayson Stanley in one-on-ones.
Vildor played primarily as the outside corner in Wednesday's practice. Gordon lined up in the slot and had a nice coverage breakup on Jones Jr. during 11-on-11 drills.
Head coach Matt Eberflus said on NFL Network that when Charles Tillman visited Halas Hall he took several players – including Brisker and Gordon – to the cafeteria and showed them ways to force turnovers.
The Bears have a scheduled day off today and then the team will begin preparation for their first preseason game. The Bears and Chiefs will clash at Soldier Field on August 13.
In his post-practice presser, Eberflus said he intends to give his starters plenty of work in their tilt with Kansas City. "Yes, we will play first-team guys against the Chiefs, absolutely," Eberflus told reporters. "The number of plays, we're still working on but we do want to get them a good amount."
The Chicago Bears are running a much faster/more intense practice than they ever did under the previous regime.

This is encouraging in every way.

— Vinnie Parise (@VinnieParise) August 3, 2022
Fields told reporters the offense is progressing every day. "We did alright in the move-the-ball period," the quarterback said. "In the two-minute period, we went down there and got a field goal. So just those real game moments, first, second and third down, moving the ball and converting on third downs, those periods were exciting."
Gordon, Brisker, and Jones Jr. garner the bulk of the headlines among Chicago's rookies, but OT Braxton Jones, edge rusher Dominique Robinson, and center Doug Kramer have been practicing with the ones and holding their own. Jones is considered the favorite to start at left tackle once the season starts. Kramer took over as the starter when Lucas Patrick went down. As for Robinson, he's a physical specimen and the envy of many veterans, including Trevis Gipson. All of Chicago's rookies have drawn praise from the coaching staff and teammates alike.
Five Things
The organization's potential move to Arlington Heights may have hit an unexpected snag. A group called Americans for Prosperity, which its Illinois director, Brian Costin, described as libertarian is spearheading the campaign for an ordinance that would bar the village from offering any type of financial incentive to "any business or corporation to operate in the village." The "anti-corporate welfare ordinance," as the group refers to it, calls for not using taxpayer money in such ways and "declare an end to the economically destructive and corrupt policy."
It would be nice if the Bears would use the day off to come to a resolution with Teven Jenkins. The tackle missed his sixth consecutive practice and his extended absence continues to raise questions about his maturity. At this point, his lack of time on the field might hurt his chances of earning a significant role. The front office is reportedly fielding trade offers for Jenkins.
If you're hoping for some movement on the Roquan Smith extension talks, the Bears and their fifth-year linebacker "have a ways to go" according to Albert Breer of Sports Illustrated. Smith remains on the PUP (physically unable to perform) list and cannot participate in practice. He also does not have an agent, creating enough reason to believe the process of signing him to an extension will take longer than usual.
We haven't heard much about Justin Jones but the defensive tackle is having a great camp, especially when it comes to stopping the run. He's had a fair amount of success as a pass rusher, too. During 11-on-11 drills, Jones would've had back-to-back sacks on Fields had he been able to hit the quarterback. Jones said he enjoys playing the 3-technique because it puts him in a better position to use his skill set. He also digs his new head coach. "I've been talking to guys that have been with Flus and they trust him," Jones said. "They love him. He has 100% of my trust."
Despite the success of the other receivers, the Fields-to-Darnell Mooney connection remains the best in camp.
https://twitter.com/peggykusinski/status/1554889710723530753
Camp Quotes
"Yeah, EQ has been great. He's a pro and he's always on it, you know, with the details. I've spent some time in the receivers' room as of late, in the position meetings, and he's certainly one of the big leaders in that group, coaching the guys and leading that way and then he exhibits that on the field too with his play and how he hustles and how he executes." – Eberflus
"Gordon is a ball magnet." – Defensive coordinator Alan Williams
"We are trying to win and get back to the top. Prove a lot of people wrong because they are looking at us the wrong way." – David Montgomery