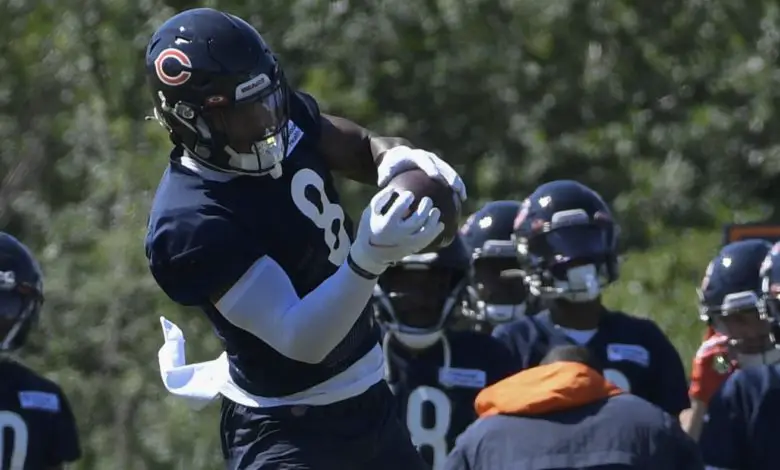 Bears Have Depth Concerns at Wide Receiver
The Bears completed their second week of training camp on Monday, and the team now has depth concerns at wide receiver. Outside of Darnell Mooney, roster spots and depth placement are up for grabs at Halas Hall. N'Keal Harry suffered a significant ankle injury last week and Byron Pringle has an injured quad that could leave him unable to practice until the season starts. Velus Jones Jr. is day-to-day with an undisclosed injury, as is Dante Pettis.
That leaves Mooney and Equanimeous St. Brown as Chicago's top two receivers, St. Brown by default because he's healthy, though he has had a spectacular camp. Undrafted free agent Kevin Shaa picked up some reps over the weekend and had a highlight reel catch on Sunday.
.@Kevybo_ got UP for it 🤯 pic.twitter.com/7kiIaXednx

— Chicago Bears (@ChicagoBears) August 7, 2022
It seems nobody is sweating the injury to Jones, so until head coach Matt Eberflus says differently, expect him to return soon. Then again, Eberflus tends to be as vague as possible when it comes to talking about the health of his players. Unless an injury is deemed long-term, Coach 'Flus ain't talking. He did acknowledge that Pringle will miss significant time. Quad injuries can be tough to come back from for players that regularly rely on their speed on the field.
Harry went down on the first play of Saturday's drills while fielding a screen pass. The wide receiver appeared to roll his ankle when linebacker Nicholas Morrow tackled him. A trainer and a teammate helped the 24-year-old wide receiver off the field. Harry was unable to put any weight on the bad peg.
"I just saw him come down," Eberflus said. "I saw the play and I don't really know much from there. We're obviously going to do the evaluation and then once I get that, we can get it back to you. And if it's a longer situation, we'll let you know what it is. If it's day-by-day, we'll say that, too."
If you're wondering what the depth chart looks like now, it's Dazz Newsome, David Moore, and Tajae Sharpe beyond Mooney, St. Brown, and Jones. Shaa will have to step up until GM Ryan Poles can find reinforcements. But right now, there isn't anything better available. Poles could try to trade for a wide receiver or sign a free agent. A couple of names you'll hear a lot about are Will Fuller and Dede Westbrook.
Fuller seems to be about as brittle as they come. In his five seasons with the Texans, he missed 27 games due to injury. Last season with the Dolphins, he only played in two, having missed the first game due to a suspension and then later being shut down for the season because of a broken thumb. Fuller's 4.32 speed should be enough to get him a contract, but he's a free agent because he can't stay on the field.
Westbrook could be a diamond-in-the-rough. The 28-year-old was a fourth-round pick by the Jaguars in 2017. He has the speed (a 4.39 40-yard dash) to replace Harry and looked poised to break out after strong campaigns with Jacksonville in 2018 (717 yards) and 2019 (660 yards). Westbrook caught better than 65% of his targets in those two seasons. He tore his ACL in 2020 and signed with the Vikings the following season. Westbrook caught just 10 of 15 targets for Minnesota last year.
If the rookie GM wants to poach someone from the USFL, Antonio Nunn could fill in for Pringle as a slot receiver, and Josh Crockett could replace Harry. Crockett is interesting because he possesses the length and speed that Chicago's staff loves. As a D2 receiver at Central Oklahoma, Crockett caught 129 passes as a four-year starter for 2,365 yards and 19 scores. The 6-foot-4 pass-catcher was given a tryout with the Chiefs in 2018 and he impressed the staff enough to get a contract. Poles was an executive with Kansas City that year. Crockett was assigned to the practice squad after failing to make the 53-man roster.
Then again, Shaa could be the guy. The UDFA spent four years at Liberty and finished with 82 catches, 1,364 yards, and 12 touchdowns. Last season he produced 28 catches for 516 yards and six scores. Poles identified Shaa as a potential signee after watching Liberty quarterback Malik Willis. He's undersized at 5-foot-9 and 166 pounds, but he ran a 4.39 at his Pro Day. A week ago, Shaa looked destined for a spot on the practice squad. He's under consideration for a roster spot, at least for now.