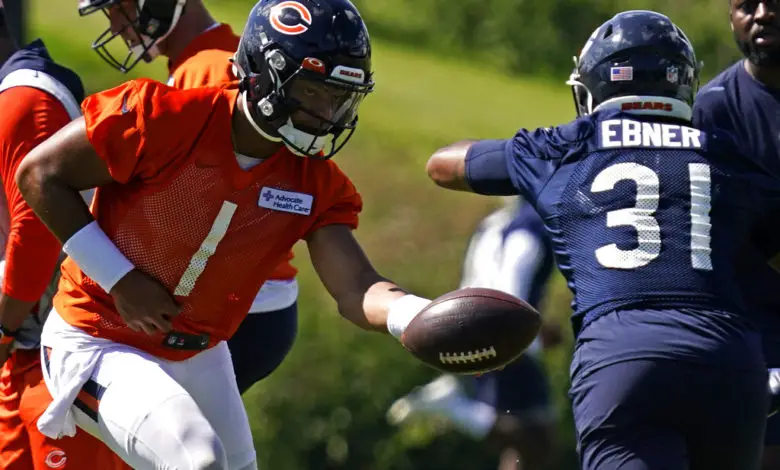 Camp Notes: Fields Struggling With Late Throws, Running Game Impresses, Gordon's Versatility Shines
The main storyline of camp this year was supposed to be QB Justin Fields, but the saga of Teven Jenkins has made tracking the progress of Fields a mere afterthought. Reports surfaced on Monday that the Bears are fielding offers for the second-year tackle. Here are your Tuesday morning highlights.
When asked late last week about Jenkins' absence from practice, head coach Matt Eberflus said Jenkins was "working through something with the trainers" and was "day-to-day."
It turns out that the only injury Jenkins is suffering from is a bruised ego. The combination of injury issues and maturity concerns shouldn't prevent a Jenkins trade because of the tackle's elite athleticism. Injuries are one thing. But if Jenkins isn't taking his demotion well, that complicates things. The Bears aren't very deep on the line, so if there is interest in moving Jenkins, things have reached an untenable state.
This story has been beaten to death, so until there is a resolution, it's best for everyone to move on. I'd rather discuss Fields anyway.
If you've been jonesing for the deep ball accuracy of Fields, this pass to Velus Jones Jr. during Saturday's practice is a sight to behold. Greg Stroman Jr. is the poor soul that was scorched in this play.
Field deep ball to Velus Jones pic.twitter.com/xQ1wEvS8U8

— Chicago Football Connection (@CFCBears) July 30, 2022
Five Things
Camp Quotes
"We were just outside after practice throwing routes, and you have guys see him [and] walk over. You can't just walk off the field. You're like, 'I've got to get more reps with him.'" – Mooney
"What we expect out of that is really you get to see guys play the game. So far you've seen pass rushers rush against offensive tackles who have no pads on. You've seen the run blocking with no pads on. It's hard to evaluate that. When you get the pads on now, you can really see [that] guys will either rise or they'll fall a little bit based on the pads. I've seen it every year. So we're looking for that. We're looking for guys that can play with leverage, play with the pads on, and the guys that are physical because we covet the guys that are physical, that want to play the style we want to play." – Eberflus
"Justin will get on you if you're not doing the right thing. I lined up in the wrong formation. But that's what quarterbacks do. That's leadership. That's not him harping up on me, or [anything] like that. He wants to win, and I want to win as well. If that's what it takes, that's what it's going to take. And not just only him getting on me. It's anybody." – Byron Pringle