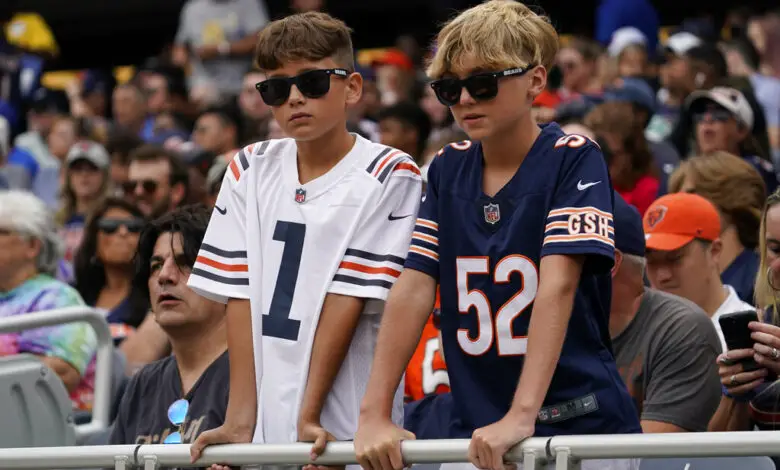 Camp Notes: Bears Return to Soldier Field for Family Fest, Defense Ratchets Up Intensity, McMichael Improving
We are less than a week away from the start of the regular season, and the Bears have shifted to Soldier Field for today's practice, also known as Family Fest. Here are your training camp bullets for Saturday and Sunday, August 5-6.
Sup, @idjmoore? ✌️ pic.twitter.com/1k8mzb1eZz

— Chicago Bears (@ChicagoBears) August 6, 2023
First and foremost, everyone here at Bears Insider would like to send prayers out to Steve McMichael, his wife Misty, and the entire McMichael Family. The charismatic Bears legend is fighting ALS and had a bit of a setback earlier this week. It sure would be nice if Roger Goodell could make a special exemption and vote McMichael into the Hall of Fame. He's certainly deserving, and I'd love to see him and Misty receive that phone call together.
McMichael bounced back enough to spark some optimism.
Misty said her husband is improving despite the setback that included sepsis and pneumonia. "Steve will be in the ICU for a few more days on IV antibiotics to clear this infection. He also has some fluid in his lungs which he is being treated for as well," Mrs. McMichael said from her husband's bedside. "He's as feisty as ever. Our Mongo is back! Please keep the prayers coming."
ESPN analyst and resident bigmouth Steven A. Smith has very low expectations for Justin Fields.
Fields claimed earlier this summer that he will throw for 4,000 yards this season, but that seems unrealistic given his history. The third-year quarterback needs an increase of about 100 passing yards per game to reach that benchmark. He'll also have to stay healthy all season.
Expectations for Fields should be tempered just a bit. The front office and coaching staff just want to see a marked improvement.
Fields started a water balloon fight with several teammates. Wide receiver Velus Jones had one of the better strikes when he hit cornerback Kyler Gordon while the latter was doing a flip. There was even some running back on running back crime when D'Onta Foreman took aim and an unsuspecting Roschon Johnson.
Fields was roasted for an errant toss with one of his water balloons.
The Bears added a veteran presence to their tight end group when they signed 39-year-old ex-Packer Marcedes Lewis.
Lewis, who is dubbed "Big Dog," loves the culture that the team is fostering since Ryan Poles took over.
The defense has had a decided advantage since the team went to full pads, but the offense responded with an excellent practice on Saturday. The two-hour practice was a spirited session, and the offensive starters looked much better against the starting defense.
"Spirited" might be an understatement. Things got so heated between wide receiver Chase Claypool and defensive back Eddie Jackson that Poles had to intervene.
The fireworks began when Jackson hit Claypool rather hard near the end of one play. The hit was arguably late, although defensive coordinator Alan Williams said he would have to check the tape. The receiver took exception to the hit and came up swinging. Claypool nearly got into a fight earlier this week with linebacker T.J. Edwards.
Jackson said the defense was going to keep poking the offense until they fought back. Saturday might be a sign that a frustrated offense is finally ready to push back against a chirpy defense that has been flying around.
Most fans believe the offense will be much stronger than the defense this year.
Yannick Ngakoue said "he was meant to be Bear" at his introductory press conference.
Ngakoue immediately elevates the defense's expectations.
Poles said he couldn't escape armchair critics begging him to sign an accomplished edge rusher. "You've got to love the Bears fan base and how passionate they are," the GM said Saturday at Halas Hall. "If it was at my son's baseball game—people yelling from the field, coaches at third base yelling to me—or literally on the beach in Maui, I was reminded that I need to sign a defensive end. Finally got that done."
The addition of Tremaine Edmunds makes the defense much bigger and faster. Bears fans are going to love Edmunds.
Bears WR Chase Claypool and S Eddie Jackson got into it today at practice.

Jackson hit Claypool as he went out of bounds. Claypool, unhappy with the hit, grabbed Jackson by the helmet — Jackson's helmet came off and was thrown to the ground.

GM Ryan Poles stepped between the… pic.twitter.com/QrMFVOWMMe

— Arye Pulli (@AryePulli) August 5, 2023
Five Things
The Bears' defense is much improved over last season and could be a team strength, believe it or not. Last year, the Bears blitzed only 18.2 percent of the time, ranking 25th in the league. As a result, they totaled a league-worst 20 sacks while checking in 31st with a 15.9 percent pressure rate. It was the weakest spot on a unit that allowed 6.1 yards per play, only better than the Lions. The addition of Ngakoue will help a great deal.
The team's secondary will be much better, too, and they'll have to be. Head coach Matt Eberflus rarely blitzes, and better coverage will provide more opportunities for sacks by the front seven. "We on fire, man," Jackson said. "We really flying around. We really getting it. No one is complaining. Everyone is locked in buying into it and everybody is trying to get better. Everyone is competing. No one is complaining. When you got that, I feel like it's always headed in the right direction."
Ngakoue is the best pure rusher the Bears have had since parting ways with Robert Quinn. The defensive end had 9.5 sacks in 2022. Chicago was led by safety Jaquan Brisker, who tallied four. The Bears' defense couldn't stop anybody last year after trading Quinn and Roquan Smith. Running backs regularly got behind the linebackers, and quarterbacks had far too much time to throw. The additions of Ngakoue, DeMarcus Walker, and Andrew Billings give Chicago a formidable front four. The linebackers will be led by Edmunds, Edwards, and Jack Sanborn. The defensive backfield is much deeper with the additions of rookies Tyrique Stevenson and Terrell Smith. Brisker and Gordon have a full year of experience. Expect the Bears to do a much better job of shutting down opponents this year.
Eberflus was happy with the way the offense responded after a couple of subpar performances. The second-year head coach was pleased with how the offense executed during various red zone, two-minute, and fourth-down situations.
The addition of Lewis gives Chicago four ex-Green Bay Packers on the current roster. Equanimeous St. Brown, Lucas Patrick, and Robert Tonyan are all former foes from north of the Cheddar Curtain. Offensive coordinator Luke Getsy also worked in Green Bay before coming to the Bears.
"I feel like it was meant for me to be here. I actually have a bear tatted on my hand. I feel like that was a sign to me that I was always meant to be a Chicago Bear."

My story from Halas Hall today: https://t.co/pObkQ9E45F

— Adam Jahns (@adamjahns) August 4, 2023
Camp Quotes
"It's really good to actually have days like this, just to see how guys respond to a little bit of adversity. I think the guys definitely had more juice toward the end of practice. I just wanted them to have that the whole time; start off with that same juice. We've got to learn from our mistakes and continue to get better." – Fields
"We ask our guys to play a variation of coverages and that's important because it helps us cover different skill sets. It'll help us to disguise our coverages to make it hard on a quarterback. That in turn gives the defensive line another tick to get home. It's a really important piece for us for our secondary to be able to do that. Those corners do a good job. Obviously, we added two young guys in Tyrique Stevenson and Smith. … Those guys are doing a really good job of picking up those schemes and techniques, and we like where those guys are." – Ebeflus
"It's just getting scarier and scarier. You're just adding more talent and more talent. When that's starting to mesh together, everyone in here has seen what's going to happen. You've got a very large group of talented players actually locked in and who really love football; that's more fuel to the fire. We feel like we just keep taking it up a notch. We added [Ngakoue] and it's like it's up, this thing is headed in the right direction. I hate to sound like a broken record every year saying the same thing, but, man, this is a different feeling right now. You feel the culture shift. High energy. Flying around. Ready for this thing to head into a different direction." – Jackson