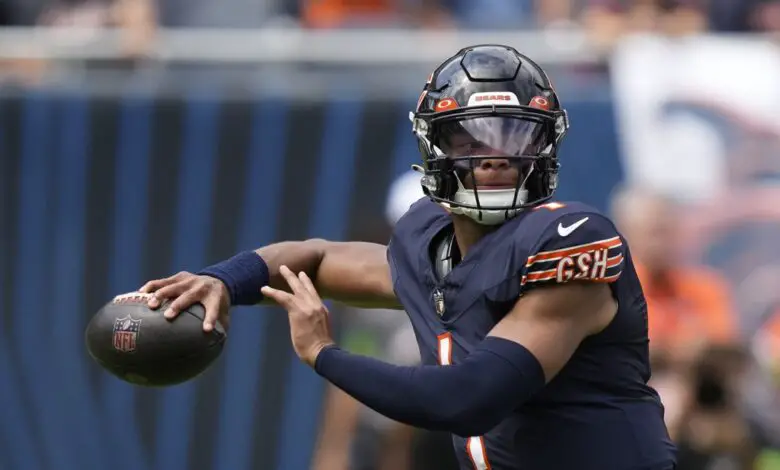 Breaking Down Bears Position Groups: Quarterback
We are breaking down the Bears position groups this week as the team prepares for its Week 1 battle with the Packers at Soldier Field. In this edition, we'll focus on the quarterback room, led by Justin Fields, and backups Tyson Bagent and Nathan Peterman.
Justin Fields
JUSTIN FIELDS DID IT AGAIN. @justnfields

📺: #GBvsCHI on FOX
📱: Stream on NFL+ https://t.co/P31SxnTZpJ pic.twitter.com/5GBswuEvui

— NFL (@NFL) December 4, 2022
We all know Fields can run, but his improvement in the passing offense will determine how successful the Bears will be this season.
Chicago's passing offense struggled for most of 2022 under their second-year quarterback. Over the regular season, the unit generated -0.097 expected points added per pass, 28th in the NFL. Their 5.7 yards per pass play tied for 26th. The team's highest-graded receiver was 2020 fifth-rounder Darnell Mooney, but his 69.2 PFF grade ranked just 49th at the position. The lack of weapons, therefore, hurt Fields more than his presumed failure to develop. Make no mistake, the two are intrinsically intertwined.
The Bears added D.J. Moore in an offseason trade with the Panthers and beefed up the line in the draft and through free agency. Braxton Jones is the only starter to remain at the same position from last year. Rookie Darnell Wright will play right tackle, Cody Whitehair slides over to center, Nate Davis will play the left guard, and Teven Jenkins, once healthy, will man the right guard.
The Bears have been searching for a franchise-type quarterback since Sid Luckman retired in 1951. Is Fields that guy? The last time a Bears quarterback attempted 300 or more passes and graded above 80.0 was in 2013 when Jay Cutler finished the year 224-of-355 for 2,621 yards, 19 touchdowns, and 12 interceptions.
Fields' detractors forget that he entered the NFL from Ohio State as one of the most accurate quarterbacks ever. Head coach Matt Eberflus has said Fields has one of the best deep balls he's ever seen. If lack of talent is all that is stopping Field from being elite, then the Bears should see a big bump in his production with the addition of Moore alone. Mooney is healthy, and Cole Kmet is coming off of a career-best year that earned him a fat contract extension. Chase Claypool has a grasp of the team's offense, and the Bears have two burners in Velus Jones and Tyler Scott.
According to ESPN's Dan Graziano, the Bears will continue to use Fields' elite rushing ability in 2023. Expect to see significant progress in the passing game, too. Fields has the weapons to surpass 3,000 passing yards this season and he should.
Provided he remains healthy and upright, Fields will be a top-five NFL quarterback this season in terms of total offense.
Predictions: 270-of-420 for 3,295 yards with 26 TDs and 12 INTs, plus 1,025 yards rushing and 10 scores.
Tyson Bagent
In the @ChicagoBears QB room out of Shepherd University is an undrafted rookie free agent, Tyson Bagent

From D2 to QB2, @JamieErdahl fills us in pic.twitter.com/Xi77WEPQL2

— Good Morning Football (@gmfb) August 30, 2023
Bagent came out of nowhere to win the right to backup Fields this season. He was a record-setting quarterback at D-II Shepherd University, joined Chicago as a UDFA, and then beat P.J. Walker for the roster spot. The front office and coaching staff have yet to commit to Bagent as QB2, however.
Bagent was one of the most successful QBs in D-II history, throwing for 17,034 yards and 159 touchdowns in his career. He earned the QB2 role through his performances in camp and the preseason. Fields has missed time in each of his two seasons with the Bears, so expect Bagent to get playing time at some point.
Bagent has a live arm—that's the first thing that pops on film. He's a very loose and fluid thrower with a quick release who doesn't operate with consistent timing. The rookie tries to manipulate both the line and the defensive backs with his pocket movement and eyes.
Bagent is a fairly challenging study from that perspective. If. when he starts, defenses will deploy stunts, fire zone pressures, and corner blitzes to disguise pressure. That said, Bagent has a penchant for extending plays and forcing pass rushers to miss. He's capable of buying himself time and is big and strong enough to take some contact and still find his openings. He's tough, too, and can take a hit.
His delivery, his footwork, and his progressions are still a work in progress, but that's to be expected of any rookie. That makes Bagent no different than Bryce Young, C.J. Stroud, Anthony Richardson, or Will Levis, but make no mistake, he's just as poised as any of those rookies.
Predictions: 26-of-43 for 225 yards with 2 TDs and 3 INTs, plus 35 yards rushing and 2 scores.
Nathan Peterman
Matt Eberflus said the Bears have not yet selected whether Tyson Bagent or Nathan Peterman will be the team's backup quarterback: "We haven't made any decision yet. We're still in that process."

— Chris Emma (@CEmma670) August 31, 2023
Peterman was a backup QB for the Bears last season, starting one game in Fields' absence. The former fifth-rounder drafted by the Bills is entering his seventh year in the NFL and will likely be Chicago's QB3. He has five career starts and a career TD-INT ratio of four to 13 but gives Fields and Bagent an extra QB coach on the sidelines, in practices, and the QB room.