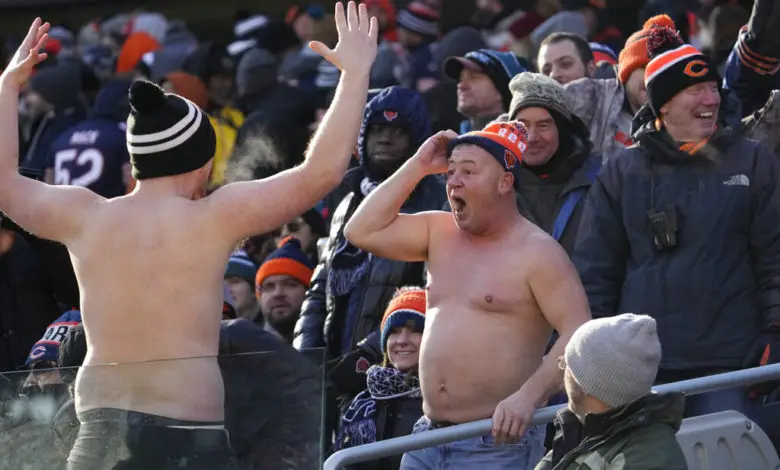 Bears Ticket Prices Drop Ahead of Frigid Tilt With Bills
Ask any Bears fan if the team should put a dome on Soldier Field or the new facility in Arlington Heights, and 99 out of 100 will tell you that football is meant to be played in the elements. What's good for the goose isn't always good for the gander, however. And that dome? It sounds like a great idea considering Saturday's expected weather conditions.
A strong storm system is set to move through the Midwest Thursday and Friday, as I'm sure you're aware. The Weather Channel is dropping terms like "flash freeze" and "bomb cyclone" to scare the Dickens out of fans that intend to attend Saturday's game. Anything to attract viewers and sell commercials, am I right? Gametime temperatures will be in the 5-10 degrees range, with wind gusts of 30-40 MPH or more. That will make for some mighty frigid "feels like" conditions. Bear weather? That's a boomer thing.
Bear Weather will be present Saturday 🥶@EliseMenaker met with Nicholas Morrow to talk about the conditions this weekend. pic.twitter.com/K9tzKMVrye

— Marquee Sky (@SkyMarquee) December 21, 2022
Because of what TWC is labeling "life-threatening conditions," tickets on resale sites are dropping as fast as the mercury in your thermometers. By Wednesday afternoon, grandstand seats that typically go for about $150 apiece were on the block for just $15 before fees on all the major ticket resale websites. Something is better than nothing I suppose. A few lower-level seats near the Bears sideline were going for less than $100. Even at that price, the warmth of a decorated home and a nationally televised game sounds much more appealing.
Other factors are at play, too. The game is being played on Christmas Eve, and the Bears are just 3-11. Sitting in the grandstand with those swirling winds seems less appealing all things considered. Traffic will be an issue, too, and, believe it or not, your beer will start to freeze in those conditions. By the way, alcohol is not recommended during life-threatening conditions events.
Still, you're going to see shots of shirtless dudes if you're watching the broadcast from home. Some fans see stupidity as a badge of honor of sorts. I cannot imagine being proud of frostbite, but who am I to judge? Soldier Field will be hosting one of its coldest games ever on Saturday. Fand that tailgate will be exposed to the elements for eight hours or more.
The coldest game on record came Dec. 22, 2008, at a minuscule two degrees Fahrenheit during a matchup with the Packers. But it never felt colder than Dec. 18, 1983, when another Bears-Packers game saw the wind chill sink 15 degrees below zero. Does Bear weather really exist when the home team is 3-11?
Justin Fields is looking forward to playing in the Winterfest game.
"Yeah, I am excited," Fields said. "It's going to be my first time playing in that weather, and it's going to be fun."
It's official. The second-year quarterback has taken too many blows to the head this season. Perhaps Fields should sit this one out. The Bears are fighting for a top-two draft pick after all.
Incidentally, the idea of a domed stadium is not necessarily the reason the NFL's charter franchise is considering a move to the western suburbs. Email exchanges, which we reported on a few months ago, indicate that other factors are at play. Ted Phillips sent a letter to former Chicago Park District Supt. Mike Kelly in April 2020, outlining what he hoped would be opportunities for legalized sports betting at Soldier Field under a new Illinois law. Kelly's response was far from timely, which irritated Phillips and the McCaskey family.
"It is disappointing that it is over a year since we reached out to you and you have refused to engage in good faith discussions about an opportunity that generates revenue for the CPD while leveraging the Chicago Bears brand," Phillips wrote, again requesting a meeting to discuss a potential sportsbook.
There is no written correspondence indicating the city responded to that letter. Two weeks later, the Bears announced their bid to purchase the property at Arlington Park. Executives have said the potential $5 billion development would include a stadium with a roof. Bear weather will become a thing of the past, not that it will matter much on Saturday. The game starts at noon, and plenty of tickets remain available.