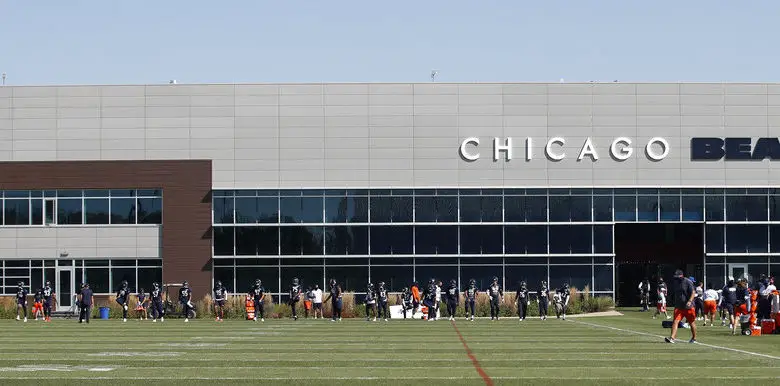 First & Long: Bears Players Excited to Meet New Coaching Staff, Offseason Workouts Underway, Saints and Eagles Complete Blockbuster Draft Day Trade
The Bears started their offseason training program today with 57 players under contract, including backup tight end Jesper Horsted, whose signing was announced earlier Monday. That means GM Ryan Poles still has some significant roster building to do, and it means new head coach Matt Eberflus will have to remain flexible as the front office identifies and signs the players to fill those holes.
https://twitter.com/RoquanSmith1/status/1511105353538277380
The Bears are one of a handful of teams that were allowed to start their offseason programs this week. For Eberflus, it's a chance to meet his players and schedule meetings with his coordinators and assistants. Of course, the players will get their first experience of working with an entirely new staff.
The focus on Chicago's first voluntary workouts of the 2022 season will obviously be strength and conditioning. Eberflus will get a chance to see some on-field performances in two weeks when the team holds its first minicamp. The coaching staff and front office will then turn toward finalizing Chicago's draft board ahead of the April 28-30 event in Las Vegas.
Poles needs to grow the roster to about 90 players, and with only six picks in this year's draft, that means plenty of signings are coming. Chicago has just over $17 million in cap space so expect a lot of non-guaranteed deals and possibly a trade or two. Nick Foles is rumored to be on the block, but, as Poles has shown, he's not afraid to make a surprise trade or roster cut. The new GM is expected to be very active in undrafted free agency, and there will be more players available once teams announce their post-June 1 cuts.
As far as impact players, the Bears still have a couple of big holes in the defensive backfield, and they need to find about a half-dozen more offensive linemen and wide receivers. It would be nice if the front office can find good linebacker depth, too. Chicago has six receivers under contract this year (Darnell Mooney, Byron Pringle, Dazz Newsome, Equanimeous St. Brown, Isaiah Coulter, and Nsimba Webster) and two tight ends (Cole Kmet and Horsted). When they reported for training camp last year they had 12 wide receivers and six tight ends.
Expect the front office to leave no stone unturned, and there will be a large contingent of players coming to Chicago by the end of this month. Most won't be the types of signings Bears fans are hoping for, but Poles is playing the long game right now. It's not easy to turn over two-thirds of a roster in one spring, which is the task the first-year GM was handed when he was hired two months ago.
Chicago Bears News & Notes
There's a Flag…On the Play
It's been said Tom Brady has some kind of devil mojo and it's hard to dispute that.
Could we see Tom Brady & Julio Jones team up in Tampa? 👀 pic.twitter.com/FVeT2TE38l

— PFF (@PFF) April 5, 2022
Northern Exposure
What do you do if you have more money than you'll ever need and not many can't-live-without luxuries? If you're Aaron Rodgers, you go to Switzerland to learn how to make watches and practice your yodeling.
With a 2022 cap hit that exceeds $31 million, Vikings QB1 Kirk Cousins will carry the 4th-highest cap hit in the NFL. He is outpaced by fellow quarterbacks Matt Ryan, Ryan Tannehill, and Patrick Mahomes.
The Lions could be a perfect fit for exiled quarterback Colin Kaepernick.
NFL News & Notes
The Eagles and Saints orchestrated a blockbuster trade that involved nothing but draft picks. New Orleans will receive two 2022 first-round picks (No. 16 and No. 19) and a 2022 sixth-round pick (No. 194) while Philadelphia gets a 2022 first-round pick (No. 18), a 2023 first-round pick, a 2024 second-round pick, plus 2022 third-round (No. 101) and seventh-round selections (No. 237) in return.
The Saints, who lost out on Deshaun Watson, are likely to take a quarterback with one of the two first-round picks.
There are now eight teams that hold multiple first-round picks, and movement is expected to continue at a frenzied pace through the draft.
The latest mock at CBS Sports has the Packers taking wide receivers with both of their first-round picks.
The league's owners approved a change to overtime rules last week that will ensure both teams will receive an offensive possession in overtime.
Frank Gore signed a one-day contract with San Francisco so that he could retire from the NFL as a 49er.
Gore is going to become a professional boxer, with his first fight slated to be May 14 in Jackson, MS.
The Rams jumped at the chance to add linebacker Bobby Wagner to their team.
Seahawks head coach Pete Carroll reportedly called out NFL owners for their failure to hire minority coaches.
Peyton Manning is advising Russell Wilson on his transition to the Broncos.
Draft preparations are underway on the Las Vegas strip.
Three Yards and a Cloud of Dust
Gore played a total of 241 games in his career, the most by a running back in

NFL

history.

Derrick Henry leads the NFL with 21 100-yard rushing games since 2019.
Potential first-round draft pick Treylon Burks of Arkansas was tracked on GPS at 22.6 MPH on a 92-yard screen TD last season. He would have been the fastest ball carrier in the NFL last season according to Next Gen Stats.
From the Podium
"I'm very impressed with how both Ryan [Poles] and Matt [Eberflus] have hit the ground running, getting us off to a good start in 2022. I'm especially impressed with Ryan's demeanor. Very self-possessed, very confident. Patient. Disciplined." – George McCaskey
"When it comes to [Luke] Getsy's detailed knowledge of both wide receivers and quarterbacks, he has that intricate, detailed fundamentals and technique approach. We're talking about every little step. And it's amazing because when you look at Davante Adams' growth as a player early on, that's when Luke was growing too. I think those guys taught each other a lot of stuff." – Bills head coach Nathaniel Hackett
"I'm excited to be back. The coaching staff has great energy, the guys coming back have great energy. I think there's something that just feels different about this year. Being back at Halas Hall for the first day, it's exciting and energetic, and it feels fun." – Gipson
"It kind of felt like the first day of school, when you're getting a new coach, getting a new strength staff and all that. It was fun introducing myself to a lot of people and getting to meet all the new guys." – Jenkins
Running Out the Clock
Brick by Brick by The Arctic Monkeys – Poles has torn down and is rebuilding his roster in a painfully slow manner.