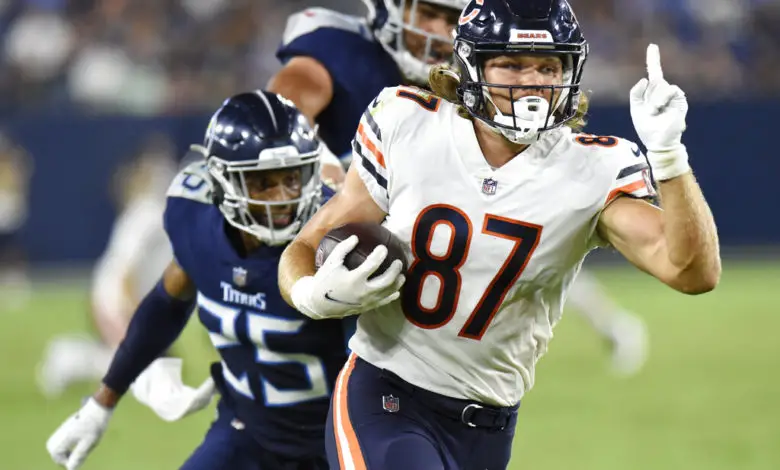 Bears Re-Sign TE and Fan-Favorite Jesper Horsted
The Bears are bringing back a fan favorite as the team announced Monday afternoon that they have re-signed TE Jesper Horsted to a one-year deal as an exclusive rights free agent. Horsted was tendered as an ERFA in early March and now enters his fourth season with the Bears after earning a spot on the team as an undrafted free agent in 2019.
The #Bears have re-signed TE Jesper Horsted. Here's to hoping this coaching staff gives him more opportunities than the previous regime.

— Bryan Perez (@BryanPerezNFL) April 4, 2022
The former Princeton standout had flashes of success as a rookie in 2019, catching eight of 10 targets for 87 yards and a score. Matt Nagy sent the 6-4, 240-pound end to the practice squad in 2020, but he worked his way back onto Chicago's 53-man roster in 2021, playing behind Cole Kmet, Jimmy Graham, and Jesse James. He solidified his spot on last year's team after impressing Nagy and former GM Ryan Pace with a three-touchdown preseason game against the Titans, including a one-handed grab that totaled 56 yards.
ONE-HANDED GRAB FOR THE HAT-TRICK!#CHIvsTEN | @JHorsted pic.twitter.com/E5wDK2qjAX

— Chicago Bears (@ChicagoBears) August 29, 2021
With Graham and James unlikely to return, Horsted has a legitimate shot to be the backup to Kmet and a big-bodied red-zone target for Fields in 2022. That said, Bears fans should expect GM Ryan Poles to look to the draft and undrafted free agency to provide camp competition. You have to love Horsted's effort and determination, but he is the only tight end they have besides Kmet, is a converted wide receiver, and the bulk of his experience has come in exhibition games.
Despite that, the big tight end seemingly makes a big play every time the ball is thrown to him. During the regular season, Horsted earned only six snaps on offense and caught two passes, both of which were touchdowns. He holds the honor of catching the first career touchdown pass by Justin Fields, which came in a 20-9 Week 5 win against the Raiders.
"Another good ball from Justin [Fields]," Horsted said in the post-game presser. "You know it was a rollout to the right, and you know, I'm on a corner route there, and I just kind of made eye contact with him as he was scrambling, slowed it down a little bit because the defender had his back to me, and Justin trusted me enough to put the ball up there and I made the catch."
That big-play ability likely enamored Horsted to Chicago's new front office and coaching staff. He's also a guy that is likely to play with a chip on his shoulder, which is starting to seem like the number one criteria for Poles when it comes to making roster additions.
"What I've always loved is … you're going to have some players that, they're motivated, they got a chip on their shoulder, and they want to get back into free agency and go at it again," Poles said about the second and third waves of free agency. "So they play with a purpose. And I've mentioned this before, but it's very hard to stay super motivated. You got to be a special human being to be in that first wave (of free agency) and keep going. You want your name etched in the stadium. That's what kind of mentality you got to have. So I definitely think there's a lot of good value down there, plus … the mentality comes with it."
If anybody has proved he plays with a purpose, it's Holsted. Counting last year's preseason tilts, he caught 8 of 11 targets for 134 yards and five touchdowns in 2021.