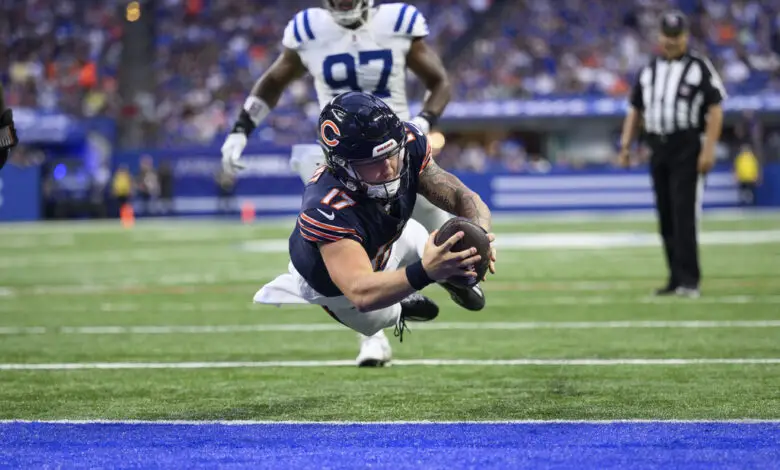 Bears Lose to Colts, Bagent-Mania Ensues
The Bears lost 24-17 to the Colts in arguably the most meaningless exhibition game in the history of the NFL. Both teams rested many of their starters, and the game was more or less about determining which players will be key depth pieces for both teams. The Bears have a quarterback controversy on their hands, and it doesn't involve Justin Fields.
P.J. Walker, who was signed to play backup to Fields, was a very non-descript 1-for-4 as the team's starter Saturday night. Tyson Bagent, the undrafted rookie from Shepherd University, then led the Bears on a 17-play, 92-yard scoring drive. He capped it with a two-yard run to tie the score at seven. Bagent finished the night going 9-for-10 for 76 yards and a 98.3 QBR, including an eight-yard dart to Daurice Fountain.
"Tyson played great," Fountain said. "He showed that he's a true pro. I loved it. He was a great field general on that touchdown drive, [and] doesn't look like a rookie to me. He doesn't sound like a rookie to me."
Every snap Tyson Bagent played in the #Bears second preseason game: pic.twitter.com/MOQewx5WwT

— ImBearingDown (@ImBearingDown) August 20, 2023
It was a big performance, to say the least. The Bears will trim their roster from 90 to 53 players in the next 10 days. Could Bagent surpass Walker and Nathan Peterman to win the QB2 role? If the Bears put him on the practice squad, there's a good chance another team will offer him a roster spot. Chicago probably won't carry three quarterbacks, though that is a possibility.
coach Matt Eberflus certainly seemed pleased with Bagent's performance against the Colts and was asked if Bagent might end up making the team.
"I think everything's open right now," he said. "I really do. If you have a closed mind, then if somebody is rising or executing, [you'll miss it]."
Bagent was present when Eberflus made that comment and others, and the rookie is confident that he belongs in the NFL.
"I'd really like to make them as comfortable as possible with the thought of me in the game," Bagent said. "Just really have them understand that any play that needs to be run, I at least know how to run it. Every play is not going to be perfect. But I know how to run every play in the playbook.
"That's where I'm at, kind of working tirelessly. I know opportunities will present themselves. I try to be as ready as I can."
Eberflus also took note of Bagent's poise.
"The delivery was there. Accuracy looked pretty good. Timing was nice. The decision-making was pretty good. Those are all the things it takes to score touchdowns. And you saw it there."
Would the Bears be open to having an undrafted rookie from a small, Division II serving as the team's primary backup? Chicago is still in a rebuilding phase, so it's not out of the question. The front office and coaching staff have to also believe Bagent could take over if Fields gets hurt. In reality, his current audition may more likely be for a practice squad job. At least initially.
As things stand, Walker remains penciled in as the backup to Fields, even with a large number of inefficiencies in two preseason outings. The Bears punted on both possessions Walker led Saturday. The veteran was guaranteed $2.01 million on a two-year, $4.15 million contract in March, however. That investment combined with his six years of experience gives Walker certain advantages in his bid for QB2.
Eberflus acknowledged that but also noted that assessments at all positions are still ongoing.
"You never put a ceiling on any player," the head coach said. "You always look for the best in every guy. And you'll see guys where all of a sudden they get into a game and, man, they start rising up. It's just easy for them. They can execute in those moments."
Peterman also had a good game, finishing 10-of-18 for 115 yards and a TD pass to Fountain.