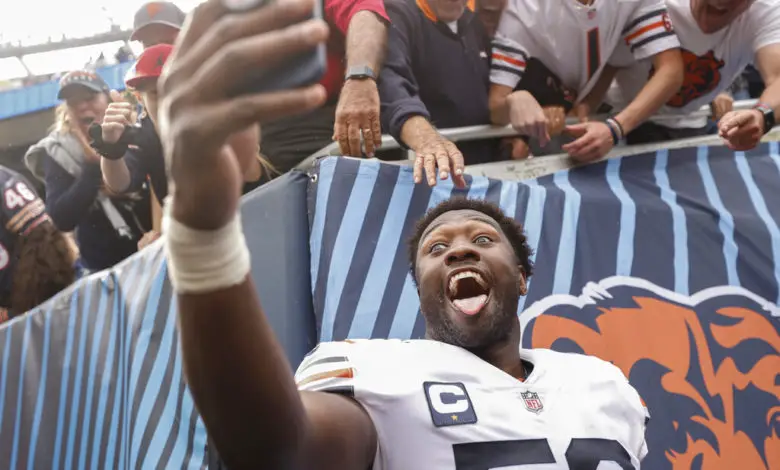 Bears Not Expected to Trade Roquan Smith
The Bears are expected to remain active going into Tuesday's trade deadline, but one player who won't be moved is Roquan Smith. The fifth-year linebacker has drawn the interest of other teams, but Chicago is asking for an awful lot in return. GM Ryan Poles reportedly wants two first-round picks for Smith.
Smith has been Chicago's best defensive player by almost any metric. He led the league with 78 tackles going into Sunday's tilt with the Cowboys. The All-Pro is also one of two linebackers in the NFL with two or more interceptions.
Roquan Smith sacked Bailey Zappe in just 3.08 seconds after looping around two slanting defensive lineman.

💡 Smith (Career, since 2018): 6.4% sack rate (1st in NFL, min. 150 pass rushes)#CHIvsNE | #DaBears pic.twitter.com/RMj6noSttJ

— Next Gen Stats (@NextGenStats) October 25, 2022
"I feel like I'm in the same headspace that I was back when I asked [for a trade] — and that was declined," Smith said earlier this week. "I shift my focus to just being the best guy I can to the guys in the locker room. The best guy to myself and to the loyal fans. And I just want to go out each and every week and show that I'm the best in the game. That's just been my thing."
Like Justin Fields, Smith has been a polarizing player among Bears fans. Analysts tend to look at the linebacker's Pro Football Focus grades and write him off as a mediocre linebacker. The highest overall score he ever earned from PFF was 67.2 in 2020. In 2021, he was assigned a poor 47.8 mark, and through the first seven games of 2022, his grade sits at 57.9. It is possible that the more analytically-minded front offices are the ones that do not believe Smith's contract demands are commensurate with his abilities. Few, if any, executives will be willing to meet Poles' asking price with those numbers.
David Montgomery and Eddie Jackson are the more likely trade chips, however. Montgomery is entering the final year of his contract, and the Bears have a very capable replacement in Khalil Herbert. Jackson's value has never been higher. The safety picked off his fourth pass of the season in Sunday's loss to the Cowboys. Poles has eight picks in the 2023 draft and there's little doubt he's looking to add to that bounty.
The Bears also have the option of saddling Smith with a franchise tag after this season. However, that will only add to the acrimony between the two sides. The franchise designation should be worth more than $20 million but keeps Smith from the open market for at least another year. Allen Robinson was designated before last season to the detriment of his on-field performance.
Chicago is sitting on about $134 million in cap space after the Quinn trade, so it's not like they don't have the resources to extend Smith. Most analysts believe he'll accept a 5-year/$100 million extension. but if he continues at his current pace, Smith might demand a higher number. If Poles wants to get something for Smith, he'll have to lower his demands. That is if we are to believe that Mike Garafolo has inside knowledge.
Some say the Christian McCaffrey trade might provide a better blueprint when it comes to Smith's value. The Panthers received three picks in 2023 (a 2nd, 3rd, and 4th-round pick), plus an additional 5th-round pick in 2024. That said, the running back is not a pending free agent and the 49ers have team control through at least 2025. McCaffrey signed a four-year, $64 million contract with Carolina in April of 2020, with cap hits of $8.7 million in 2022, $19.5 million in 2023, $19.5 million in 2024, and $15.4 million in 2025. If Poles can get two Day Two picks for Smith he'd have to at least consider it.
Then again, perhaps the first-year GM has no intention of trading his star linebacker, and that's why his demands are unreasonable. If someone is willing to meet that asking price he can do the deal and still look good in the press and to the team's fans. If not, Poles gets every opportunity to retain Chicago's best defensive player next year and beyond.
We know that Smith wants to stay and that Poles would like to work out a deal. We also know the sides agree on the value of the contract, and presumably the length. But, Smith was reportedly unhappy with some of the language. With that in mind, an extension seems like a more likely possibility than a trade. Smith may have to wait until the end of the season, however. He may have no interest in staying if it comes to that.