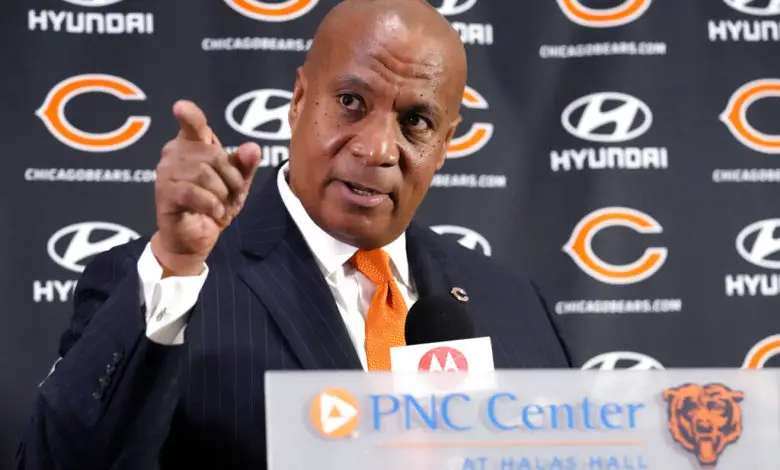 Bears Introduce Kevin Warren as New President and CEO
Ted Phillips has officially retired, and the Bears introduced Kevin Warren as the team's new President and CEO. The McCaskeys began their search for a replacement last year, with Phillips leading the interview process. The organization included a search firm – Nolan Partners – and a search team consisting of George McCaskey, senior vice president of diversity, equity, and inclusion Tanesha Wade, and Bears vice president of human resources Liz Geist.
Warren's hiring is another progressive hire for the NFL's oldest franchise. Now, four of the most powerful people at Halas Hall are Black, and one, Wade, is a woman. The football operation is run by Ryan Poles and assistant Ian Cunningham. Wade was also considered a potential replacement for Philips.
Warren thinks the Bears can be great, and his first step is talking it to fruition. He also said he loves the challenge the organization presents, though he has no doubt Chicago can quickly become a Super Bowl contender.
Bears President & CEO Kevin Warren is taking a page out of Dick Vermeil's championship playbook 💍

"Once people in the building realize that when we win the Super Bowl, all of our rings are gonna look the same, they'll put their egos to the side." pic.twitter.com/XvR8QdhAFW

— Bears Talk (@NBCSBears) January 18, 2023
"I think the biggest thing is confidence and … making people understand that it's OK for us to be comfortable talking about being great," he said. "Because there are a lot of people that are fearful about that, even in their [personal] lives."
"We're going to build an incredible franchise," he continued. "I came here to win championships, to win the NFC North, to win the NFC, to win the Super Bowl, to help shepherd and lead a stadium development project, to embrace our alumni, to embrace our history and tradition, and to embrace the absolutely incredible Chicago Bear fans. That's why I'm here.
[The Bears] will continue to do it the right way. We will also work hard… [and] have fun. We will be diligent and we will be detailed… [and] methodical. [The organization] will operate with integrity and honor at every step of the way. This is a special time in the NFL, but most of all it's a special time for the Chicago Bears. Everything is ahead of us. All we need to do now is go and grasp it, put in the time and energy, and effort."
OK, so he can be a little long-winded. Maybe he'll hire Cris Collinsworth as an advisor.
Warren also indicated that he plans to continue the team's pursuit of a new stadium in Arlington Heights. The McCaskey family is expected to close on that real estate purchase during this quarter. He declined to give a timetable on when the Arlington Heights stadium could be ready but said he would have a clearer idea of that in about six months.
Poles will now report to Warren rather than George McCaskey. The chairman made sure to mention that Poles will maintain complete authority as it pertains to football operations. Warren will work on establishing an incredible culture" at Halas Hall. His initial goal is to meet with every employee one-on-one and gather input on how to lead Chicago to its next championship.
He is expected to officially begin team business in April, but Warren said he is already at work learning the organization.
The new head of operations is 59 years old and spent the last three years as commissioner of the Big Ten, but most of his experience in sports was in the NFL. He was an executive with the Vikings from 2005 through '19 and the Lions from 2001 through '03. He started his NFL career with the Rams in 1997.
Warren was with the Lions when they opened Ford Field in 2002. Warren was also COO of the Vikings when they opened U.S. Bank Stadium.