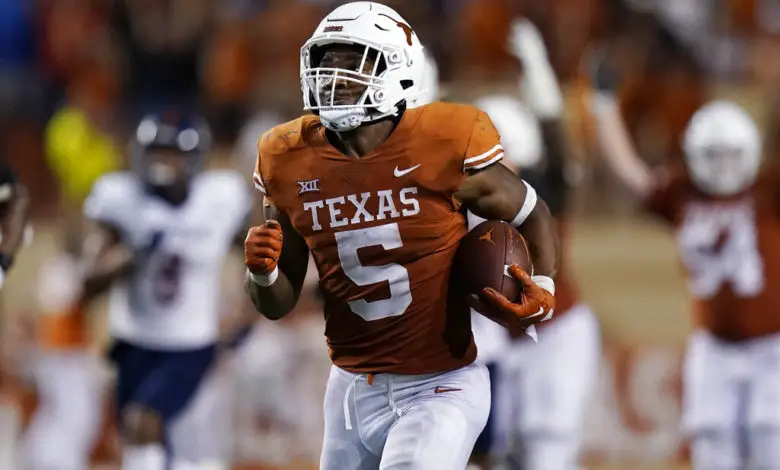 Bears Insider 2023 Draft Preview: Running Backs
Ryan Poles and his front office entourage have their own draft board and have promised to draft the best player available according to said board. But what if a running back sits atop their list? Bijan Robinson is arguably the most talented player in this draft class and appears to be what scouts used to call a "franchise back." Robinson is a generational talent who is often compared to Saquon Barkley, LaDainian Tomlinson, Adrian Peterson, and Barry Sanders.
Is he worth a top-10 pick in this year's draft? He's already met with the Eagles and Buccaneers. Philadelphia selects 10th overall, and in all likelihood, the Bucs would have to get to No. 9 to have a shot at Robinson, or possibly higher.
"Somebody told me don't sleep on Bijan Robinson with the Chicago Bears at number 9."
– NFL Network analyst Daniel Jeremiah

(Via @NFLMedia)

— Daniel Greenberg (@ChiSportUpdates) April 20, 2023
Conventional wisdom says you don't draft running backs early, and for sure, few get their rookie contracts extended. Most teams bank on a "best man plays" approach to the backfield. The Bears are well-stocked at running back. In addition to incumbent starter Khalil Herbert, Chicago has recent signees D'Onta Foreman and Travis Homer. Sophomore Trestan Ebner is the fourth back in the team's rotation.
The Bears will add to that group, either in next week's draft or undrafted free agency. It remains to be seen if Poles will be willing to take a running back at No. 9 or trade down in hopes of selecting Robinson lower. I do believe B-Rob will be a top-10 pick, however. The Eagles will take him at No. 10 if he's available, full stop. The theory that Poles traded down to the ninth pick knowing he could still get Roninson makes sense, whether that is a legitimate rumor or not. Combining the Texas tailback with Fields and D.J. Moore would give the Bears one of the most potent offenses in the NFL.
This is a deep class for running backs, and potential all-stars will be available in rounds two and three.
Fill in the blank:

Bijan Robinson is the best RB prospect since _________ pic.twitter.com/DLR9fJFE2y

— PlaymakerU (@playmakerU) April 20, 2023
First Round Prospects
Bijan Robinson – I have him ranked as the second-best available prospect in this draft class, and the only one worthy of first-round consideration. In fact, I'd consider trading Herbert just to draft B-Rob. Robinson is the best running back prospect to enter the draft since Barkley in 2018. He's a patient and instinctive runner with outstanding contact balance, and it almost always takes more than one defender to get him on the ground. He's a reliable pass catcher with the body control to adjust to passes thrown outside his frame, and he's a threat after the catch. He's also a tremendous blocker, which is why he makes sense for Chicago. By the way, he has yet to reach his full potential, and he said he'd love to play for the Bears because of Justin Fields. Everybody says that these days, though. Will Anderson Jr. is the only player I have rated ahead of Robinson, in case you're wondering.
Second and Third Round Prospects
Jahmyr Gibbs – Gibbs is talented enough to go in the first round. In fact, he could end up with the Bills at No. 27. If he isn't, and the Eagles take Robinson at No. 10, it's possible Gibbs could slide all the way to the Bears at No. 53. There is a pretty big dropoff in talent after these first two. Gibbs is a home run hitter with two rare traits — his ability to make defenders whiff in tight spaces and his ability to run away from defenders. He sounds a lot like Herbert, in fact. Put in that perspective, it means Chicago is unlikely to draft a running back on days one or two if the front office passes on Robinson.
Rounds Four through Seven Prospects
Bears Needs
To be clear, Chicago does not need a running back…this year. But Foreman and Homer are on one-year deals, and the Bears are unlikely to give Herbert a fifth year on his rookie contract when that decision must be made. Taking B-Rob should be considered folly unless you are buying into Poles' long-term approach to rebuilding his team. It's also important to remember that Fields is looking at a big payday after this season. That means taking Robinson now and getting him for five years on a rookie deal makes a lot of sense.
Best Fits
Robinson is going to be the best player available if he slides to No. 9 overall. There is no debating that. If Chicago passes, there are certainly options in the later rounds, but none as talented as B-Rob. If I'm in Poles' seat, I take the guy labeled a "generational talent" and let the chips fall where they may. But that's just me. This storyline has made for one of the better debates of the offseason.