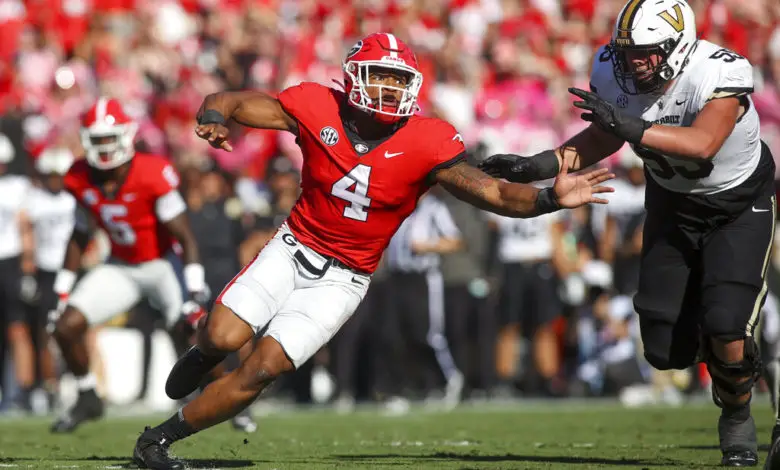 Bears Insider 2023 Draft Preview: EDGE/OLB
The 2023 EDGE defender class is a deep group with potential impact players stretching into Day 2. The top-end talent in this draft is a group of players with freak athleticism and extraordinary skills. It's likely we'll see at least three top-10 picks from this EDGE class (if you count defensive ends Tyree Wilson and Lukas Van Ness)  if not four.
Will Anderson Jr. was the Bears' consensus favorite before Chicago traded the top pick to the Panthers for an impressive haul that included wide receiver D.J. Moore. Anderson is still the top non-QB in this draft, and he sits at the top of my board.
Nick Saban keeps Will Anderson Jr. in high regard 🙌

"I have never heard [Nick Saban] speak about a player like he did Will Anderson. … I'm gonna trust Nick Saban and I'm gonna take Will Anderson and sleep real well." —@McShay13 pic.twitter.com/fwu86yeVwN

— NFL on ESPN (@ESPNNFL) April 19, 2023
A lot of mocks have the Bears going with an offensive tackle at No. 9 but I do not agree. I don't think their calculus changed just because they dropped eight spots. Ryan Poles is going to take the best player available based on his draft board, and if that's a defensive lineman or EDGE rusher he's not going to fill another need and take a player he values less. That goes the same for almost any position except quarterback. Justin Fields is a franchise signal-caller, and Poles is building his team around the talent of QB1.
That doesn't necessarily mean drafting offensive weapons. The Bears lost 14 games last year because they couldn't stop their opponents from scoring at will. Chicago was at or near the bottom of all defensive categories, and for you need-based armchair GMs, defense is their biggest need. The Bears couldn't stop anybody after trading Robert Quinn and Roquan Smith and weren't even adequate with the two veterans in their lineup.
Keeping Fields out of obvious passing situations is the best way to help the young man. A good defense will go a long way toward making that happen.
There are just too many playmakers at the top of this draft to take a tackle who will need a longer development window. The best offensive linemen in this draft aren't going to be impact starters on Day 1. But there are several players at skill positions who will, including on the EDGE. A rookie tackle who blows an assignment could be the worst thing that ever happened to Fields. At least that's how I see it playing out. Of course, I could be completely wrong, too.
First Round Prospects
Energetic two-time national champion Nolan Smith is ready to make an impact for whichever team gives him the chance 😤 @SmithNoland2

📺: 2023 #NFLDraft — Starts Thursday, April 27 on NFLN/ESPN/ABC
📱: Stream on NFL+ pic.twitter.com/ovuhJzBJe7

— NFL (@NFL) April 22, 2023
Will Anderson Jr. – On my board, Anderson is the No. 1 player in this draft. His first step and quick, powerful hands make him a dangerous pass rusher. He frequently overpowers blockers with his lower-body strength and powerful punch, but he can get to the quarterback in a number of ways. Anderson stacks blockers, sets a hard edge, locates the ball, and quickly disengages while defending the run. He also pursues relentlessly. I love the trade that Poles made, but it sure would have been nice to see Anderson in the navy and orange. Barring injury, he's a future All-Pro. The Cardinals look like they'll take him with the third overall pick.
Nolan Smith – Smith is a player I love for the Bears, but there are a lot of players I wish Poles could take. Unfortunately, the second-year executive has but one first-round pick. Smith's take-off speed, change-of-direction skills, and closing burst jump off the tape. He's a disruptive run defender who creates havoc with his ability to get in the backfield and shows excellent range in pursuit. His get-off is imposing, and he's still adding tools to his pass-rushing toolbox. Smith is also a future All-Pro and he has a dynamic personality, which will make him a leader on the field and in the locker room. The Bears are listed as a "best fit" for Smith by several analysts.
Will McDonald IV – A  long and explosive EDGE rusher with good bend and closing burst. McDonald has the foot speed to win with weave moves and flashes an effective spin move. He's not as strong at defending the run as the players listed ahead of him. McDonald is also a little light at 235 pounds and will need to bulk up to play at the next level. That said, it didn't stop McDonald from grading out as one of the best pass rushers in this draft class.
Second and Third Round Prospects
B.J. Ojulari – If the name sounds familiar, it's because B.J. is the younger brother of Giants edge rusher and former second-rounder Azeez Ojulari. The younger Ojulari is a highly technical pass-rusher who wins in a variety of ways and understands how to tempo his rush. He has explosive speed and the bend to run a tight loop at the top of his rush. Like McDonald, he's a little on the light side at 248 pounds, but his quick feet help when he drops into coverage. He has the size and athleticism that the Eagle love, and could be a viable replacement for T.J. Edwards.
Tavius Robinson – Has prototypical height, solid bulk, long arms, and big hands. Johnson has experience lining up at nearly every position across the front seven but projects best as a 4-3 defensive end in the NFL. He needs to grow into his frame to improve against the run, but Robinson should become a rotational defender and has future-starter potential. There is a big dropoff at EDGE after Robinson.
Rounds Four through Seven Prospects
Bears Needs
I think the Bears are more likely to take one of Smith, Van Ness, or Myles Murphy than an offensive lineman. I think Smith is the best fit of the three, especially considering the way the Bears evaluate players. I'd still take any of them. Chicago's defense was atrocious last year, and though the additions of Tremaine Edmunds and T.J. Edwards will help, the Bears desperately need front-four help. If Poles is taking BPA, Smith and Van Ness rate higher than any of the offensive linemen, and Murphy is right there, too.
Best Fits
I wouldn't mind seeing the Bears draft Smith and then take one of Ramirez, Johnson, or Carter on Day 3.