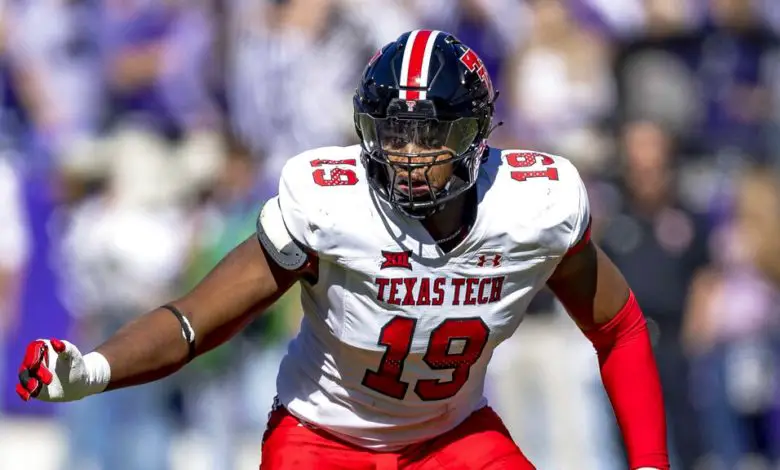 Bears Insider 2023 Draft Preview: Defensive Ends
If the Bears really want to find an impact defensive lineman, there is a ton of top-end talent at defensive end. Ryan Poles could theoretically trade down from No. 9 and still get a blue-chip prospect in the second half of the first round. In fact, Poles could be in a great position to slide down if Jalen Carter and/or Will Levis is available. Carter might not be a good fit in the locker room for a young, rebuilding team, and the Bears do not need a first-round quarterback because of Justin Fields.
One rumor making the rounds is that the Bears would trade the No. 9 pick and something else for first and third-round selections this year and a first-round pick in 2024. That would give Chicago three first-round picks next year, and possibly, extra assets in case Poles wants to trade up later in the draft. The assumption in that scenario is that Carter would be available at No. 9, and two first-rounders would be the going rate to get Poles to slide down again.
I still believe Poles will trade down, but if he does not, he has plenty of options to strengthen his pass rush.
First Round Prospects
Second and Third Round Prospects
Rounds Four Through Seven Prospects
Tuli Tuipulotu – Versatile defender who lined up at defensive end, outside linebacker, inside linebacker, and defensive tackle at USC. He excels at splitting blockers and making plays in the backfield regardless of where he lines up. Tuipuloto's smallish frame raises some concerns about his ability to develop into an every-down defender.
YaYa Diaby – Flashes the ability to disrupt plays in the backfield. There's room for improvement when it comes to locating the ball, however, and getting off blocks in time to make the play. Diaby is just scratching the surface as a pass rusher. That said, he's not as effective rushing off the edge as he is between the tackles.
Isaiah McGuire – He's got a high motor and a nasty demeanor but lacks the strength to be an NFL starter.
Dylan Horton – A violent player with athletic upside, Horton is a bit underdeveloped as a pass rusher.
Moro Ojomo – The fifth-year senior also has a high motor but is seen as a more cerebral defender than Horton. His athletic profile makes him a difficult fit in Chicago's scheme.
Karl Brooks – Brooks has explosive power to knock blockers back as a run defender. He can sometimes overwhelm blockers as a pass rusher. But he stalls out too much, doesn't close well, and is an inconsistent finisher.
Mike Morris – A versatile defender who lines up as a standup defensive end. He's far more effective rushing the passer and occasionally drops into coverage. Morris doesn't have overwhelming speed-to-power and gets off of blocks late.
Habakkuk Baldonado – Baldonado has some likable tools but it's clear that he is still a work in progress. His rush plan is predictable. He also lacks a natural sense for reading blocker sets and understanding how to attack the pocket.
Ali Gaye – A tall edge defender with long arms and quick reaction skills. Unfortunately, Gaye lacks power and body control as a pass-rusher. He's at his best in backside pursuit or when he's uncovered and can chase ball carriers.
Robert Beal Jr. – Projects best as a 3-4 outside linebacker/edge defender. He's somewhat underdeveloped as a pure pass rusher. Beal has never received the bulk of the snaps to assist or accelerate his development.
K.J. Henry – Has the length and upper-body power to keep blockers off his frame initially, but when blockers lock onto his pads, Henry really struggles to disengage. He also plays too high and loses leverage at the point of attack.
Viliami Fehoko – Does not have an explosive or quick first step to own the vertical outside path, so snap timing will be important for his success.
Tyler Lacy – Lacy has the length to stack and shed blocks in time to make plays. He also has the strength to set the edge and hold up one-on-one between the tackles. But he plays high and gets displaced by angle blocks.
MJ Anderson – A slippery and disruptive run defender who gets into gaps and disrupts plays. Anderson is a work in progress as a pass-rusher but has the length, agility, and initial quickness to get there.
Bears Needs
When Chicago was on the clock with the No. 1 pick, most thought Poles would select Carter or Will Anderson Jr. Though they have since moved down eight spots after a blockbuster trade with the Panthers, I don't think the calculus changed. I believe Poles intends to select a defensive lineman if he does not trade down again. Van Ness and Morphy would be great additions. Poles will also seek depth at the position in the later rounds.
Best Fits for the Bears
Van Ness seems like the perfect addition because of his projectability, high motor, and violent brand of football. I'd love the pick but I hope Bears fans give him a new nickname.