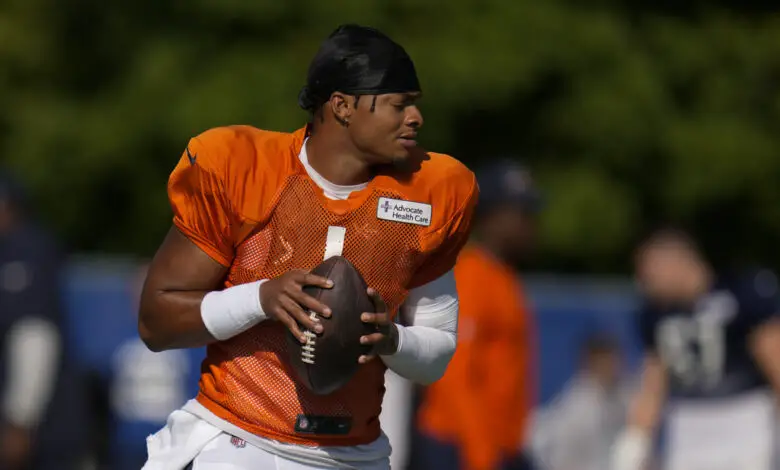 Bears Game Day: State of Love & Trust
The Bears play the Colts tonight but will be without starting quarterback Justin Fields and a few other first-string players. Chicago and Indianapolis had two days of spirited practices, and Fields got the requisite work in. If the third-year signal-caller needed the work he'd be playing tonight.
Head coach Matt Eberflus and offensive coordinator Luke Getsy are showing a lot of trust in Fields. They'd rather sit him than risk injury, and the two may decide to sit Fields again in Chicago's final preseason game against the Bills next week. That has yet to be discussed, however.
Fields played the first two series in Saturday's win over the Titans, completing 3 of 3 passes for 129 yards, two touchdowns, and a perfect 158.3 passer rating. He also stood out in the highly competitive 7-on-7 and 11-on-11 drills Wednesday and Thursday against the Colts.
This was one of the hits on Justin Fields

I don't think there was anything "Malicious" going on, just physical football pic.twitter.com/2mrUnlfGUv

— Swift Sports Network (@SwiftyNetwork) August 17, 2023
"[Fields] isn't not playing, and the selected starters that we have are not playing in the game because of the work we've done here," Eberflus said. "We decided that last night and that's what we're going with. We have a lot of great [opportunities]. I talked to the backups just now and last night about the opportunity they have ahead of them to [get all] these reps. It's going to be a great opportunity for those guys.
"[The joint practices] are invaluable. It's really like playing two preseason games. It really is, with your guys in a safe environment. If they let me do it again, I'd do it again next week. It's very valuable to the coaches and the scouts in terms of evaluation."
Eberflus said he wanted to see Fields get "more action" during the past week and he and his staff are pleased with the quarterback's progress through three weeks of training camp.
"I think he's right on pace," Eberflus said. "He was 8-for-8 and had four touchdowns in 7-on-7 [on Thursday], that was excellent. Rhythm, timing, he's also getting better there. Sometimes it's a protection breakdown. It's always everybody. It's the other 10 guys that need to operate. Are we running the routes correctly? Are we protecting him the right way, giving him time? And doing those types of things it takes to have an efficient passing game."
Backup quarterbacks P.J. Walker, Nathan Peterman, and Tyson Bagent will see extended time Saturday with Fields sidelined.
Field Conditions
Lucas Oil Stadium has a retractable dome, so the weather will not affect the outcome of this game.
Bears Trends
The Bears beat the Titans 23-17 last week and are undefeated in four exhibition tilts under Eberflus. With several regulars sitting out, the staff will get a good look at the team's depth. That's important with roster cuts 10 days away.
Colts Trends
The Colts lost 23-19 to the Bills last week. They've already anointed rookie Anthony Richardson as the starter, but he might sit tonight as well.
Five Battles to Watch
Edmunds has gone almost three weeks since he last practiced, still sidelined with an undisclosed injury. Edwards and Sanborn will probably sit tonight, too. Expect a spirited effort from the backups.
As sad as this makes me, the sicko part of me is excited to see more Tyson Bagent when the #Bears play this week. https://t.co/xoErFe9tmt

— Jacob Infante (@jacobinfante24) August 18, 2023
Key Matchups
Chicago's defensive front four against the Colts' banged-up offensive line. Indianapolis was terrible in the trenches and their depth will be tested tonight. Danny Pinter, Arlington Hambright, and Braden Smith made their returns this week but Ryan Kelly (foot) and Will Fries (calf) have been out of the lineup during practice this week. The Bears registered eight sacks against Tennessee last week, including two by Terrell Lewis and one by Gipson.
Walker against the Indianapolis secondary. QB2 hasn't had a very good training camp, and he struggled against the Titans (he was the lowest-graded offensive player for Chicago). Indianapolis is betting on an inexperienced cornerback group to quickly develop and not be a detriment to the defense. Another poor performance by Walker could open the door for Peterman.
Chicago's secondary against the Colts' backup quarterbacks. Eberflus may sit Jaquan Brisker, Kyler Gordon, and Jaquan Brisker. If those three play, expect them to flash their ball-hawking skills against Richardson (if he plays), Gardner Minshew, and Sam Ehlinger. Expect big games by Stevenson and Smith, too.
Midwest football at its finest 🤌

— Chicago Bears (@ChicagoBears) August 18, 2023
Predictions
There is nothing more difficult than predicting the outcome of a preseason football game, but I'll take the Bears in a 24-6 win tonight even without Fields. But, like I said last week, who cares? We're three weeks from the season opener against the Packers. That's when we can start with the real predictions.