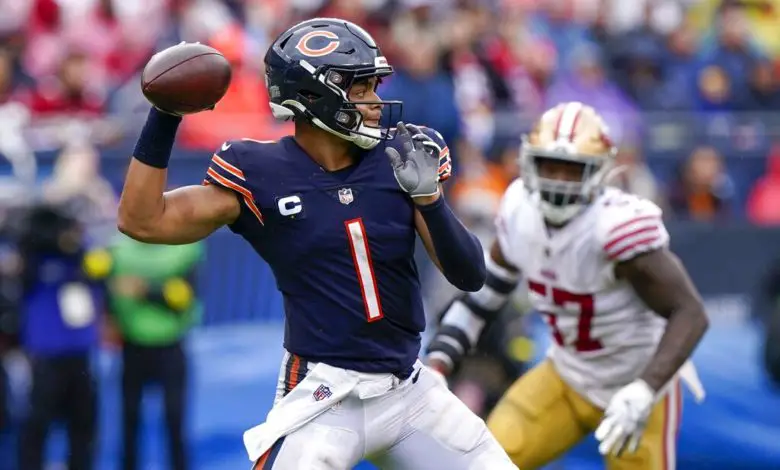 Bears Game Day: You Don't Have to Be a Star, Baby
Ladies and gentlemen, we have football, albeit meaningless football. All eyes will be on Justin Fields, D.J. Moore, and a handful of Bears rookies who have had outstanding camps. There are some subplots, too, believe it or not.
How much have second-year players Braxton Jones, Kyler Gordon, Jaquan Brisker, Dominique Robinson, and Velus Jones improved? Jones could be in jeopardy of losing his roster spot and will need to excel on special teams.
 Who will win the starting cornerback job opposite Jaylon Jones among rookies Tyrique Stevenson and Terrell Smith?
Who will be Chicago's number one running back among Khalil Herbert, D'Onta Foreman, and rookie Roschon Johnson?
Can Trevis Gipson rise from fourth string on the team's depth chart? Larry Borom and Kindle Vildor are at the bottom of the Bears' rotation at their positions, too.
How will the overhauled lines do? On offense, it's Jones, Nate Davis, Cody Whitehair, who has moved to center, Teven Jenkins, who has moved from left guard to right, and rookie Darnell Wright. On defense, it's Yannick Ngakoue, Andrew Billings, Justin Jones, and DeMarcus Walker, flanked by linebackers Tremaine Edmunds and T.J. Edwards.
Can rookie linebacker Noah Sewell take a job away from Jack Sanborn?
Most importantly, how will Matt Eberflus and his coaching staff do now that they have a year of experience under their belts?
My TOP 10 Justin Fields plays from the 2022 season. Enjoy Chicago. #DaBears #Bears #ChicagoBears pic.twitter.com/8UqbCdWem9

— Clay Harbor (@clayharbs82) January 18, 2023
That said, the top storyline will be Fields and his receivers. Moore, Darnell Mooney, and Equanimeous St. Brown will be the third-year quarterback's top targets tonight. Chase Claypool is dealing with a possible hamstring issue, and Dante Pettis just returned from the non-football injury list. Cole Kmet will start today's game sporting a hefty new contract.
Bears fans have high hopes for Fields, who set a very high bar for himself as well. We just need QB1 to show improvement, not have a breakout game against second and third-stringers. For those wondering, Fields played 18 snaps in the 2022 preseason opener, completing 4 of 7 passes for 48 yards, with two sacks, and a 10-yard run in a victory over the Chiefs.
Field Conditions
It's going to be about 70 degrees at kickoff with mainly clear skies and west winds blowing 5-to-10 MPH. Weather will not be a factor.
Bears Trends
Looking back to last preseason, Chicago went 3-0. Eberflus will get all 20 of his rookies into game action tonight, and though the outcome is indifferent to the game plan, you can bet the second-year head coach wants a win. He wants to establish a winning tendency, after all, and he probably doesn't want to blemish that pristine preseason record. That said, he won't jeopardize the health of his starting unit just o get the victory. The Bears will be playing nothing but reserves by the time the 2nd quarter starts.
The Bears averaged 19.2 points per game last year while allowing just over 27. The defense is much improved, however, especially its front seven.
Titans Trends
The Titans were 2-1 in preseason play last year. Bears fans will also get their first look at offensive lineman Peter Skoronski, who was linked to Chicago several times in ore-draft projections. Ryan Tannehill will start at quarterback but expect rooke Will Levis to get plenty of snaps in the second half.
Must See Match-Ups
Moore vs. Tennesse's secondary.
Skoronski vs. Billings and Jones.
Stevenson vs. Tenessee WR DeAndre Hopkins.
Chicago's front seven against Tannehill, his backups, and Tenesee's running backs.
Eberflus vs. Terell Williams, the DL coach who will step in for Titans head coach Mike Vrabel.
How do some watch DeAndre Hopkins last year & think he doesn't still have a major impact? How is he not still top tier? Make it make sense! #Titans pic.twitter.com/wavVOHnEh1

— Wes on Broadway (@TitansStats) August 4, 2023
Five Bears Players to Watch
Fields – Eberflus said he will play and I expect him to air it out at least once.
Foreman – He played for the Titans last season, and as a second-stringer, he should get plenty of touches. Look for the sixth-year running back to have a big game.
Stevenson – Unless he gets injured, he's going to be the Opening Day starter. If he exits with the regulars, that will give us a good idea of the team's intentions.
Moore – We finally get to see the Fields-Moore connection in semi-meaningful competition. It should be fun.
Gipson – The first exhibition game is rarely make-or-break for a veteran with plenty of starting experience, but that could be the case for Gipson. If he doesn't see the field tonight, that means his tenure with the Bears is all but over.
Five Titans Players to Watch
Treylon Burks – The second-year wide receiver has been impressive in training camp in working alongside DeAndre Hopkins, Joe Rexrode of The Athletic reports. Burks says he's much more confident and in better shape ahead of his second season.
Levis – The rookie QB has been running the third-string offense in practice while Malik Willis is working with the second-string offense.
Derrick Henry – The Bears couldn't stop opposing running backs from getting into the secondary last year, so Henry is a great first test for an overhauled front seven.
Chigozeim Okonkwo – He's one of the most underrated tight ends in the NFL, and caught 32 of 46 targets for 450 yards as a rookie in 2022.
Harold Landry – The WILL linebacker finished the '22 season with 12 sacks and will be a tough matchup for Chicago's offensive line.
Predictions
There is nothing more difficult than predicting the outcome of a preseason football game, but I'll take the Bears in a 19-10 win tonight. But, who really cares?
Maybe starring in the first preseason game wouldn't be a bad thing for Fields, though.