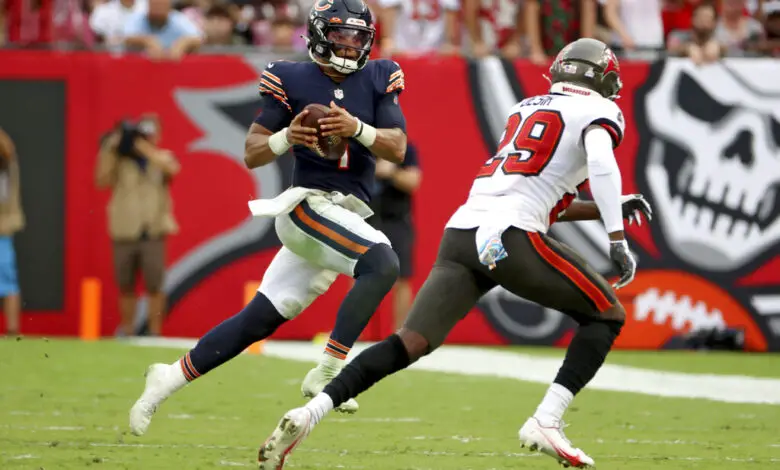 Bears Game Day: I Looked All Around, A Lousy Candle's All I Found
The lyrics to Steppenwolf's 1968 hit Magic Carpet Ride perfectly encapsulate the Bears' Week 1 loss to the Packers.
"Last night I held Aladdin's lamp and so I wished that I could stay. Before the thing could answer me, well, someone came and took the lamp away."
Most analysts predicted a victory for Chicago, including me, but instead, the Bears played like they were born to be mild. I had Chicago winning by two touchdowns but they looked like the same team that lost 10 straight games to end the 2022 season. If you graded the team based on the H.I.T.S. philosophy of head coach Matt Eberflus, then the Bears deserved a big, fat zero. Chase Claypool was Chicago's class clown.
If Chase Claypool gets a helmet tomorrow when the #Bears play the Bucs, then Matt Eberflus needs to be fired. Claypool urinated all over that silly HITS principle, and so, does Eberflus have any pride, authority or credibility? Or is he a fraud? 11am @670TheScore Saturday Suckage

— steve rosenbloom (@steverosenbloom) September 16, 2023
The Buccaneers, on the other hand, were projected by one major national publication to finish the season with one win. They beat the Vikings 20-17 last week, and are favored to beat the Bears by two and a hook today. Oh, the humanity. I hope we're not going to be draft pick lobbying this early in the season.
Despite that, today's tussle with the Buccaneers is not a must-win game for the Bears. Their roster isn't even close to playing in meaningful games with a push toward playoff football. GM Ryan Poles tore the team down last year, tanked after trading Robert Quinn and Roquan Smith (for all intents and purposes), and this season represents Year 1/Part 2 of the rebuild. It's a tough pill to swallow, I know. That doesn't make it any less truthful.
The bigger questions surround Justin Fields and Luke Getsy. Are they the pair that will lead the Bears to the postseason next year and beyond? The combination probably won't last that long, and this year may determine which one stays and which one doesn't. My money is on Fields to stay. Getsy seems overmatched and clueless without Aaron Rodgers to save his butt, much like Nathaniel Hackett looked in Denver last year.
Eberflus hired Getsy because Green Bay's offense was the most difficult he faced as a coordinator with the Colts. The rest of the league isn't as scared of Getsy as Eberflus, and the word is out that Chicago's offense idles quite roughly against zone coverage.
The over/under is 40.5 for today's game. Chicago is +120 on the money line, meaning you win $ 120 on a $100 bet if the Bears win. I'm taking the Bears plus the points and the under, though some might call me crazy.
Field Conditions
It's going to be 91 and humid in Tampa with the possibility of a stray shower or two. Winds will be WSW at 10 to 15 mph so conditions will be fluid throughout the game.
Bears Trends
The Bears were 5-10-1 against the spread last year and they're 0-1 this year. Chicago was favored last week but were underdogs in 15 of 17 games last season. They won two of them, one apiece at home and on the road. They also won two of 13 games as an underdog with a +120 money line or higher.
Chicago played 13 games in 2022 that resulted in a total of 41 or more combined points. Their defense couldn't stop anybody and it's not much better this year. That said, I expect a much stronger defensive effort today, especially since Eberflus will be calling the plays.
Buccaneers Trends
Tampa Bay was 4-12-1 against the spread last year, but they're 1-0 this season. They also finished 8-6 in games where the money line favored them, but that was with Tom Brady at quarterback. Baker Mayfield runs the offense this year, and though he played great against the Vikings last week, he's no Brady. Mayfield is 32-38 as a starter for four teams in 5+ seasons. Brady lost just 82 times in 23 seasons.
The Buccaneers played in 17 contests that resulted in a total of 41 or more points in 2022, but again, with Brady. The average total in those games was 43.4 points.
Why the Bears Will Win
Justin Fields' first touchdown pass of the season comes on a strike to Darnell Mooney. pic.twitter.com/2xJLENeISg

— Chris Emma (@CEmma670) September 10, 2023
Sure, the Buccaneers shocked the Vikings as a 4-point road underdog last weekend, but three Kirk Cousins turnovers led to that upset. Tampa Bay was outgained by almost 130 yards, had just 16 first downs, and the offense averaged a measly 3.6 yards per play. Their defense allowed 328 passing yards and 7.1 yards per passing attempt. The Bears are a running team, but if Getsy abandons the pass or refuses to attack the Buccaneers downfield he should be fired Monday morning.
Tampa Bay held the Vikings to 2.4 YPC, but Minnesota running back Alexander Mattison wouldn't start over Khalil Herbert, D'Onta Foreman, or Roschon Johnson. The Buccaneers will also be short two defensive starters, including their best cornerback, so the Bears should be able to move the ball on the ground and in the air.
Chicago's defense gets an opportunity to redeem itself against a less-than-proficient offensive unit. Mayfield has a lot of resilience and tenacity, but he's not very talented. Receivers Mike Evans and Chris Godwin will be a problem for the Bears because Kyler Gordon will be out. Mayfield could have a big day running the football, too, but the Buccaneers averaged just 2.2 YPC against Minnesota. If Chicago's defense can prevent a big passing day by Mayfield, they should look much better than they did against Jordan Love. I realize that's a big ask, but I'm a big believer in Tyrique Stevenson. I believe the rookie will have a statement game.
The Bears were 2.5-point favorites in this game before the season started. They were horrible last week, but I don't believe that changes things. The inverted spread is a classic case of a Week 1 overreaction.
Why the Buccaneers Will Win
Bucs INT at the goal line!

📺: #TBvsMIN on CBS
📱: Stream on #NFLPlus https://t.co/G4uoYVOqQn pic.twitter.com/DauoqZ1OqE

— NFL (@NFL) September 10, 2023
Here's something to consider and/or be wary of: Chicago's defense allowed a league-high 102 rushing attempts by quarterbacks in 2022, with those scrambling QBs averaging more than 22 rushing yards per game and a league-worst 20 touchdowns. The only dual-threat signal-callers they faced were Mac Jones, Dak Prescott, and Marcus Mariota. All had big rushing games against the Bears.
Mayfield scrambled for 14 rushing yards in Week 1 before kneel downs and his Week 2 projections call for a greater total against the Bears. If he has a big game running the football, it will put more pressure on a depleted secondary to stop Evans and Godwin.
The Buccaneers will lead with defense and try to force the running game. Tampa Bay looks better on paper because they grounded the Vikings last week, but most of Minnesota's troubles were self-inflicted. The Bears should be able to stop Rachaad White on the ground but he is primed for a big game as a receiver. White had two catches last week and gained 23 YAC. Sean Tucker will replace White if he struggles.
Stevenson and T.J. Edwards were the only Chicago defenders to show up last week, and Tampa Bay will attempt to exploit Chicago's front seven as a precursor to attacking their secondary. If the Bears linebackers and defensive linemen have another bad game, Mayfield should run roughshod over Chicago. Yannick Ngakoue, DeMarcus Walker, and Tremaine Edmunds need to contain Mayfield, but nothing from their Week 1 effort indicates that's likely. Tampa Bay will have to pass early and often. The success or failure of their passing game will dictate the outcome.
One more thing: Last week, the Buccaneers used zone coverages more than any other team in the NFL. Fields needs to prove he can beat that type of defense.
Key Stats
The Bears' defense did not force a single turnover by the Packers and sacked Love just once. The unit did have six TFLs however. Fields had a 106.3 passer rating in the Bears' first three drives (8-of-10, 95 yards), but a 67.1 rating in the final nine drives (16-of-27, 121 yards, one touchdown, one interception), plus a fumble for a turnover.
Fields was sacked four times last week. The Bears are 2-11 when Fields has been sacked four or more times. The third-year quarterback has taken six sacks or more in four of 26 career starts.
Mayfield has 64 career interceptions in 5+ seasons, but he's connected on 104 TDs. He's 6-2 when he throws 3 or more TD passes.
D.J. Moore has 766 receiving yards and three scores in 10 games against Tampa Bay. He has not scored a touchdown when facing cornerbacks Carlton Davis or Jamel Dean.
Herbert rushed for 100 yards and added another 33 as a pass-catcher the last time these two teams met.
Evans has six touchdown catches in seven career games against the Bears.
Injury Reports
Bears: Nate Davis will most likely miss the game due to a death in his family. CB Josh Blackwell (hamstring) is out. In addition to Gordon, the Bears have three players on Injured Reserve: OL Teven Jenkins (leg), OL Doug Kramer (undisclosed), and WR Joe Reed (undisclosed).
Buccaneers: Davis (toe) and DT Calijah Kancey (calf) are out. LB SirVocea Dennis (hamstring) is also out. DB Christian Izien is out of concussion protocol but is listed as questionable. Mayfield (right shoulder) is on Tampa's injury report but his status is TBD.
Bears Players of the Game
Fields and Moore will be electric on Sunday, but Johnson could have a breakout game on the ground. Edmunds is too good to have a second consecutive bad game. Jaquan Brisker will also have a big game. Stevenson, Cole Kmet, Darnell Mooney, and Darnell Wright will be Chicago's best players, however.
Prediction
Our own Sean Holland predicted a much-improved effort by the Bears but gave the Buccaneers a 17-14 win. I'm not going to let last week's loss diminish my optimism in today's game. I'll take the Bears 24-10 in a redemption win for Eberflus, Getsy, and Fields.