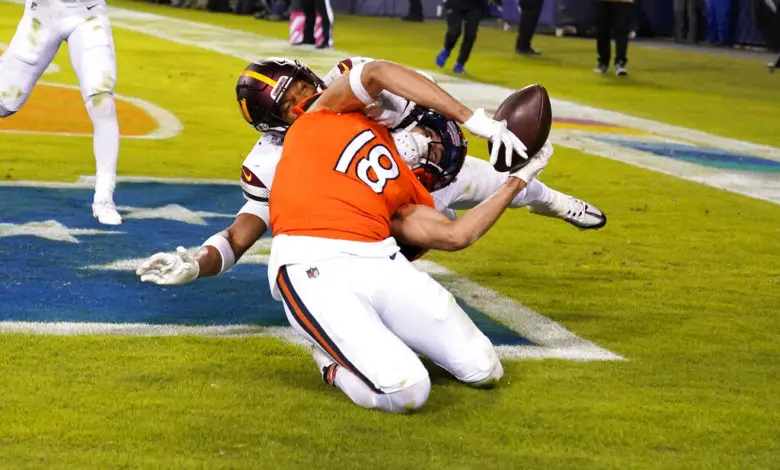 Bears Game Day: Headwinds Provide Sore Vexations
I've borrowed from Ralph Waldo Emerson today to make a point. Emerson's exact quote is "Headwinds are sore vexations and the more passengers the sorer." I can't think of a more brilliant encapsulation of the Bears' struggles in the red zone. It seems almost as if Chicago faces a full-force gale as soon as they cross their opponent's 20-yard line. Each time they fail, fans are left with more frost on their asses than after previous attempts.
An unsightly combination of poor play-calling and lack of execution has caused the Bears to lose at least three winnable games. One would think the Bears would at least luck into a touchdown or two, but that hasn't happened. A lack of difference-making talent isn't helping either. Cairo Santos will be named the team's offensive player of the year come January at Chicago's current offensive pace. It's incredibly frustrating for Bears fans, especially in a year when Aaron Rodgers looks mortal and the Packers appear to be very beatable.
The Bears can't beat the Patriots tonight if they can't get the ball in the endzone. New England head coach Bill Belichick is a master at fine-tuning his defense specific to his opponents' flaws. Field goals and near misses won't cut it tonight. The game will be excruciating for Bears fans as Chicago is ripe for another nationally televised embarrassment. They'll have to keep the game close to have any chance to beat the Patriots.
The Bears are +300 on the money line (bet $100 straight up to win $300), and the Patriots are favored by 8.5 points. The over/under for tonight's tilt is 40. Chicago is 2-3-1 ATS this season, and New England is 3-2-1.
Monday Night Fight 🥊 pic.twitter.com/nutqC8dQzr

— Chicago Bears (@ChicagoBears) October 24, 2022
Field Conditions
The forecast calls for 56-degree temperatures with a 45% chance of rain at kickoff. There is a storm system off of the Atlantic to keep an eye on, but most of the heavy rain is expected to stop by 6:00 PM. The Bears have a slightly better running game, so if field conditions are poor and it's wet, Chicago has a small advantage. The wind will be blowing ENE at 3-5 MPH and will not be a factor.
Bears Trends
The Bears have one of the stingiest pass defenses in the NFL. Opponents are averaging 178.7 yards per game against Chicago. That's third-best in the league. The Bears have also allowed just four passing touchdowns, which ranks No. 2 overall. Chicago typically plays low-scoring affairs and has surrendered 19.7 points per game. Jaquan Brisker, Justin Jones, and Trevis Gipson are tied for the team lead with two sacks each. Eddie Jackson has three of Chicago's five interceptions.
The Chicago Bears are 0-9 in their last 9 primetime games😐 pic.twitter.com/NkFvyZMDcI

— PointsBet: A Fanatics Experience (@PointsBetFBG) October 24, 2022
Unfortunately, the Bears are averaging only 15.5 points through six games, giving them one of the league's least productive offenses. In fact, the Broncos (14.3 in seven games) are the only team worse than Chicago.  Justin Fields has been sacked 23 times this season and has been pressured or hit nearly every time he drops back to pass. Darnell Mooney leads the team with 17 receptions and is the only wide receiver with double-digit catches. Khalil Herbert is averaging 6.4 rushing yards and leads the team with three scores. However, Herbert has gained just seven yards on eight carries from inside the 5-yard line.
Patriots Trends
New England is in the top eight in net yards allowed per play and has allowed just two rushing touchdowns. OLB Matt Judon has six sacks, tied for No. 2 in the league. Expect Belichick to find ways to get Judon after Fields with a combination of blitzes and disguised coverage. DE Deatrich Wise has five sacks and the Bears will need big games from Teven Jenkins and Larry Borom to stop him. Jalen Mills and Jabrill Peppers lead the Patriots with two interceptions apiece.
Fun fact: the Chicago Bears have beaten the New England Patriots once in the last 35 years.

— Boston Cream 🍩 (@itsbostoncream) October 20, 2022
QB Mac Jones will get the starting nod tonight in place of red-hot Bailey Zappe. Jones and Fields have a lot in common:
Both have taken a brutal beating all season.
Like Fields, Jones is running a revamped offense with brand-new coaches and a relatively new offensive line.
Jones struggled in the red zone before getting hurt.
Running back Rhamondre Stevenson has 448 rushing yards (5.1) YPC and three TDs. He'll have every opportunity to exploit Chicago's weak run defense.
Why the Bears Will Win
The Bears shouldn't have much trouble stopping New England's passing attack. If Matt Eberflus and defensive coordinator Alan Williams successfully scheme against the run, Chicago could pull off a road upset. No matter what, expect a low-scoring game with turnovers and defensive stops determining tonight's winner.
However, the Bears need to score touchdowns. Even a defensive score would be a welcome sight and might be enough to spur the offense to greater achievements. Fields and company have responded well when the defense has gifted them the ball this year. But field goals won't get it done. Chicago needs to play a clean game, win the turnover battle, execute on offense, and get into the end zone. That's a lot to ask, but that's winning football. Hustle is nice, but takeaways and the better defense will decide tonight's winner.
The Patriots have committed 11 turnovers in six games, one of the worst marks in the league, and New England is giving the ball away on 16.9% of offensive possessions. New England also gives up a lot of three-and-outs. Their offense is ranked No. 22 in first downs, and the Patriots rank No. 29 in red zone efficiency at 45%.
Why the Patriots Will Win
New England's defense is even stronger than Chicago's. The Patriots are No. 7 in scoring defense, yielding fewer than 19 points per game, and they're allowing only 337.8 total yards per game. Belichick's defense is among the best at creating turnovers, first downs allowed, and rushing scores allowed. The Patriots have elite players among their front seven and in their secondary. They'll put eight in the box and force Fields to beat them with the pass.
Jones has a lot to prove as most Patriots fans prefer Zappe. He'll want to have a big game tonight to silence the critics. He might be on a short lease and if he struggles, Zappe could see action in this evening's contest. New England is a run-heavy ballclub and will want to take advantage of Chicago's porous run defense. Stevenson and Damien Harris should have big games running the football.
Injury Reports
Bears – No players are listed as out or doubtful. Former first-round pick N'Keal Harry will make his return from the IR against the team that drafted him.
Patriots – No players are listed as out or doubtful. Kendrick Bourne has a toe injury, and his status will be decided at game time. He is likely to sit out.
Predictions
Sean Holland called for a 17-6 Patriots win when he previewed tonight's game on Saturday. I'd say that's a pretty accurate prediction. Though the Bears have a better shot to win tonight's game than most think, I see Chicago falling 17-14, with the pleasant caveat being that the Bears got into New England's end zone twice.
(Not So) Fun Fact
If the Patriots beat the Bears tonight, Belichick will pass George Halas for No. 2 in all-time wins with 325.