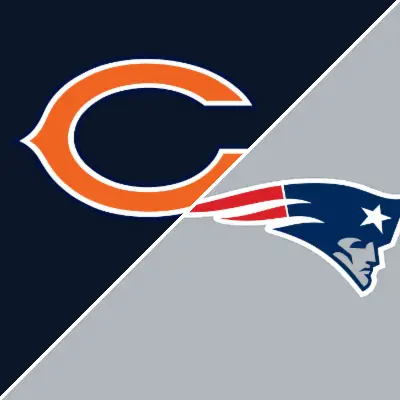 Chicago Bears @ New England Patriots – Week 7 Game Preview: Overview, Keys to Game, Insights
The Bears (2-4) offense sputtered once again against Washington last Thursday night at Soldier Field, scoring just seven total points. The Commanders were able to scratch out a single touchdown and two field goals to send Chicago to a third-consecutive defeat 12-7.
The Bears made three trips to the red zone and scored no points on any of them thanks to an interception and two failed fourth downs, including one in the final minute of the game. Matt Eberflus's team gets a couple extra days off before a tough prime time matchup against the Patriots on Monday.
New England (3-3) stumbled out of the gate before smashing the Lions and Browns to even their record. Third-string quarterback Bailey Zappe has managed games well with starter Mac Jones injured. Running backs Damien Harris and Rhamondre Stevenson are workhorses in the Pats 10th ranked rushing attack.
Not surprisingly, legendary coach Bill Belichick has his defense looking very good, allowing just 18.8 points a game through six weeks. It is a unit that has generated a lot of turnovers the last three weeks. The Patriots certainly look like a team on the upswing in October.
Chicago faces a very difficult test against a well coached and disciplined opponent. Justin Fields and crew are going to have to significantly improve their level of play or risk getting embarrassed again on national TV.
Where to Watch/Listen
Monday, October 24 at 7:15pm CT on ESPN, WBBM Radio (English), and WRTO Radio (Spanish).
Keys to Victory
Here are my keys to Sunday's game. If these things happen, the Bears should have a shot to win.
Generate some kind of passing game with Justin Fields. Belichick led defenses are very good at taking away what an offense does best, in Chicago's case that is running the football. It would be helpful if Fields could take some deep shots to try and loosen up the run defense.
Force Bailey Zappe to beat you. The Patriots are going to try to protect their inexperienced young quarterback. So they will try to run the ball early and often, the Bears defense has to stack up the line of scrimmage and make Zappe throw the ball. Hopefully, mistakes will ensue helping to create turnovers.
Cash in red zone opportunities when you get them. Chicago had the better of the play against Washington and likely would've won if they did not go 0-3 in the red zone. If they want any chance to pull an upset they have to do better.
Avoid special teams disasters late in the game. Velus Jones has fumbled two punts during the Bears three-game losing streak. Special teams coach Richard Hightower hinted someone else may be on return duty, possibly even safety Eddie Jackson. The most important thing is holding on to the ball.
Don't Tell Me the Odds
The Patriots have been installed as 7.5 point favorites for Monday's game. The Bears anemic offense has Vegas setting another very low over/under of 40.
It's Football Weather
The weather in Foxborough, Massachusetts Monday night is going to be in the upper 50's with a 60 percent chance of rain showers.
My Prediction
I don't think the Bears will be successful on Monday night. The Patriots defense will shut down the run game and Chicago won't be able to pass successfully. New England will take home a 17-6 victory.
Official Bears Preview
Here are Bears analysts Jeff Joniak and Tom Thayer with their preview of the Bears' upcoming Week 7 matchup.