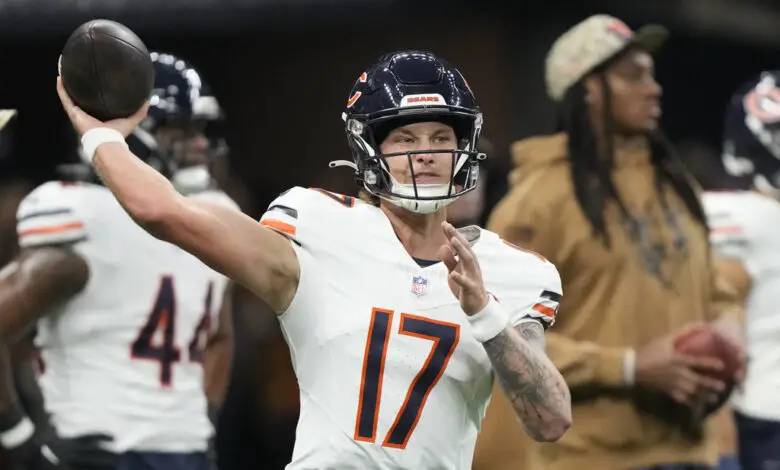 Bears Game Day: Chopping Broccoli
It's almost impossible to figure out what GM Ryan Pole intends to do, and I won't try. I don't want to say he plays favorites. Still, it's impossible to dismiss how he evaluates the players he inherited from the previous regime versus the ones he's acquired since taking over. Jaylon Johnson, who was drafted by Ryan Pace, didn't get the contract extension he wanted. Montez Sweat, who Poles acquired last week, has a newly minted contract extension.
Sweat, who cost Poles his second-round draft pick next season, signed a four-year extension worth $98 million. If Johnson tests free agency and leaves, Poles will have to replace him. The Bears' pass rush has been a weakness since Poles took over, so Sweat is an upgrade. The secondary is also suspect but the coaching staff likes Terell Smith, so the team has a backup plan for next season and beyond. Regardless, it feels more of the same with the league's oldest franchise, which is to say, taking one step forward while simultaneously taking another back.
DT Andrew Billings also signed an extension this week, in case you missed it.
Poles has operated that way since arriving. He picked up draft choices last year by trading Khalil Mack, Roquan Smith, and Robert Quinn. He gave back one of those selections in an ill-fated move to acquire Chase Claypool. It's also fair to wonder if Chicago's GM will draft a quarterback in 2024 after the hatchet job Cris Collinsworth did on Justin Fields last Sunday. It was a bizarre, if not purposefully scripted analysis. The Bears could start next season with Tyson Bagent as a starter and a rookie as a backup.
Cris Collinsworth praising Tyson Bagent for doing something the Bears wish Justin Fields would "figure out." Then he promptly throws a bad interception. pic.twitter.com/Dl5vbnKy5g

— Awful Announcing (@awfulannouncing) October 30, 2023
Bears fans who are salivating at the prospect of Caleb Williams coming to Chicago should pump their brakes a bit. Williams and Fields have similar skills and faults, and neither seems like a fit in Luke Getsy's offense. Drafting a rookie QB would also mean resetting the current rebuild. A rookie signal-caller and future franchise passer also pushes the window to compete further into the future.
The coaching staff should be held responsible for its failure to develop Fields. If that seems unreasonable, make Poles accountable for ignoring more pressing team needs to focus on playmakers for a quarterback he has no intention of keeping. Poles promised that he was going to take the NFC North and never give it back. Instead, his team has regressed in all aspects since his arrival. In that respect, "The American Symphony" sounds a lot more like Dana Carvey's "The Lady I Know."
I have no problem with tearing the foundation to the studs. But what's the point if the foundation continues to crumble? We are 25 games into the Poles' regime and the Bears have yet to find their identity on offense or defense.
The Saints are favored by eight a hook this afternoon, and the Bears are -315 on the money line (bet $100 straight up to win $315). The over/under is 41.5 which seems accurate unless Getsy finds a way to unleash Bagent.
Field Conditions
The game will be played in a dome, so the weather will not figure in the outcome.
Bears Trends
Chicago is 2-5-1 ATS this season.
The Bears are 19-29-1 ATS against non-division opponents since 2019. That's the third-worst mark in the league during that span.
Chicago is surrendering a league-worst 62.1 receiving yards per game to opposing running backs.
The team has struggled defensively in the red zone, allowing a league-worst conversion rate (78.3%).
Bagent has thrown for 477 yards, 1 touchdown, and 3 interceptions with a QBR of 40.8 in three games.
D.J. Moore has been held to 55 yards or less since Bagent replaced Fields.
Teams playing a road game coming off of a road game in Los Angeles, New York, Las Vegas, Atlanta, Miami, or New Orleans are just 60-94-6 against the spread.
Saints Trends
The Saints are also 2-5-1 ATS this season but have lost five straight as the home favorite.
New Orleans is 6-1 ATS in their last 7 games against Chicago.
The Saints opened as 7-point favorites but the line immediately moved to -7.5 before eventually hitting -8.5.
Alvin Kamara remains the primary option in the passing game with Jamaal Williams receiving just one target over the last two weeks.
QB Derek Carr has been on fire, throwing for more than 300 yards in three straight games.
The Saints haven't laid more than 7.5 points in a game since 2020 when they had a 12-4 record with Drew Brees at QB.
The Saints have a record of 1-15 in the last 16 games that they trailed going into the 4th quarter.
Why the Bears Will Win
ROSCHON JOHNSON IS BACK BABY pic.twitter.com/Wy6S4CxrW9

— Nash (@NashTalksTexas) October 30, 2023
The Bears can't win without stopping Carr and Kamura and will be missing two key defensive pieces today. They can't rely on Bagent, an undrafted rookie, facing the NFL's sixth-rated defense in yards allowed per play. The Saints have allowed 190 passing yards per game, so Chicago desperately needs to establish its running game.
Khalil Herbert is on the injury list and won't play this afternoon. That means D'Onta Foreman and Roschon Johnson will get the bulk of Chicago's carries. Foreman needs to repeat his monster performance from Week 7 for the Bears to have any shot at winning.
Why the Saints Will Win
1u – Chris Olave O 63.5 rec yds (-110, FD)

Bounce back week for Olave. CHI ranks 30th in opp pass yds per game. In games where Derek Carr's shoulder wasn't injured, Olave has 9+ tgt in all 6. CHI run defense is pretty good, so NO might have to pass. #PlayerProps pic.twitter.com/sx3iMrDuFA

— Caden Bahry (@CadenBahry) November 5, 2023
The Bears have done a decent job at protecting Bagent, and he has a quick release that helps when the pocket collapses. Still, Cam Jordan could have a monster game rushing the rookie QB, and so too might a veteran secondary that features Marshon Lattimore and Tyrann Mathieu.
Carr should be very successful against a defense that will be missing Jaquan Brisker and Tremaine Edmunds. In addition to Kamara, Chris Olave has stepped up as a top receiver, averaging 64.6 yards per game, with one touchdown. Rashid Shaheed has three touchdowns and has become Carr's best deep threat, averaging 20.8 yards per catch. Michael Thomas is still a reliable receiver, and though he may have lost a step, he still averages 54.9 yards per game. The Bears just don't have enough bodies to stop them all.
Key Stats
The Bears are the NFL's third-best team against the run but are ranked No., 30 in pass defense.
Chicago's 10 sacks rank last in the NFL and no other team has fewer than 15. Sweat has 6.5 sacks this season, which would easily lead the Bears.
New Orleans has gained more than 400 yards in three straight games and should continue that trend this afternoon.
Saints coach Dennis Allen criticized himself this week for a recent trend that has seen New Orleans give up big plays and points early before shoring up in the second half.
The Saints rank 12th in total offense with 349.1 yards per game, but 18th in scoring with 21.4 points per game. Their defense ranks 9th in scoring, allowing just 19.3 points per game.
Given their troubles at quarterback, the Bears have not been as bad offensively as you might assume. They rank 19th in total offense with 320.6 yards per game and rank 17th in scoring with 21.4 points per game. Don't forget, that Fields had two monster games before getting hurt.
Did You Know?
The last time Chicago beat the Saints in New Orleans was in 1991 when Mike Ditka was still coaching the Bears. The Saints entered the game with a 7-0 record, and the 5-2 Bears won 20-17. Brad Muster and Tom Waddle scored touchdowns for Chicago, and Kevin Butler kicked two field goals. Jim Harbaugh had one of his worst days as a Bear, completing 5-of-22 passes for 61 yards with two INTs. Bobby Hebert connected on 27-of-39 attempts for 291 yards for the Saints.
Game Day Quote
"[Billings] is dependable. He's tough, and he's everything that we stand for in Chicago. He came in, worked his butt off, got right, and has been disruptive for us in the middle and a guy that makes people around him better as well. He allows our linebackers to run free, and make plays and when he has opportunities, he's been able to make some plays in the backfield as well. So we're happy about that." – Poles
Injury Reports
Bears: Brisker (concussion), Edmunds (knee), and Nate Davis (ankle) are out. Smith is also out due to an undisclosed illness. Fields (right thumb) is listed as doubtful, and Braxton Jones (neck) is questionable.
Saints: Ty Summers (concussion/Hamstring) is out. Malcolm Roach and Kendre Miller are listed as questionable due to illness.
Players of the Game
A lot of fans are disenfranchised with Tyrique Stevenson, but I'm not. I believe Stevenson will have a career day. Foreman and Johnson should have big games, too. The Bears need to control the clock and keep New Orleans out of the end zone to win. I also predict Jack Sanborn and T.J. Edwards will have interceptions. Carr and Kamara should go off against the Bears, and Olave will have a big game, too.
Prediction
Our own Sean Holland analyzed today's game and predicts a 21-10 win by the Saints. I'm not feeling as generous, and I'm taking New Orleans 31-3. Chicago just doesn't have the bodies to stop Carr and his receivers, and Bagent will be on his heels all afternoon. It might even be uglier than that if Bagent doesn't avoid the bad decisions that plagued him against the Chargers.