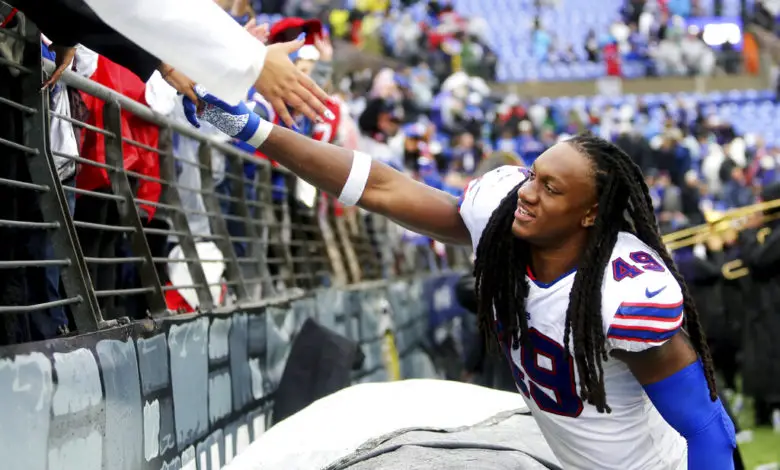 Bears Free Agent Profile: Tremaine Edmunds
Free agency starts on Wednesday, and we're going to spend the time between now and then evaluating potential Bears acquisitions. Today we'll look at a possible fit for Bills LB Tremaine Edmunds.
I can spare you the next five minutes and tell you I do not believe there is any way possible that Edmunds agrees to a deal with the Bears. There are just a handful of players in free agency who should greatly exceed financial projections, and Edmunds is at or near the top of the list. That said, you have to consider the Bears players, though it might take a lot of finger-crossing to wish it into reality.
First and foremost, Chicago lost a chunk of its cap flexibility when Ryan Poles acquired star wide receiver D.J. Moore from the Panthers. Moore is a relative bargain, but he moved $20.2 million from the asset to the debit column. Linebacker is a position of need for the Bears, as Jack Sanborn is the only returning starter from last season. Poles owns the No. 9 pick in the draft, and if he keeps it, he may target a three-technique. Jalen Carter, Myles Murphy, and Bryan Bresee could all be available with that pick. Carter has legal problems that could drop him out of the top 10.
But I'm not here to talk about defensive linemen, though, if Poles expects to draft one, he may not have to pursue the likes of Javon Hargrave, Dalvin Tomlinson, or Dre'Mont Jones. We analyzed the case to sign Hargrave last week.
Since the Bears now have their No. 1 wide receiver, and if they decide to draft an offensive or defensive lineman with their first pick, they could theoretically make a play for Edmunds. According to Sportrac, Edmunds will be looking at $44 million over four years. If that's his ceiling, he'll stay with the Bills because they can retain him at that price. Pro Football Focus predicts he'll get a four-year deal worth $75 million, with $45 million guaranteed. I believe he'll exceed that. Chicago's front office has its own ceiling for Edmunds, and Poles will not go past. I imagine it is somewhere between Sportrac's and PFF's projections, if not slightly higher.
#Bills Tremaine Edmunds brought the hit stick. #NFLPlayoffs pic.twitter.com/3FQnaNsPaw

— NFL Unlimited (@NFLUnlimited) January 15, 2023
What makes Edmunds so special? He's just 25 years old, he's a freakish athlete, and already a two-time Pro Bowler. He's totaled over 100 tackles in every season and has improved his missed tackle percentage three seasons in a row. Edmunds is a great fit for any defense. His 86.9 coverage grade in 2022 was the third-best mark among off-ball linebackers. He forced an incompletion on 10.3% of targets into his coverage while allowing just four explosive receptions all season. And he's still getting better.
The Bills badly want to retain Edmunds, and the linebacker's chief outside suitors are the Steelers, Giants, and Lions. Buffalo can find creative ways to keep him, but other teams could as well. However, Joel Corry of CBS Sports believes Edmunds will get a package worth $18.5 million per year. Corry is a former agent and believes the star linebacker will get five years at $92.5 million with $41.5 million fully guaranteed at signing.
The Bears are one of the few teams that can afford such a luxury. The Panthers, free of their obligation to Moore, minus the dead cap hit, can afford Edmunds, too. The Falcons also have enough breathing room to meet that price. I wouldn't count out the Browns or Texans, but I am counting out the Bears. Poles won't get into a bidding war for any player and won't go that high, and besides, the free agent pool at linebacker is fairly deep.
Scheme Fit: Perfect. Edmunds is a near-generational linebacker who will play at an All-Pro level in any defense.
Fills a Need: Yes. The Bears have Sanborn and a cast of players not worth mentioning right now.
Priority Level: Low for this specific player, though not the position. There are other options on the open market, and this year's draft pool is deep with good off-the-ball linebacker prospects. Nicholas Morrow and Bobby Okereke are more realistic free-agent options for Chicago.
Affordability: Very Expensive. Roquan Smith got $100 million over five years from the Ravens and with enough demand, Edmunds could get that, too.
Odds Edmunds Signs With Chicago: Very low. I'd love to see Poles get him, but he still has too many holes to fill to shop in Edmunds' price range. If I had to handicap the race, I'd say the Steelers, Giants, and Lions are all co-favorites.