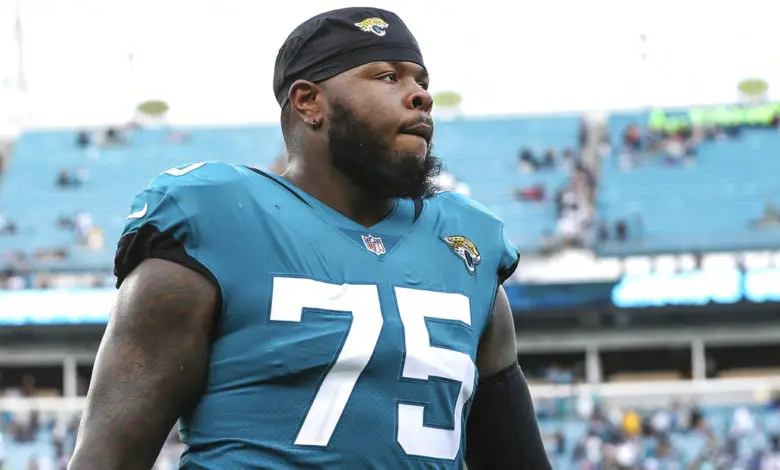 Bears Free Agent Profile: Jawaan Taylor
Free agency starts on Wednesday, and we're going to spend the time between now and then evaluating potential Bears acquisitions. Today we'll look at a possible fit for Jaguars RT Jawaan Taylor.
Now that the Bears have acquired a No. 1 wide receiver in D.J. Moore, it's time for GM Ryan Poles to get Justin Fields better pass protection. The Bears had one of the worst offensive lines in the NFL last year, though they did show improvement toward the end of the season. Rookie Braxton Jones leads the group, and veteran Teven Jenkins was outstanding after moving to guard. The talent level of the offensive line drops precipitously after that.
The DJ Moore acquisition tells me the Bears are going to pass more in 2023. But to do that they need to protect Justin Fields. The only FA RT who is a significant upgrade there is Jawaan Taylor. FA begins Mon @ 11CT. If I'm Poles, I have a contract in his hands at 11:01 pic.twitter.com/1zqAKlx7GP

— Chicago Football Connection (@CFCBears) March 11, 2023
Right tackle will be this year's top positional market to follow. Whereas Mike McGlinchey is an excellent run-blocker who needs to be better on passing plays, Taylor is a beast as a pass-blocker. The Bears are a run-first team, but until they can keep Fields upright, they're not going to win a lot of games. Chicago led the NFL in rushing last year and finished 3-14.
Taylor was a second-round pick out of Florida (35th overall) in 2019 and he's entering his age-25 season. The 6-foot-5, 315-pound tackle is expected to do very well in free agency. Pro Football Focus predicts he'll get a four-year deal worth $68 million, with $42.5 million guaranteed. Taylor had 100 more pass sets than McGlinchey, with only 9 blown blocks to McGlinchey's 17, and only 1 holding penalty to McGlinchey's 6. The former Jaguar is a player the Bears should pursue.
I don't often talk about intangibles when valuing a player, but Taylor provides more than just a decent stat sheet. He's a throwback lineman with a nasty streak that will protect his quarterback at any cost. Taylor will have to keep his weight in check, but he's got long arms, powerful feet, and reacts quickly to stunts and blitzes. He has the type of violent demeanor that Poles loves. Taylor and Jenkins would give Chicago a very strong right side.
The knocks on Taylor's run-blocking ability are not unwarranted. He had the highest rate of negatively graded run blocks among tackles in the NFL (22.4%) in 2022. Taylor had the worst grade given out by PFF to a tackle for run blocking at 39.7 and was the only tackle in the league with a grade below 40.  Riley Reiff, who finished the season as Chicago's starting right tackle, received a grade of 59.1, slightly above the league average. But, Jenkins received an 82.2 grade so he can help Taylor compensate.
McGlinchey and Orlando Brown Jr. are the only free-agent tackles ranked higher. Taylor is still young enough that he can unlearn some of his poor run-blocking technique, but is that worth paying $14-$17 million per year? The Bears could decide to take a tackle in the draft now that they have a No. 1 wide receiver. Paris Johnson Jr. and Peter Skoronski should be available when Chicago makes the No. 9 pick on April 27. Poles could also trade down a few slots and select Broderick Jones. No matter what, expect the Bears to have a new starting right tackle in 2023.
Scheme Fit: Debatable. McGlinchey is a better fit in Luke Getsy's offense, but Taylor is a far superior pass-blocker. McGlinchey has experience in a wide-zone blocking scheme while Taylor does not. Also, Fields' propensity to hold the ball too long could expose Taylor. Trevor Lawrence has one of the quickest releases in the NFL.
Fills a Need: Yes. Fields was sacked 55 times and took 203 pressures in 15 games. The Bears must protect him better.
Priority Level: High. If Poles doesn't upgrade his line it is going to be a long season for Fields & Co. It would also negate the acquisition of Moore.
Affordability: Modest-to-Expensive. Because teams value pass protection by a large margin over run-blocking, Taylor could create a bidding war.
Odds Taylor Signs With Chicago: Medium-to-High. I would think Poles prefers McGlinchey, though that's not a knock against Taylor. We'll have an answer in a few days. McGlinchey is expected to sign somewhere immediately. I'm leaning more toward McGlinchey coming to Chicago unless Poles prefers drafting a starter..