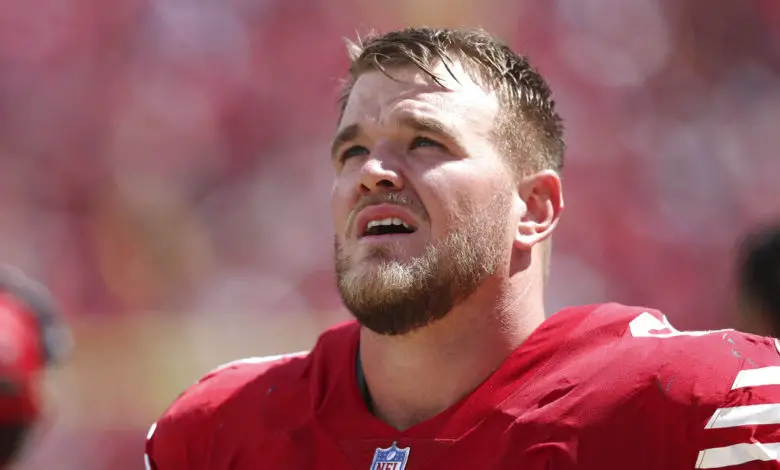 Bears Free Agent Profile: Mike McGlinchey
Free agency starts on Wednesday, and we're going to spend the time between now and then evaluating potential Bears acquisitions. Today we'll look at a possible fit for 49ers RT Mike McGlinchey.
The Bears had one of the worst offensive lines in the NFL last season, though the group did show improvement toward the end of the season. Rookie Braxton Jones established himself as a future star at left tackle, and Teven Jenkins shocked the world by transitioning so easily to guard. Riley Reiff earned a starting role in the second half of the season, too. The 11-year vet brought stability to the line when he replaced Larry Borom at right tackle.
McGlinchey was the No. 9 pick out of Notre Dame in 2018 — he was selected immediately after the Bears took Roquan Smith — and he's entering his age-28 season. He hasn't quite lived up to his billing, and Pro Football Focus predicts he'll get a four-year deal worth $64 million, with $40 million guaranteed. Those numbers both feel a little high. I'd rather see GM Ryan Poles pay him a little less and include per-game bonuses. Poles signed Lucas Patrick last year, and though he made significantly less, he missed 10 games. The Bears have a little over $100 million to spend in free agency but need help on both lines, linebacker, and at wide receiver.
Reiff performed valiantly on the right side, but he's not a long-term answer. That's where McGlinchey comes in, and he expects to sign as soon as free agency opens on March 15. Could the Bears be his choice? That's an interesting question. He's a fantastic run blocker but has plenty of room to grow in pass protection.
Offensive tackle Mike McGlinchey said yesterday in a radio interview in San Francisco that he expects to have a deal in place with a new team very quickly next week. Anyone want to guess where that team resides?

— Greg Gabriel (@ggabefootball) March 9, 2023
Never a good thing when your tape is set to circus music, Bears fans.

Mike McGlinchey is … interesting. pic.twitter.com/jlV0wmkf2c

— Shane Riordan (@shane_riordan) March 9, 2023
Justin Fields is well too familiar with McGlinchey's theme music. After all, he heard it all last season playing behind Sam Mustipher and Cody Whitehair. To be fair, McGlinchey looks a lot better if you do a deep dive into his tape. Anybody can put together a lowlight reel for just about any player.
The 49ers have stated that they believe McGlinchey will probably be playing elsewhere in 2023. San Francisco is only $6.4 million over the cap, so unless the right tackle misses his market by a wide margin, he'll be sporting new colors in 2023. The 49ers lose exclusive negotiating rights on Monday morning.
"We got a lot of intel coming off of the week at the Combine and all that stuff, what's going on and what we can expect to happen," McGlinchey said on KNBR's Papa & Lund show. "I think once Monday hits, I'll probably have a pretty quick deal and a pretty quick decision to make and, hopefully, be signed by the first day of free agency.
"Obviously, [leaving San Francisco] is something that was expected. [GM] John Lynch and [head coach] Kyle [Shanahan] both had conversations with me before I left the building about that, and it was something that we all kind of expected, but it's definitely a tough deal."
Spotrac predicts McGlinchey will get $43 million over four years, and if that's true, he'd be tough to pass up. The fit makes too much sense for the Bears. Still, they'd really have to put him in favorable pass-protection schemes, especially against the league's better linemen.
Bears fans began to bail on McGlinchey after one of his reps against Micah Parsons in the playoffs went viral. Parsons genuinely manhandled him. It's one of the first plays in the clip above. But, he's been a reliable right tackle since taking over the position in 2019. He played 94% of the team's snaps in 2022 and gave up just 27 pressures.
"He's a really good football player," Lynch said. "There's a couple of elite right tackles, [such as] Lane Johnson. He's right behind them. Could he miss his market? Sure. And then would we be interested? Of course, we would. But I don't see that happening."
Scheme Fit: Yes. Reiff and Borom are not the answers, and Boron, like Jenkins, might be better playing guard. Jawaan Taylor and Kaleb McGary are also available. Taylor is a better pass-blocker, but the Bears are a run-first team, so McGlinchey is a better fit.
Fills a Need: Yes. Fields was sacked 55 times with an additional 203 pressures in 15 games. The Bears need to keep him upright more than that.
Priority Level: High. McGlinchey and Jenkins would give Chicago a formidable pair on the right side.
Affordability: Modest-to-Expensive. It doesn't sound like there will be a bidding war for McGlinchey. The Bears should be able to sign him closer to $43 million than $64 million. The Dolphins, Steelers, Titans, and Bengals will be Chicago's biggest competitors.
Odds McGlinchey Signs With Chicago: High. It is unlikely Poles will be outbid if McGlinchey is a target. The tackle may prefer to sign with a team that is playoff-ready. The Bears have some work to do in that respect.