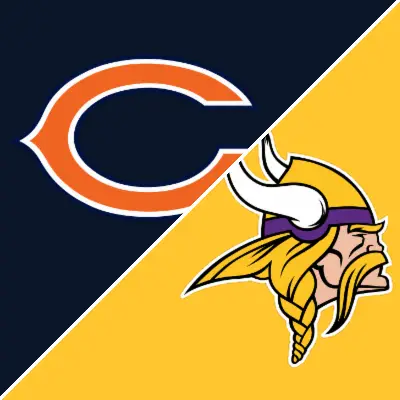 Chicago Bears @ Minnesota Vikings – Week 18 Game Preview: Overview, Keys to Game, Insights
The Bears season finally comes to a merciful end on Sunday in Minnesota against the Vikings. Chicago (6-10) has been out of the playoff race for several weeks while injuries and Covid play havoc with their roster. Rumors are swirling around head coach Matt Nagy and it seems highly likely he will be fired immediately after the game.
The Vikings (7-9) find themselves in a similar position with the playoffs no longer an option and rumors flying about head coach Mike Zimmer. These teams played just three weeks ago and Minnesota won an ugly victory on Monday Night Football.
It's unclear who will take the field for both teams on Sunday. Quarterback Justin Fields, who has been out injured the last two weeks, was set to return to lineup for the Bears before testing positive for Covid. The rookies' performance was really the only interesting storyline in this game.
The extended season gave the football year literally another week. In the Bears case, however, their poor play made it feel much longer in a metaphorical sense. Let's get this game and this interminable season over with and move on to a new coach and a new, hopefully better, era in Chicago.
Where to Watch/Listen
Sunday, January 9 at 12:00pm CT on FOX, WBBM Radio (English), and WRTO Radio (Spanish)
Keys to Victory 
Here are my keys to Sunday's game. If these things happen, the Bears should have a shot to win.
They need to play loose and take chances. This game does not mean anything so Chicago should just let it all hang out and go for trick plays and try to convert fourth downs.
Don't Tell Me the Odds
Las Vegas has the Vikings favored by 5.5 points against the Bears. The over/under of 44 indicates they expect another low-scoring game.
My Prediction
Chicago has already won two in a row, so might as well end the season on a streak. The Bears will beat the Vikings by a score of 21-14 with a pair of Darnell Mooney touchdowns.
Official Bears Preview
Here are Bears analysts Jeff Joniak and Tom Thayer with their preview of the Bears' upcoming Week 18 matchup.