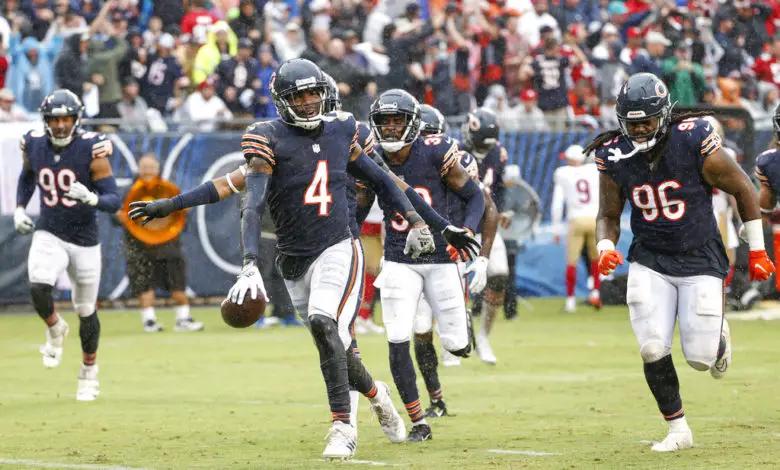 What We Learned in Chicago's Opening Week Win
The Bears kicked off their 2022 season on Sunday, with Matt Eberflus making his debut as head coach. Chicago squeaked out a victory, but the penalties by the 49ers helped bail the Bears out. San Francisco had 12 penalties, and four of the penalties turned third downs into first downs. Inconsistent play is what we should expect from one of the NFL's youngest teams. Here's what we learned in Chicago's Opening Week win.
An Unlikely Source of Issues on the Offensive Line 
Cody Whitehair is a six-year veteran, and he's been solid for the Bears his entire career, but he looked lost on Sunday. Whitehair's struggles may have been part and parcel to wet field conditions, but nevertheless, he was a weak link. He missed blocks at the first and second levels and allowed rushers to get to Justin Fields in the passing game. Fortunately for Whitehair, it's only one game, and he has plenty of time to fix things. The veteran didn't show signs of regression, but, it's more likely that his poor play resulted from facing one of the NFL's best front sevens. And yes, conditions were poor. I'm expecting Whitehair to show improvement this Sunday against the Packers.
Defensive End Depth Chart 
The depth at defensive end coming into the first game was a big question mark. Robert Quinn is coming off a record-setting season and is clearly the team's number one defensive end. Trevis Gipson struggled in the preseason and has dropped down to the second unit on the depth chart. Gipson's demotion allowed Al-Quadin Muhammad to take his place.
Dominique Robinson joined Gipson when Muhammad and Quinn needed a break. Robinson separated himself from Gipson with a big game that included seven tackles, 1.5 sacks, and two QB hits. As a result, D-Rob was named Chicago's Player of the Game. Robinson picked up extra PT by switching back and forth from the left to right side. The three other pass rushers maintained their positions. Robinson teamed with Roquan Smith to get to Trey Lance for his second sack of the game.
Robinson's great afternoon may have elevated the rookie to No. 3 in rotation. Gipson will stay in the mix as he did on Sunday, but the snap count could favor Robinson the rest of the way.
Playing For A New Contract
I mentioned that Smith grabbed an assist on Robinson's second sack, but the bigger story was his involvement all over the field. Smith was relatively near or involved in every tackle. He had another hit on Lance, led the team in total tackles, and provided excellent pass coverage, including a pass deflection. Smith is playing for a new contract and should lead the Bears in tackles for a fifth straight year. He certainly didn't look like a player that missed OTAs and almost all of training camp.
HITS Philosophy
Takeaways are back on the Bears' stat sheet! Jaylon Johnson forced a fumble that Jaquan Brisker recovered, and Eddie Jackson intercepted a pass for the first time since the 2019 season. When Eberflus introduced the HITS philosophy to the Bears, I was reluctant to accept the immediate buy-in. The Bears hustled, played with intensity, gang-tackled, and went after the football. Keeping with Eberflus' HITS philosophy, Chicago generally played smart football for most of the afternoon. Brisker and Kyler Gordon each got caught anticipating throws underneath, letting their receivers behind them, but as rookies in their first NFL game, those types of mistakes are bound to happen.
The takeaways portion of HITS is where the Bears excelled. Every hit employs punches or rips at the ball, and almost every defender kept eyes on the quarterback and the ball. The Bears also blocked well after an interception by Eddie Jackson, and almost every defender participated. Jackson was able to take his interception 26 yards behind those blocks.
Eddie Jackson with an interception! Bears with a chance to extend their lead 🚨pic.twitter.com/NiCSsmfJqS

— The Draft Network (@TheDraftNetwork) September 11, 2022
Fields is Still Developing
Sunday was a bag of mixed results for Fields. The second-year quarterback is still developing, and Sunday's win showed he still has some bad habits to work through. He worked hard all camp on several areas of development, but his footwork was the team's main concern. Fields struggled with keeping "quiet feet" in the first half and overthrew several of his targets. Fields' first-half nervous energy may have resulted from the 49ers' pass rush and the Bears' struggling offensive line play, or it could have just been Week 1 jitters. But, he tried to force a ball to Darnell Mooney in triple coverage, and there's no excuse for that other than poor field awareness. Risks like that are examples of his rookie year bad habits. Regardless of his understanding of the new offense, Fields needs to make better decisions. He'll need to harness that nervous energy on Sunday night and choose efficiency over the big play when the Bears face the Packers.