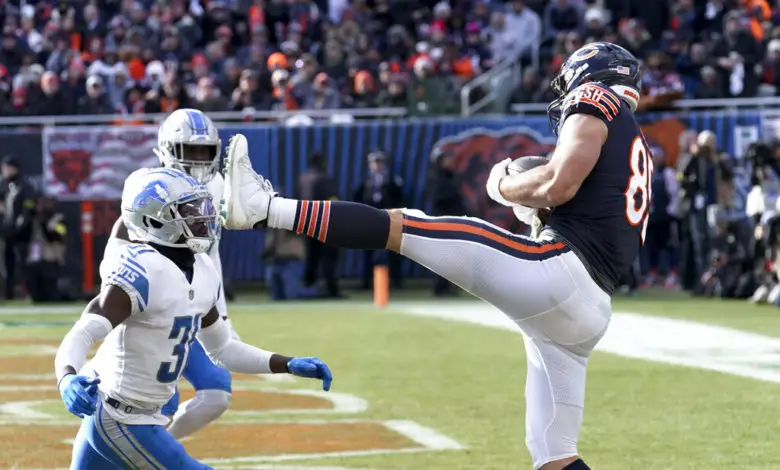 Bears and Cole Kmet Have Started Preliminary Contract Negotiations
Most of the talk since the 2022 season ended has revived around the draft and free agency, but the Bears have some internal business to take care of too. Cole Kmet is going into the final year of his rookie contract, and the front office would like to extend him. Kmet told Mike Berman of NBC Sports Chicago that the two sides have begun talking.
"Just little talks here and there," Kmet told Berman. "They've got a lot to get done, obviously with the draft, free agency, all those things. Really wouldn't expect much to happen, maybe until summer."
The Chicago-area native has been following the draft rumors like the rest of us. Kmet offered an interesting take on the rumored negotiations.
"I guess if Ryan [Poles] doesn't get 10 first-round picks for this No. 1 pick, he might get run out of town, you know?" Kmet joked. "No, but it's funny. You get all those Twitter heads, obviously, guys in the media speculating what we should get or how Ryan should go about things. Ryan's been around– it's funny listening to all those takes, but I think we're in good hands there, and they're going to make good moves for the organization.
"I'm excited about where this is going for us. You kind of stay in-tuned to things a little bit. But I'm primarily focused on improving myself and getting what I need to get done before the season starts."
Kmet would love to remain with the Bears, but fully understands the organization's timeline. GM Ryan Poles is a very busy man these days. He's fielding trade requests, scouting collegiate players, and preparing for free agency. The 2023 season officially opens on March 15, and Poles intends to hit the ground running. He'd probably like to lock Kmet up, too. The tight end epitomizes the grinder mentality that permeates the current roster.
"This locker room is competitive and they [won't] throw in the white towel and forget about everything else," Poles said earlier this year. "They just want to grind it out and they want to win. I don't think anyone that's watched our games, any single one of them, even the ones we don't win or struggle in, they don't see the effort, the competition, the fire. Everything we stand for is out on the field and we're going to continue to do that.
Kmet had a breakout season, setting personal bests in yards-per-reception and touchdowns. It took him a little bit of time to adjust to the new offense, but once he and Justin Fields clicked, Kmet played like an All-Pro. The big tight end got his first touchdown in a Week 8 loss to the Cowboys and saw his targets nearly double after that. He finished the season with six touchdowns. He scored twice in games against the Dolphins and Lions.
.@justnfields hits @ColeKmet for 6 🎯

📺: #MIAvsCHI on CBS pic.twitter.com/mEyL8qovXp

— Chicago Bears (@ChicagoBears) November 6, 2022
"Obviously, being from Chicago, I would love to be here and all that stuff," Kmet said. "But it's a business side as well, so we'll take care of that, see what happens. Not rushing anything. Obviously would love to be a Chicago Bear and win a Super Bowl here. That's my ultimate dream and goal.
"We've got a lot of work to do," he added. "Got a lot of work to do, but a lot of promise. I think we've got the right, certain pieces in place. Coach Eberflus came in with a [culture-changing] mindset, and I think he established it pretty well and it resonated with guys. I know guys are excited about coming in. Obviously, we're going to add some talent here over these next couple of months and kind of see where this thing takes us next year, but I know guys are really excited about it."