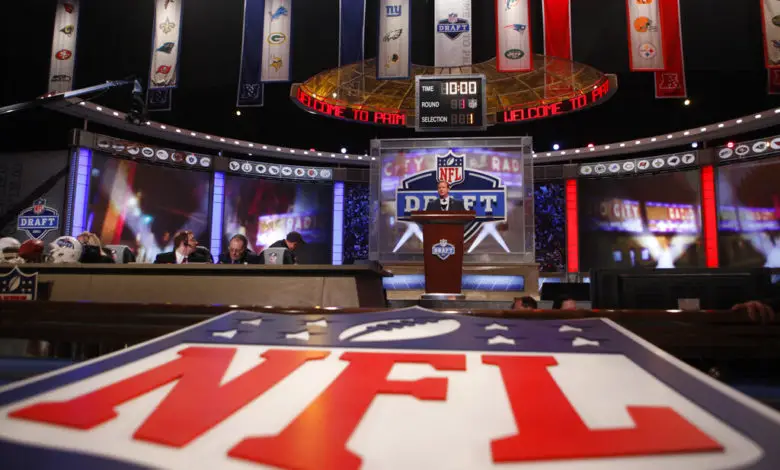 Assessing Dane Brugler's Bears Mock Draft
Dane Brugler puts out a mock draft each year for The Athletic that is more comprehensive than any others. The mock follows what he calls "The Beast," a scouting evaluation of 401 draft-eligible players. It's well worth your time to read both and by themselves, the two pieces are worth the price of an annual subscription.
Disclaimer: Bears Insider does not receive any compensation for linking you to The Athletic. We're fans just like everybody else and encourage you to subscribe.
We'll focus only on what Brugler believes the Bears will do with their picks. He did not factor any trades into his calculus, so it's just a straight draft. You'll have to subscribe for his personal analysis as I will not cheapen his work by quoting him. Considering his astounding effort, that would be brutally unfair. So the comments that follow each player are mine or sourced from and linked to free-access sites, including our own.
Imagine Ryan Poles getting the player he probably would have selected at 1.1 after trading that pick to the Panthers for the Nos. 9 and 61 picks, a first-round selection next year, a second-round in '25, and wide receiver D.J. Moore. That's like hitting a $25,000 scratcher the first time you play the lottery. Brugler believes the Lions, Seahawks, and Falcons will all pass on Carter, putting Poles in the proverbial catbird seat. With Will Levis and Carter available, will the Bears select the DL3T or trade the pick? You've got to believe Poles will pull the trigger and make the pick, right? This is a fun and somewhat possible prediction, so we're off to a great start.
I would have loved Joe Tippman but he went off Brugler's board much earlier, and rightfully so. Bergeron has been a starter for the Orangemen for four years and can play either tackle. He grades well in all aspects of the position and if he gets a little stronger, he could be a starter almost immediately. There is also a chance he could transition to guard because he excels in a zone-rushing offense. That would likely put Teven Jenkins at right tackle opposite Braxton Jones.
I would prefer WR Johnny Mingo here, and he's still available, but Brugler sees Brents as a nice pairing with Kyler Gordon. I also like Sydney Brown of Illinois, and he's likewise available. My gut tells me Brents would be a better fit for the Lions, Steelers, Vikings, or Patriots, and in fact, I have him going to Detroit six picks ahead of Chicago. Brents' stock has been skyrocketing all spring, however, and there's a lot to like about this kid. He's a ballhawk and a very physical tackler, so he's bound to have caught the eye of head coach Matt Eberflus.
I like Hall, but I think this pick is still a little bit of a reach because Mingo and Brown are still available. But, the Bears need a good edge rusher, and Trevis Gipson doesn't appear to be the answer. Dominique Robinson peaked in the first game of the season and did little else the rest of the year. Hall would theoretically play opposite DeMarcus Walker and would be a fantastic addition in tandem with Carter. Hall has the skills to be an explosive pass rusher who would replace what Chicago gave up in Robert Quinn. However, he played more coverage schemes at Auburn, so he's still a project.
I have an odd anti-Cyclone bias so I immediately dislike this pick. Yes, I should probably see a shrink because Hutchinson is a good player but he provides no value as a fourth-rounder. Some mocks list him as a top-70 player and the sixth-best receiver but he's a redshirt senior who will turn 23 a month after the draft. I know Poles likes those types of players, but Walter Football lists Hutchinson as the 23rd-best draft-eligible wide receiver in this class. ESPN's Mel Kiper Jr. ranks him No. 21 among his peers, No. 149 overall, and gives him a 61 grade. Feels like a reach. I'd rather have Mingo and Brown, and maybe select Zach Harrison (Ohio State) here instead of Hall with the third-round pick.
Tippman went off the board earlier than expected and Wypler is a nice value pick that should have been chosen in the 80-100 range. He shows excellent quickness and is smooth when moving laterally. That said, he doesn't play the type of violent football that Poles covets. Still, you can't object to this pick because Wypler is the best player available and he fills a need. A fun pick would have been QB Jaren Hall of BYU to serve as a backup to Justin Fields.
Chase is Sydney's twin brother, and this pick would be a lot better if Poles grabbed Sydney in Round 3. Brown is an efficient runner who has the patience and footspeed to press the line of scrimmage, get second-level defenders to commit, and then bounce into an open gap. That may remind you a lot of David Montgomery, though Brown is about 15 pounds lighter and an inch smaller than Montgomery.
R5P148 – DT Kobie Turner (Wake Forest)
Oh, how the mighty have fallen. Kayshon Boutte, who was once considered a probable first-round pick, is still available on Brugler's board when this selection is made. Chicago actually has its choice here of Turner or Keondre Coburn (Texas) if they're going DT at 148. I have Coburn rated significantly higher (7th DT) than Turner (20th DT), so I'm not sure what Brugler sees in the Demon Deacon. Mel Kiper Jr. gave Turner a late 7th-round grade so this is another head-scratcher. This is actually my least favorite of all of Brugler's picks. The Draft Network didn't even bother to write Turner up. Ouch.
I'm at the point where I can't tell if Brugler is addressing need or selecting the best player available, but this no longer seems like a Ryan Poles draft to me. With that in mind, Hickman has a third-round grade and if he has dropped this far, something has to be wrong with the young man. I think he is fine physically, so this is another puzzling selection. Good on Poles if he actually gets Hickman at the top of the seventh round. I'd still be a little frightened that he fell 80-95 spots, however.
Ramirez has a high motor and I love this pick for the Bears, though I would have grabbed him at No. 218 or earlier. I gave Ramirez a fourth-round grade in my mock draft, and Kiper has him at the top of the fifth. I don't think Ramirez will be available at No. 258, but if he is, that's great value for Poles and the Bears.
In closing, I very much like the first and last picks in Brugler's mock, and there is some great middle-round value. But, I think it proves that Poles may be better off trading down again. Don't get me wrong, if Carter is available when the Bears make their pick on Thursday night, it would be tough to trade that pick away.
But with Levis and Carter both available, I believe Poles could maximize his compensation for that pick. Brugler avoided all trade scenarios in his mock. But his draft convinces me that the Bears should listen to all offers for the No. 9 pick. Once you start reaching just to fill needs you're sunk.
Bear in mind I'm not the expert that Mr. Brugler is, nor has The Athletic approached me about providing insight into any of its published works. Like most Bears bloggers, I'm a diehard fan, a meathead, and most assuredly, far too opinionated. But I'm not ignorant, I've written over 500 Bears articles, and I do my research.
As Brugler points out, "Some fan bases will love their haul; others will be disappointed. But that's just how the NFL Draft works, and realism was the goal [of] this exercise."