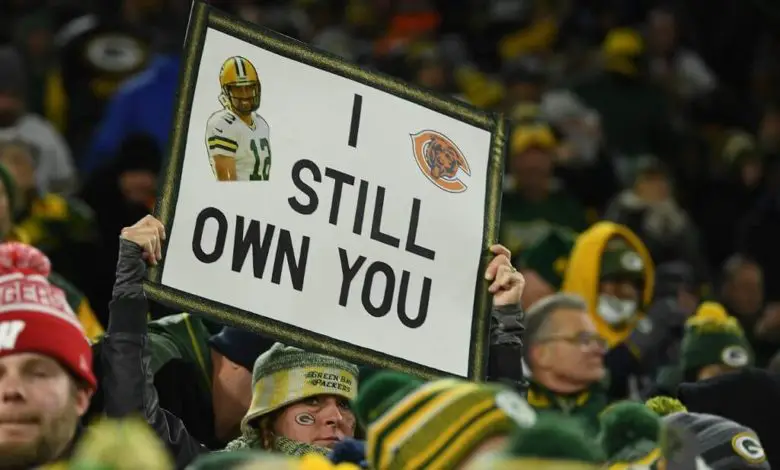 First & Long: Loss to Packers Represents New Low for Nagy, Collinsworth Catches Heat For Rodgers Praise, Omicron Hits NFL
Last night's 45-30 loss to the Packers represents a new low for Bears' head coach Matt Nagy.
All it takes is a trip to Lambeau Field to see the disparity between the league's two oldest franchises. The Packers play in a pristine stadium in a community that embraces game day with the fervor and passion of a fanbase accustomed to winning. Whether Green Bay is deserving of the monicker "Title Town" is debatable, but, the organization certainly backs that up by winning consistently.
This camera is incredible pic.twitter.com/ViK19y7gdY

— Michael Canter of Cubs Insider ✨ (@MEdwardCanter) December 12, 2021
Chicago is the polar opposite and has been for about 30 years. The Bears play in a coldly impersonal stadium owned by the city park district where dominant seasons are few and far between. While Green Bay is steaming toward a potential third straight NFC Championship Game, the Bears play like they gave up on the season well before it started getting dark at 4:30 PM.
In fact, when Nagy chose to punt on fourth down in last night's game with the Bears trailing 38-27 it provided the perfect microcosm of Chicago's season. If that didn't signal Nagy's decision to fold, kicking a meaningless field goal in a 45-27 game a few minutes later surely did. The shame of it all is that the Bears showed their potential in the first half by outmuscling the Packers in every aspect of the game.
The Bears raced to a 27-21 lead through two quarters thanks to a trio of big plays.
By the way, Grant is listed as 5'7″ and Byrd is generously listed as two inches taller.
The slant play was a great example of beating Green Bay at their own game and was executed to perfection. On the defensive side of the ball, Robert Quinn was a one-man wrecking crew with two sacks. Jaylon Johnson completely shut down Packers wide receiver Davante Adams, holding the all-pro to two first-half receptions on five targets in which Johnson covered Adams. An upset was in the making and the Lambeau Field crowd was eerily quiet heading into intermission.
The Packers spent halftime making adjustments while Nagy was gushing over how much fun he was having. For a guy who is now 1-7 against Green Bay, Chicago's head coach should have been designing a plan to keep outworking the Packers. Instead, the Bears came out flat, and the opponent put 14 points on the board in the span of one minute to seize control of the game. The decision to punt on fourth and inches really hurt Nagy when a fumble recovery was reversed due to a penalty on Kindle Vildor. Aaron Rodgers then led the home team on a 13-play, 71-yard touchdown drive that took 8:38 off the clock and put the game out of reach.
The Bears have been crushed by bad penalties on big plays all season long, including one that cost them a win against the Steelers in Week 9. The burden of undisciplined play and repetitive mistakes lies on the team's coaching staff.
Nagy's made some horrible decisions as head coach, but deciding to punt in that situation was one of his worst. It was demoralizing and signaled an all-out surrender. Rumors quickly circulated throughout the stadium that Pace was so miffed at Nagy's decision that he left the Bears' Lambeau Field suite and stopped watching. Though that hasn't been verified, if true it shows a heightened level of dysfunction within the organization.
Chicago's second-half implosion was also witnessed by members of Chicago's ownership and executive groups. At varying times all looked disinterested, even when the Bears were playing well. Change appears to be on the horizon, and not a moment too soon. The NFL's charter franchises are polar opposites, and the Bears remain light years behind Green Bay right now.
Bears News & Notes
There's a Flag… On the Play
The Broncos lined up with just 10 men on the field for the first snap of yesterday's home game against the Lions in tribute to the late Demaryius Thomas. The receiver spot where Thomas once regularly lined up was left open. Fans loudly chanted "D.T."  as Denver let the play clock wind down for a delay of game penalty, which was declined by Detroit.
The Broncos start the game with only 10 men on the field, a tribute to Demaryius Thomas 🙏🏻

The Lions declined the penalty

— NFL Stats (@NFL_Stats) December 12, 2021
Northern Exposure
The early line has the Vikings listed as 3.5 favorites over the Bears in next Monday night's contest at Soldier Field.
Packers WR Allen Lazard wore an "I Still Own You" t-shirt after last night's victory.
The Lions have eight players on the COVID-19 Injury List and have returned to virtual meetings.
Pick Six
Aaron Rodgers, Packers QB – Threw for 341 yards and four touchdowns without an interception on a 29-for-37 night.
George Kittle, 49ers TE – Finished with 151 yards and a score on 13 receptions, becoming the first tight end in NFL history with back-to-back 150-yard games.
Dalvin Cook, Vikings RB – Rushed for 205 yards on 27 carries with two touchdowns Thursday night.
Jakeem Grant Sr., Bears WR – Gained 182 all-purpose yards with two scores, including a 97-yard punt return for a TD.
Justin Herbert, Chargers QB – Completed 74.2% of his passes (23-of-31) for 275 yards and three touchdowns.
Tom Brady – Threw two touchdown passes and rushed for another on a 31-for-46 afternoon, good for 363 yards.
NFL News & Notes
Former NFL player Josh Bellamy has been sentenced to three years and one month in federal prison for fraudulently obtaining over $1.2 million in COVID-19 relief funds.
The NFL is requiring all Tier 1 and 2 employees to receive COVID-19 booster shots after 37 positive league-wide tests on Monday.
A Washington Football Team staff member is the first to test positive for the Omicron variant.
Las Vegas is expected to host Super Bowl LVIII in 2024.
The disastrous NFL tenure of Jaguars head coach Urban Meyer continues to get worse.
The Chiefs blasted the Raiders 48-9 yesterday and then played "The Wheels on the Bus" as Las Vegas players headed to the locker room.
After winning their 6th straight game yesterday, Kansas City is the consensus favorite to win this year's Super Bowl.
Brady roasted CBS announcer Tony Romo for calling him slow.
Three Yards and a Cloud of Dust
Last night's loss eliminated any mathematical chance the Bears had to win the NFC North, and Chicago has just a 0.3% chance of making the playoffs.
Rodgers threw 4 touchdown passes without an interception against the Bears for the 7th time in his career. That is the most such games against a single opponent in NFL history
Nagy is now 7-15 in his last 22 games going back to last season.
Down & Out
The Bears currently have the 38th pick in the 2022 NFL Draft. They would have the 5th pick in Round 1 if they had their own pick.
From the Podium
"When you look back and you see what happens, when they go on that long drive and they take up the clock and score, you wish you would've [gone] for it. That's the part where you look back as a coach and you go, 'Damn, that would've been a time to do that.' At the same point in time, we were just coming off a three-and-out. We stopped them three-and-out the previous possession. So I just thought in that scenario … but it obviously backfired." – Nagy
"At the end of the day [Nagy] is the head coach and I'm gonna stick with every decision he [makes]." – Fields