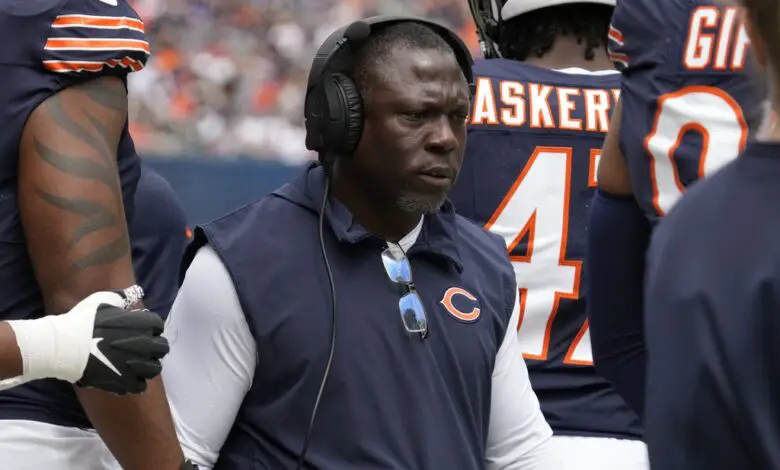 Alan Williams' Resignation Due to 'Inappropriate Activity' Per Reports
Attorney Denies Rumors of Criminal Investigation
The Bears are a mess, both on and off the field.
Justin Fields criticized the coaching staff earlier this week before walking the allegations back. A theft at Soldier Field two days later resulted in the loss of $100,000 worth of equipment. Then, before today's 41-10 loss to the Chiefs, Adam Schefter of ESPN reported that defensive coordinator Alan Williams resigned due to inappropriate behavior. The Bears have quickly become the butt of the NFL since Ryan Poles and Matt Eberflus took over. It's a difficult time for fans of the NFL's charter franchise.
"I'm told it was not criminal activity, but it was inappropriate, and the Bears' HR department was involved in the decision for Alan Williams to step aside."- Adam Schefter pic.twitter.com/zWIxTGpWd4

— Awful Announcing (@awfulannouncing) September 24, 2023
The news represents the latest twist in a disturbing stretch for the moribund organization, which began when Williams stepped away from the team due to personal reasons. Eberflus called defensive plays again today, as Chicago suffered its 13th straight loss, surrendering 25 points or more in each of those defeats.
Rumors started to swirl after Williams initially resigned. Some outlets indicated that the FBI conducted raids at Halas Hall and the Williams household. Some alleged that former Bears standout Charles Tillman, who now works for the FBI, was part of the investigation. Attorney Andrew M. Stroth, who is representing Williams, unequivocally denied the criminal allegations.
Poles also refuted the allegations earlier this week.
"I don't have many details to add there. Halas Hall being raided is completely false. Don't know where that came from," Poles said Thursday. "We've worked with [team president] Kevin [Warren] and [team chairman] George [McCaskey] and all our leadership to make sure we were handling it the right way, and everything concluded yesterday."
A forensic vehicle was seen at Halas Hall ($) according to Dianna Russini of The Athletic. Russini added that that is standard practice when a team employee has resigned or has been terminated. That employee's work devices, such as a computer and cell phone, are downloaded out of caution. Those sources said that provides a layer of protection for the Bears against potential future lawsuits involving a former employee.
Some members of the organization told Russini they turned their mobile devices off because they were receiving an "exhaustive amount" of text messages and phone calls.
The speculation also led the Bears to issue a statement indicating there was no law enforcement activity around Williams' departure. Multiple team sources termed it as a personal situation for the defensive coordinator.
Eberflus will undoubtedly be asked about the latest developments when he addresses the press this week. Don't expect the head coach to add any significant details to the ongoing story. The Bears return home this week to face the Broncos.