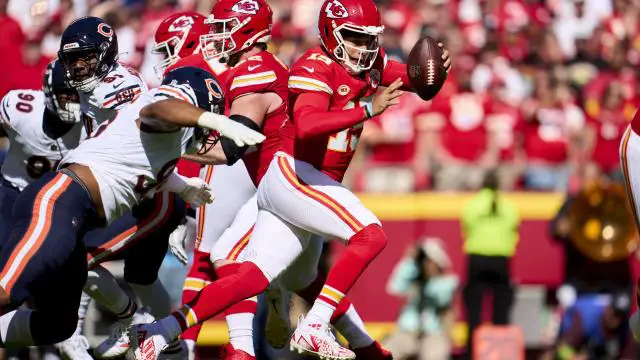 Chicago Bears Score and Recap (Week 3): Chiefs 41, Bears 10 – Bears Swiftly Beaten in Kansas City
The Bears got absolutely smoked by the Chiefs Sunday afternoon at Arrowhead Stadium. Kansas City was able to move the ball at will and Chicago didn't even dent to scoreboard until the matter was well in hand.
The Chiefs only scored one touchdown in the first quarter on a Patrick Mahomes pass to Jerick McKinnon. Justin Fields and the Bears offense did nothing all day long setting the stage for the home team to explode in the second quarter.
Andy Reid's squad would score 27 points in the quarter to bury Chicago and make the second half a glorified scrimmage. Kansas City put up 20 points in the final three minutes before the half aided by a fumble and an interception from the Bears.
Travis Kelce caught a touchdown in the third quarter with his possible girlfriend Taylor Swift in attendance to make it 41-0. The Taylor drama was the only drama on Sunday as the game was never in doubt.
Fields appeared woozy after a big hit in the fourth quarter and briefly came out of the game. For some reason, he re-entered the game and threw a meaningless touchdown to make it a 41-10 final. (Box score)
Why the Bears Lost
They did almost nothing right all day with a non-existent offense and a defense that got no pressure on Mahomes, allowing the all-world quarterback to pick them apart.
Key Moment
There was absolutely no reason to put Fields back in the game after what looked like a possible head injury. It was just another inexplicable decision by an overwhelmed coaching staff.
Stats That Matter
Fields threw for just 99 yards on Sunday and most of them were in garbage time. He also scrambled for 47 yards to be the Bears leading rusher.
Chicago has still yet to get a turnover in 2023.
D.J. Moore pulled down his first touchdown of the season late in the game.
Bottom Line
There isn't much to say other than maybe the Bears can start trying to get the number one pick yet again this season. There's just no escaping the fact this coaching staff he's completely overwhelmed and I don't see how it's going to get better.
Next Up
Chicago limps home to take on the Broncos Sunday at 12:00pm CT. The game will be broadcast on CBS.