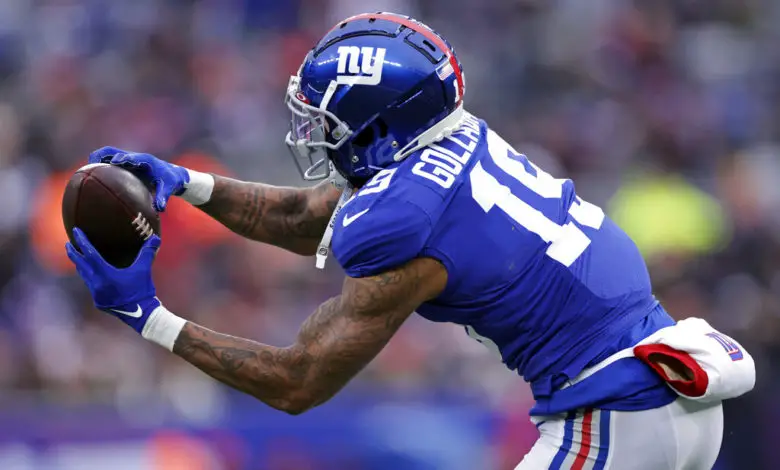 A Look at Recent Trade Suggestions Involving the Bears
If you follow me over at Cubs Insider, you're probably aware that Chicago's North Side baseballers are once again transitioning into trade mode, with talks mainly centering on all-star catcher Willson Contreras and closer David Robertson. Trades aren't as common in the NFL as they are in MLB, where we could see scores of players moved between now and August 2. Still, the lack of player movement in professional football doesn't stop writers from proposing deals. Today I'll look at some of the recent trade suggestions involving the Bears from an article by Ian Wharton of Bleacher Report.
TRADE SCENARIO ONE
ANDY ISABELLA SIGHTING⚡️⚡️⚡️
pic.twitter.com/om74qV1nlO

— PFF (@PFF) September 20, 2020
Wharton suggests that the Bears and Cardinals match up well in a trade involving veteran defensive end Robert Quinn. In return, Chicago would receive wide receiver Andy Isabella and a 2023 third-round draft pick. Quinn has been the subject of trade rumors since this year's draft, and Jason La Canfora followed up on that sentiment with a piece where he suggested (without sources or quotes) that Quinn has asked the Bears to trade him.
Quinn's two seasons with the Bears have been polar opposites as my colleague Rick Leen pointed out when assessing the team's defensive front seven. The 11-year veteran broke the single-season team records for sacks last season with 18.5 after registering just two in 2020. With an $11.3 million cap hit in 2021 and a $17.1 million cap hit in 2022, now may be the optimal time to trade him in order to maximize the return. Quinn has yet to attend any of the team's OTAs or minicamps, including last week's mandatory practices. In Arizona, the veteran defensive lineman would replace Chandler Jones.
Isabella is a speedy but undersized receiver who compares favorably to Marquise Goodwin. He has decent hands, but he has a small catch radius and needs an accurate quarterback to get him the ball. As badly maligned as Chicago's receivers have been, Isabella won't move the dial. He'd probably have little chance of making the team unless he can be counted on to be a special teams star. He's not going to supplant Dante Pettis or Tajae Sharpe, and those two will probably battle for the last spot on the team. You can't grade this without knowing who the Bears might draft, but the offer seems a little light to me.
TRADE SCENARIO TWO
People are forgetting that Kenny Golladay can still do this
pic.twitter.com/pPyTuG6rHp

— 𝙅𝙖𝙢𝙚𝙨 (@DanielJonesMVP) March 27, 2022
The next suggestion is a little better on the surface though not without a question mark or two. Wharton surmises that the Bears could get wide receiver Kenny Golladay from the Giants for a sixth-round pick next year. Golladay sits at the top of New York's current depth chart, but he's coming off of a season in which he missed nearly 52% of his targets. Granted, the Giants had one of the worst quarterback situations in the league, but that's a lot of footballs hitting the turf.
Despite his troubles in New York, Golladay was a standout in four seasons with the Lions. In 2019, he caught 65 passes for 1,190 yards and 11 scores. Per Wharton, "Because of the way Golladay's contract is structured, New York will save $17.75 million in cap space if they deal him. Chicago would assume just $13 million in salary in 2022. They could cut him after the season and incur a modest $3.4 million dead-cap hit from 2023 through 2025 if he simply doesn't work out."
The truth is, he'd probably be significantly better at catching passes from Justin Fields than he was when Daniel Jones and Mike Glennon were airing it out. On top of that, he's a Chicago boy who played his college ball at Northern Illinois. The Bears drafted Zachary Thomas, Trestan Ebner, and Doug Kramer in the sixth round this year. I'd trade any of those players for Golladay, so if this deal is possible, it looks like a winner.
TRADE SCENARIO THREE
The @Steelers' franchise player: @bud_dupree

EVERY sack from his standout 2019 season! pic.twitter.com/HGHNcLOZAw

— NFL (@NFL) March 16, 2020
The Bears could use some help on the edge whether they trade or keep Quinn, and Wharton suggests the Bears make a trade with the Titans to acquire Bud Dupree. In his scenario, the two teams would swap draft picks in 2023, with Chicago exchanging a fifth-round pick for Tennessee's second-round selection. This is the equivalent of trading a player for not much more than cap space.
Dupree struggled last season but he was coming off of ACL surgery. The veteran started showing signs of returning to form late last season with three sacks in his last five games (including playoffs). The 29-year-old also recently admitted he didn't start feeling better about his knee until January. If the Bears were to acquire him, he'd immediately become the starting strongside linebacker. His competition at the SAM would be the uninspiring Matthew Adams and UDFA Jack Sanborn.
Dupree also makes the entire defense better. In the 11 games last year when he was active, the Titans averaged 3.5 sacks per game. However, in the other seven games, Tennessee averaged just 2 sacks per game. The players on the Bears who would benefit the most by the addition of Dupree would be Roquan Smith and Trevis Gipson.
The Titans would save about $18 million between 2022 and 2023 by trading Dupree. The Bears could offload Dupree's deal after this season for a $3.2 million dead-cap hit covering the 2023-25 seasons, effectively buying the draft pick for about $10 million. This is a deal that sounds almost too good to be true and if GM Ryan Poles can pull it off, he should do so immediately.
None of the three deals are likely to happen, but they're great conversation starters. Trades just don't really happen in the NFL except on draft day. It's also rare to see one player moved for another. If the Bears are trading Quinn, Poles is going to be looking for nothing but draft picks in return. If he can acquire Dupree and Golladay plus a second-round pick in exchange for fifth and sixth-round picks, the first-year GM should be all over that.