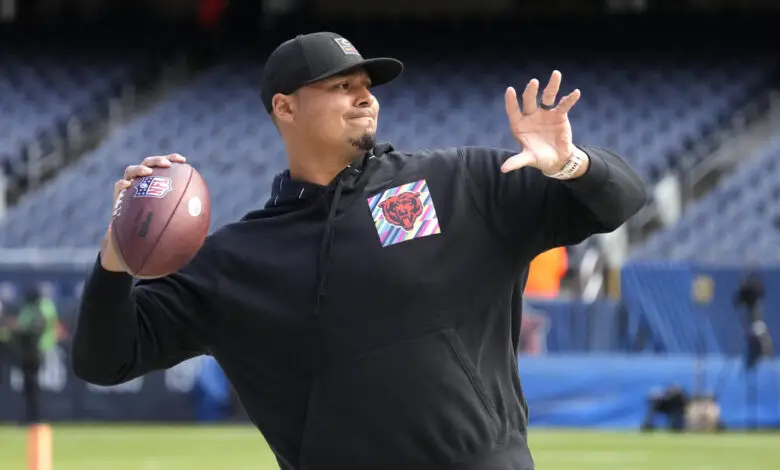 With Deadline Approaching Bears Have Few Tradeable Assets
Unless Ryan Poles is planning to do something bold like trade Justin Fields or Khalil Herbert, he and his front office entourage have little in the way of tradeable assets this year. Fields would draw plenty of interest, but trading QB1 would mean downshifting the current rebuild back to first gear. Tyson Bagent had a great game in Sunday's 30-12 win over the Raiders, but it's too early to tell if he's a full-season starter or if he ever will be.
Outside of Herbert and Fields, only Jaylon Johnson possesses the potential for a decent return, but he's probably not going anywhere. Expect Poles to therefore spend this week on the sidelines
With the NFL trade deadline approaching, the Chicago Bears have very little interest in making cornerback Jaylon Johnson available and have not made calls to teams on their corner, per @JFowlerESPN.

— Daniel Greenberg (@ChiSportUpdates) October 20, 2023
Poles dealt the best of his assets in trading Khalil Mack, Robert Quinn, and Roquan Smith since taking over. He traded Chase Claypool to Miami a few weeks ago but lost dearly on that swap. Poles gave up this year's top pick in the second round for the beleaguered wide receiver when he acquired him from the Steelers last year. Poles had to incentivize Miami this year by including a seventh-round pick just to get a sixth-round pick in return. Oh how the mighty mediocre have fallen, and let us never speak of Claypool again.
That's not to say that the Bears do not have players who could help contending teams. You could make a strong case for players like Justin Jones, Andrew Billings, Eddie Jackson, and Darnell Mooney, among others. Mooney has the best chance of being dealt this week. He's no longer the integral part of Chicago's passing game that he was in years past, and rookie Tyler Scott is ready to take over for the soon-to-be free agent.
Poles is not likely to trade any first- or second-year players, and Teven Jenkins is as close to untouchable as any player on this team not named D.J. Moore, Cole Kmet, or Cairo Santos. Johnson and Mooney are in their walk years, and Chicago's unwillingness to discuss him means Poles probably wants to extend him. Mooney could be intriguing to teams looking to add speed and possession to their offense. That said, he missed time due to an ankle injury last year and has just 14 receptions in seven games this season.
If Poles can't move Mooney, it's doubtful he'll even get a nibble on anybody else.
Safety Eddie Jackson gets mentioned whenever trade rumors surface, but his lingering foot issue makes him a non-starter in trade talks. He's also making $14.05 million in base salary, and no one will want to take on that contract.
Cody Whitehair is riding the bench after several subpar performances, and as a result, trading his contract is next to impossible. Whitehair's base salary is $9.8 million, meaning he would cost an acquiring team more than $5 million. In fact, he could be a cut candidate if the coaching staff prefers Ja'Tyre Carter and/or Doug Kramer.
Billings is playing for $2.75 million but he's earned an extension at the very least. He wouldn't fetch more than a Day 3 pick, anyway.
D'Onta Foreman is an excellent trade candidate but injuries to Herbert and Roschon Johnson mean he'll stay with the Bears.
Some teams may call Poles about DeMarcus Walker. Chicago would have to get nothing less than a third-round pick to trade the defensive lineman.
The Bears are expected to stand pat at the deadline according to Brad Biggs of the Chicago Tribune. Biggs also said that Chicago could generate at least a little buzz if nothing tangible.
"The reason you've seen more trades in the last five, six years is because of the number of teams that are relying on analytics," an NFC general manager said. "They're the ones that are more loose when it comes to trading draft picks. They operate with the belief they can fill holes or more often than that supplement depth via trades. The more teams lean into the numbers, the more you will see."
Poles and his front office utilize analytics as much as any team in the NFL, if not more. The second-year GM won't hesitate to engage in talks that might make his team better this year and in the long term. He's sitting on two potential top-five draft picks, too. The Claypool fiasco is still hovering over this front office though. For that reason alone, Poles might be just a little more hesitant this year.